[wanabidii] New content updates
Dear Wanabidii Africa Mashariki,
The following new content has been been added to our website:
Press Releases
---
30/06/2017 - Countries from the Indian Ocean Islands and East Africa have come together to develop strategies to tackle illegal fishing and increase accountability in fisheries practices.
For two days, representatives from the fishing industry, civil society, governments and fishing administrations from Seychelles, Mauritius, Comoros, Madagascar, Tanzania, Kenya and Mozambique, met on Mahe Island, Seychelles, to discuss the Fisheries Transparency Initiative (FiTI), a global initiative to tackle illegal fishing.
Categories: Seychelles, Partnerships, African Natural Resources Center (ANRC), Food Production, Employment, Human Capital Development, Agriculture & Agro-industries, Youth, Poverty Reduction, Economic & Financial Governance, African Natural Resources Center (ANRC)
---
Russia's Rosneft set for global gas tussle with Gazprom
By Vladimir Soldatkin and Olesya Astakhova
MOSCOW (Reuters) - Russia's Rosneft, the world's top listed oil producer, wants to supply gas in parts of Europe where Gazprom is not present - or Moscow risks losing the market to U.S. liquefied natural gas (LNG), a Rosneft executive said.
Gazprom, the leading global gas producer, enjoys monopoly rights on gas pipeline exports. It has lost its exclusive rights to ship seaborne LNG overseas to Rosneft and Novatek, Russia's largest non-state gas producer.
Rosneft, headed by Igor Sechin, an ally of President Vladimir Putin, has long been vying for pipeline gas exports as it strives to grow globally. It now wants permission to export to the parts of Europe in which Gazprom does not operate.
The Russian producer has a memorandum with BP, which owns a 19.75 stake in the Russian company, to trade up to 20 billion cubic metres (bcm) of gas annually in Europe.
Rosneft vice president Vlada Rusakova, a former Gazprom executive, said the company wants to conduct "an experiment" in supplying gas to new markets "in coordination" with Gazprom.
"We are not counting on a total lifting of export restrictions. This would be harmful for Gazprom, especially against the background of a difficult financial and economic situation at the company," she said in emailed comments.
She added that as part of the "experiment", Rosneft could supply gas to markets where Gazprom is not present and into which U.S. LNG could be imported. Rusakova did not identify any such European countries.
"Of course, this should be done in close coordination with Gazprom, in order to avoid competition between Russian gas suppliers."
Gazprom targets $32-34 billion in revenues from exporting more than 180 bcm to Europe and Turkey this year. Rosneft produced almost 70 bcm of gas last year, earning 208 billion roubles ($3.5 billion) in revenues from gas sales at home.
NEW MARKETS
Rosneft, like Novatek, is winning some of Gazprom's clients at home thanks to a more flexible gas pricing policy. But unlike Novatek or Gazprom, Rosneft plans to have an LNG plant only in Russia, as it eyes Russia's far east and Asian markets.
The company wants to export gas to China, where Gazprom plans to start shipping gas in 2019-2021 via the Power of Siberia pipeline, currently under construction.
It also wants access to China's domestic gas market and end-users via swap deals.
"There are significant gas resources in Russia's east, while no infrastructure has been built. And that's why we are interested in gaining access to the future Power of Siberia pipeline," Rusakova said.
Rosneft plans to produce 100 bcm of gas per year by 2020 and become the world's third-largest producer of natural gas sometime later, thanks to a number of international projects.
Last year, Rosneft agreed to buy a stake of up to 35 percent in Egypt's Zohr offshore gas field from Italy's Eni. The Russian company also plans to expand in gas projects elsewhere, including Mozambique and Venezuela.
Rusakova said Rosneft and Venezuelan state company PDVSA may consider building an LNG plant in Venezuela.
($1 = 59.3765 roubles)
(Writing by Vladimir Soldatkin; Editing by Katya Golubkova and Dale Hudson)
Aid to the Church in Need gives thanks for record year of donations
The funds helped finance 5,303 projects in 148 countries.
By Jürgen Liminski
NEW YORK--In 2016, international Catholic charity Aid to the Church in Need (ACN) has once again raised a record total in donations. Last year, ACN brought in close to $148M, topping the 2015 total by $5.7M. This was the highest total ever raised in a year. The funds helped finance 5,303 projects in 148 countries.
More than a quarter of the grants were awarded for projects in located in Africa, where the Church is growing very fast. The continent accounts for more than a third of all grant applications.
Countries located in the Saharan zone receive particular attention, as do northern Nigeria, Kenya and Tanzania, all of which are countries where an aggressive form of Islam has been spreading.
Just behind funding for Africa came emergency and subsistence aid for Church communities in the Middle East, the cradle of Christianity. This support is vital for ensuring the survival of Christianity in the region. In the Middle East, Iraq and Syria received the most aid in 2016. This is of course due to the volatile political situation in these two nations.
More than $66M flowed into the crisis areas in the Middle East since 2011. This aid is expected to continue to grow exponentially in 2017 as ACN has launched a multi-million campaign to help displaced Christians return to their homes in areas newly liberated from the grip of ISIS.
As in the preceding years, the majority of the total aid was earmarked for rebuilding projects, which accounted for 30 percent of all spending; next came emergency aid for the Middle East and subsistence aid for women religious, as well as support for pastoral formation: some 30,000 catechists and pastoral agents around the world were among recipients of support.
In Central and Eastern Europe especially, the focus of the aid is shifting from building projects to training and continued education. The Balkan countries have moved to the center of attention in this part of the world, because radical forms of Islam are making itself felt there as well. Construction and repair of 1,200 chapels, churches, cathedrals and seminaries all over the world were financed in part by ACN, mostly in regions hard hit by natural disasters. One third of the building projects were in Africa.
Every ninth priest (or 43,015 in total) received help in the form of Mass stipends, especially in Africa (14,403) and Asia (11,293). That meant that every 22 seconds Mass was elebrated somewhere in the world for the intentions of ACN donors. Aid was approved for 10,760 seminarians, a number equivalent to every eleventh seminarian worldwide. Most of them were preparing for the priesthood in Africa (4,667), Latin America (2,900) and Eastern Europe (1,577).
Training and/or subsistence aid was granted to 11,080 women religious, or every 62nd sister worldwide. In 2015, only every 67th sister received aid. In most cases, the help was in the form of subsistence aid for members of contemplative orders for women. Further funding was granted for to purchase 375 cars, 149 motorcycles and 239 bicycles as well as two boats.
ACN conducts fundraising through a network of national offices in 23 countries.
Mass in Mozambique; ACN photo
UN DIA... 25 DE JUNIO
-1880
Nace en Concepción del Uruguay (provincia de Entre Ríos) el educador Próspero G. Alemandri, autor de "La Bandera, el Escudo y el Himno" y "Moral y deporte".
-1912
Se produce la primera huelga agraria en el país -ocurrida en la provincia de Santa Fe-, conocida como "Grito de Alcorta".
-1983
Muere en Ginebra (Suiza) el notable músico y compositor Alberto Ginastera, autor de óperas como "Don Rodrigo" y "Bomarzo" y del ballet "Estancia". Nació en Buenos Aires el 11 de abril de 1916.
-2010
Día de la Gente de Mar
Efemérides Culturales Argentinas
.........................................................
Un día 25 de junio como hoy:
En 1996 murió: Jorge Casal
En 1982 murió: Tito Lusiardo
En 1973 murió: Ramuncho (Ramón Bertrán Reyna)
En 1912 nació: Porfirio Díaz
En 1910 nació: Tino García
En 1900 nació: José Guillermo Basadoni
Efemérides de TODOTANGO.
.................................................
25 DE JUNIO
2008 – Muere en Laboulaye (Córdoba), Aurelio "Shalako" Gramajo, "El bailarín de los montes". Bailarín, bombisto, luthier, formó en La Chacarerata Santiagueña de su hermano Juan Carlos. Su arte en la danza nativa fue un estilo que no reconocía academias.
1983 - Muere en Ginebra (Suiza), Alberto Ginastera, músico académico, compositor nacido en Buenos Aires. Autor de "Obertura para el Fausto criollo", "Estancia", "Ollantay", "Impresiones de la puna", "Suite de danzas criollas", "Malambo" y la música de la película "Caballito criollo", etc. Tenía 67 años.
Efemérides Folklóricas Argentinas.
.......................................................
25 de junio de 1912: Se produce la primera huelga agraria en el país, en la provincia de Santa Fe, conocida como "Grito de Alcorta".
1535 – Sebastián Belalcázar funda Guayaquil, Ecuador.
1638 – Muere en Madrid el poeta y dramaturgo Juan Pérez de Montalbán.
1783 – por orden del Virrey Vértiz, Tomás de Rocamora funda Concepción del Uruguay.
1786 – Francisco de Goya es nombrado pintor real.
1792 – Comienza la medición del meridiano de París, que va de Dunkerque a Barcelona (origen del establecimiento del Sistema Métrico Decimal).
1806 – las tropas inglesas al mando del General Carr Beresford desembarcan en Quilmes, para invadir Buenos Aires.
1835 – se construye el primer edificio en Yerba Buena (ahora San Francisco, EE.UU.)
1852 – nace Antonio Gaudí, arquitecto español.
1865 – nace Robert Henri, pintor estadounidense.
1870 – En su exilio de Paris, Isabel II firma su abdicación a favor del Príncipe Alfonso, futuro Rey Alfonso XII.
1874 – se sanciona la ley para la creación del Parque 3 de febrero de Buenos Aires.
1876 – La columna del general estadounidense George A. Custer es aniquilada en Little Big Horn por el jefe indio Caballo Loco.
1877 – Entra en erupción el volcán Cotopaxi, a 80 kilómetros de Quito.
1887 – Inauguración de la Alhambra de Granada.
1894 – nace Hermann Oberth, fundador de la astronáutica moderna.
1903 – nace George Orwell, escritor británico.
1905 – Enfrentamientos en Lodz (Polonia rusa) entre obreros y el Ejército, en los que mueren más de 500 personas.
1911 – Nace William Howard Stein, bioquímico estadounidense.
1912 – empieza el movimiento llamado "Grito de Alcorta": primera huelga de trabajadores rurales y chacareros de Santa Fe, con gran repercusión en toda la Argentina.
1919 – muere el vicepresidente argentino Pelagio Baltazar Luna.
1922 – Nace en Caracas el matador de toros español Antonio Mejías Jiménez "Bienvenida".
1924 – Se estrena en París "El retablo de Maese Pedro", del compositor español Manuel de Falla.06251924
1942 – Segunda Guerra Mundial: El general Eisenhower asume el mando de las tropas estadounidenses en Gran Bretaña.
1949 – Inauguración de la Hemeroteca Nacional, en Madrid.
1950 – Corea del Norte invade Corea del Sur y comienza la denominada Guerra de Corea.
1969 – se juega el partido más largo en la historia del torneo de tenis de Wimbeldon. Pancho González vence a Charles Pasarell en 112 games, tras 5 horas y 12 minutos de juego.
1975 – Mozambique se independiza de Portugal.
1978 – Argentina vence a Holanda por 3 a 1 y se conquista la XI Copa del Mundo de fútbol.
1983 – muere Alberto Ginastera, compositor argentino.
1986 – Ocho muertos y treinta y cinco heridos en un atentado contra el tren turista que hace el recorrido entre Cuzco y Machupichu, en Perú.
1997 – Muere Jacques-Ives Cousteau, oceanógrafo francés
1998 – El presidente de Estados Unidos, Bill Clinton, inicia un histórico viaje por China para sellar la reconciliación.
Periodismo.com
................................
AAAA Color Change Alexandrite Cats Eye Round 6.5mm 1.39 Carats Heavy bezel set 14K Yellow gold Stack-able Engagement ring. 2114 by mastergoldcraft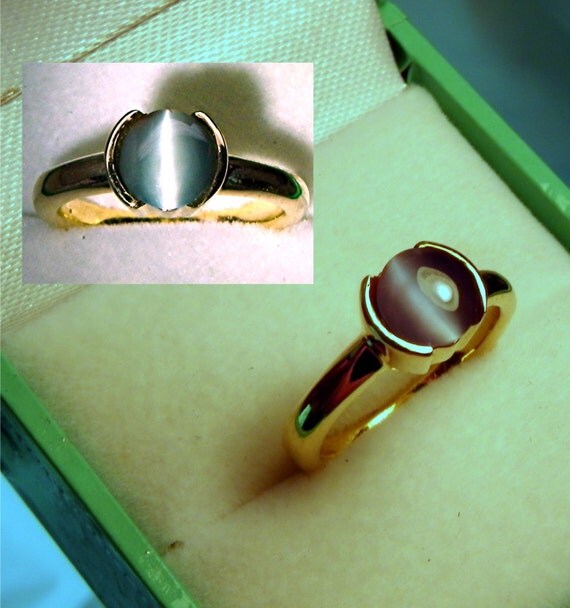 1,095.00 USD
This is a hand carved solid 14K Yellow gold stackable half bezel solitaire ring that is both comfortable to wear and has a great look. This is an old design that I used to offer on line about 15 years ago and have decided to go with the timeless design that is very clean and simple. If you like the design, but would prefer a different gemstone please contact me so that I can assist you in your search. More than likely I will have what you are looking for. If you like the gemstone, but not the ring, we can always reset it in another of my many settings, or perhaps a design of your choosing. Since the gemstone has not been fully set it is a very simple matter to set in another ring.

We welcome custom work and would gladly modify, or create anything you desire.

This ring is cast using the lost wax method. The metals used are sourced from recycled jewelry. I purchase old jewelry, which I melt down and personally refine so I always know what is in my rings, so you can be assured you are getting what you are paying for. All gemstones are sourced from ethical companies and all are conflict free.

The rings are available in 14K rose, 14K yellow and 14K white gold for the same price. Also available in 18K gold and Platinum. Please contact us for prices and details.

Gemstone: Natural Alexandrite. Very rare and hard to find.
Treatments: No treatments
Color: As shown in all the images with more of a color change when viewed in person. This gemstone has a very nice Green color that shifts to a very nice purple that I was able to capture in the images. The green eluded me because my camera just would not capture the greens. I do my best to select the most accurate images. Zircon. A true minty green almost like Mozambique Paraiba Tourmaline. A collectors gemstone.
Clarity: Opaque with very fine centered cats eye. No surface blemishes.
Measures: 6.5 x 6.6mm
Weight: Approximately 1.39 carats.
Cut: Round Cabochon Cats Eye!
Origin: Russia

Metal: 14K Yellow gold.

Weight: 4.00 grams. Final weight range depends on the ring size ordered.

Ring size: Shown in a size 6.5, with all sizes available from 3.0 thru 10.0 Larger sizes are also available for an additional fee.

Shanks on the ring are rounded for comfort and measure approximately 2.5mm wide and 1.75 to 1.4mm thick. These are hand made so there will be some variances. It is not deliberate, but is a result of hand filing and hand finishing each ring. We do not use mechanical polishers.

Finish: Shown with a high polish. Satin finish available at no additional charge.

Please note that the center stone has not been fully set. This allows us to resize or perhaps recast the gold in a different color without risking damage to the stone. With one of a kind gemstones the one in the images will be the one you receive. All other gemstones will be identical to the images in color, cut, clarity and beauty. All carat weights are accurate.

This ring is also available as a blank mounting. If there is a different gemstone that you would like see in this ring please contact me. I carry a huge stock of colored gemstones and more than likely I have it in stock. Please contact us for availability and prices.

Ring is shipped in a very nice ring box.



SHIPPING:

Standard shipping in the continental U.S. is $6 and is shipped Priority Mail by the USPS
Expedited shipping is also available for $21. Contact us if you need this service.

International shipping is available anywhere in the world for $25. FedEx is also available for an additional charge. Please contact for prices to your country.

EXCHANGE & REFUND:

I offer a full refund or exchange, less shipping on everything that I sell. All items have to be returned in the same condition as received. Damaged,or worn jewelry cannot be returned. There are no refunds on custom work, nor rings that have been customized.

GUARANTEES AND WARRANTY:

All of the material used are 100% genuine, unless stated otherwise in the listing. You may take it to a certified lab for verification. I have worked with colored gemstones all my adult life and after nearly 40 years in the business I am still surprised by the number of treatments that are constantly being developed. In the event that one of my gemstones turns out to be other than what I described I will gladly refund the full amount including shipping. With my merchandise you never need a reason to return anything. I encourage everyone to seek a second opinion. Mistakes do happen and I do my very best to inspect everything that I send out. Everything is photographed before being shipped out, so in the event you have an issue with the item, be it damage or perhaps the stone looks different I will have the images to review and we can resolve discrepancies with ease.

CUSTOM WORK:

I also offer custom orders. You could provide your own design, or I could do the design for you for free. You could choose a variety of gems ranging from precious to semi-precious stones, and use a metal of your choice (platinum, white gold, yellow gold, pink gold, rose gold, 10k, 14k, 18k, etc). Just let me know, I'll be happy to give you a quote.
Google Earth, class is now in session
So much of what students learn in the classroom—from social studies to history, science and literature—relates to a geographic place on Earth. Recently, we announced a new version of Google Earth, and since then, educators have been telling us what a valuable tool Google Earth is for their students. They use the "I'm feeling lucky" feature to inspire writing exercises, do research exercises with Knowledge Cards, and explore satellite imagery and cloud strata with their students. Now, to make it even easier for teachers to use Google Earth in the classroom, we've created a new "Education" category in the Voyager section, which includes new stories—complete with classroom activities—from National Geographic Society, PBS Education, HHMI Biointeractive and Mission Blue.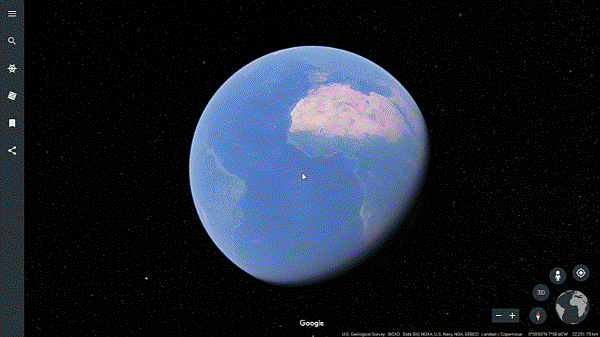 The National Geographic Society stories take students on adventures following explorers through the Middle East, India, and coral reefs. To supplement the experience, National Geographic Society created idea for activities that highlight a range of geographical concepts, such as interpreting land forms and comparing map projections.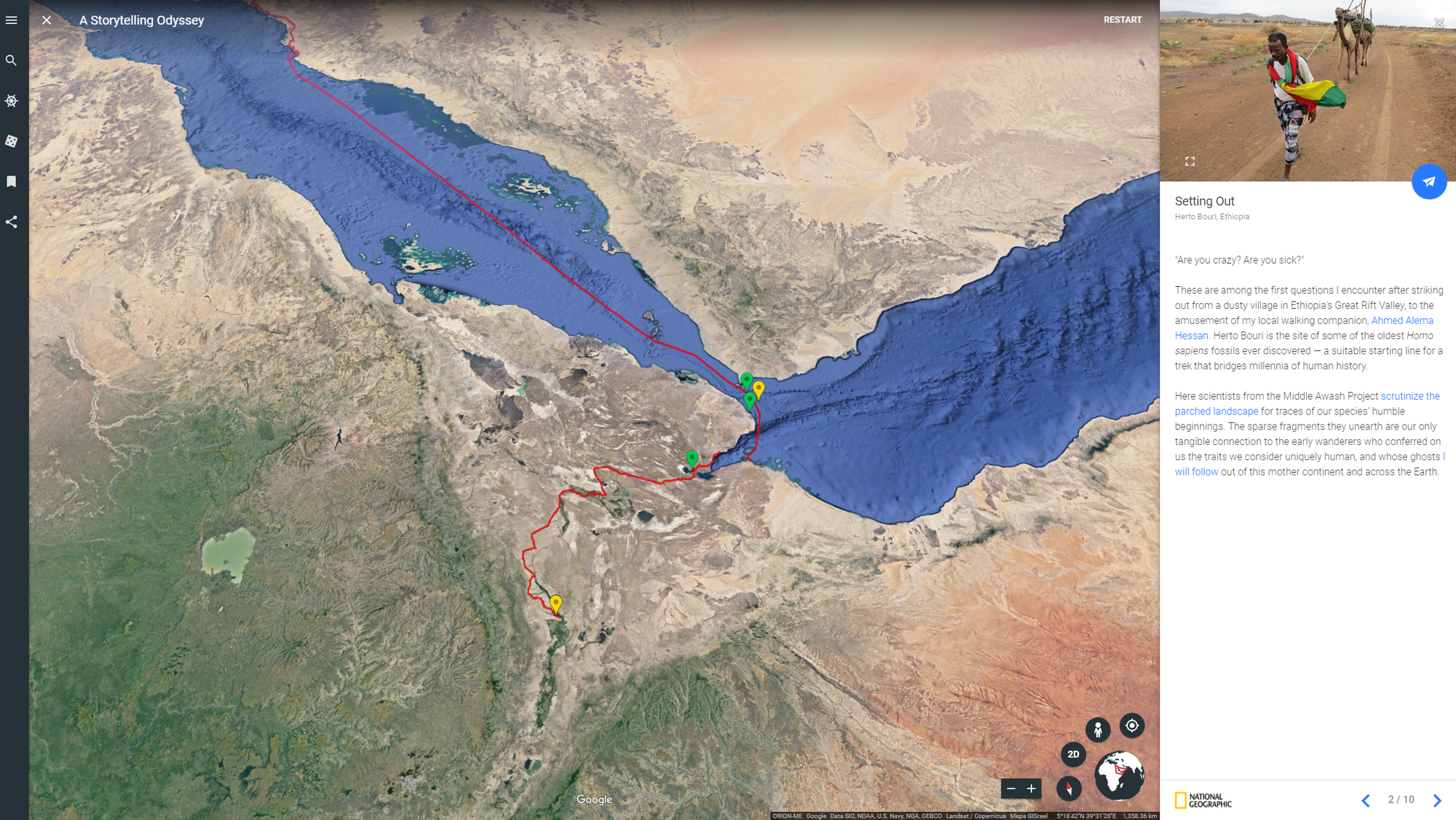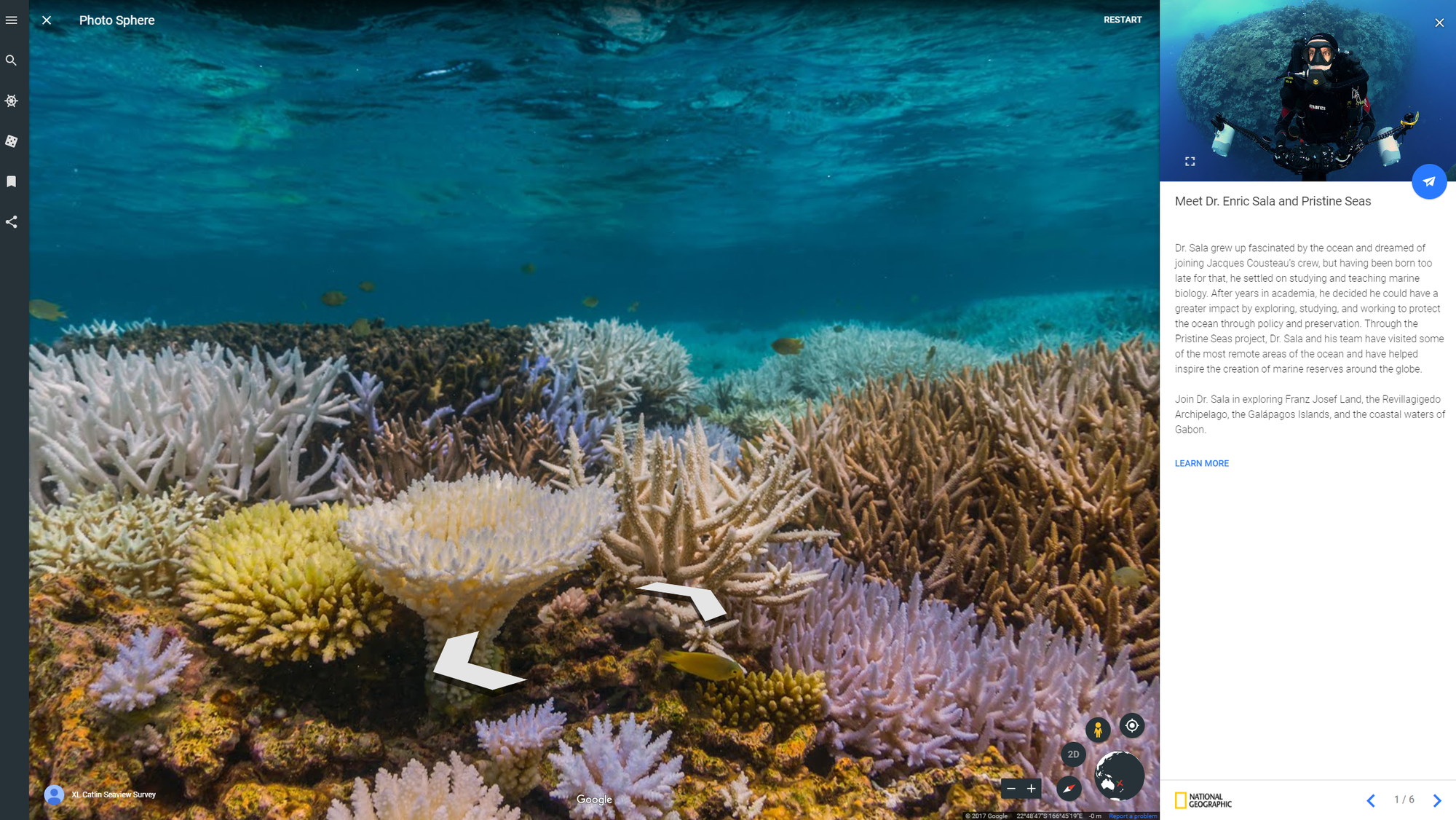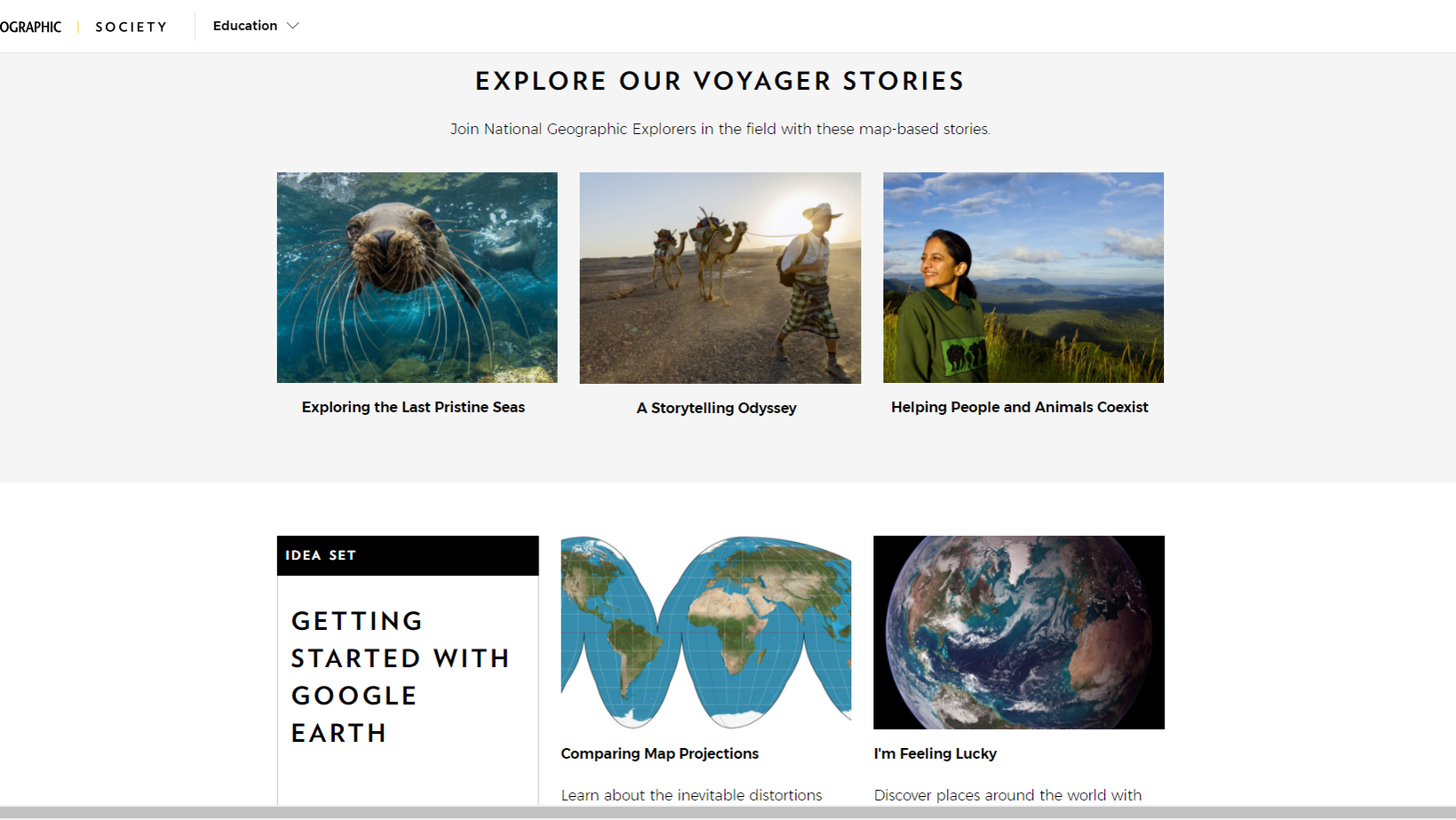 With PBS Education, classrooms can go back in time and track the paths of famous explorers, from Lewis and Clark to the Vikings. As students follow along, they, in turn, become modern-day explorers.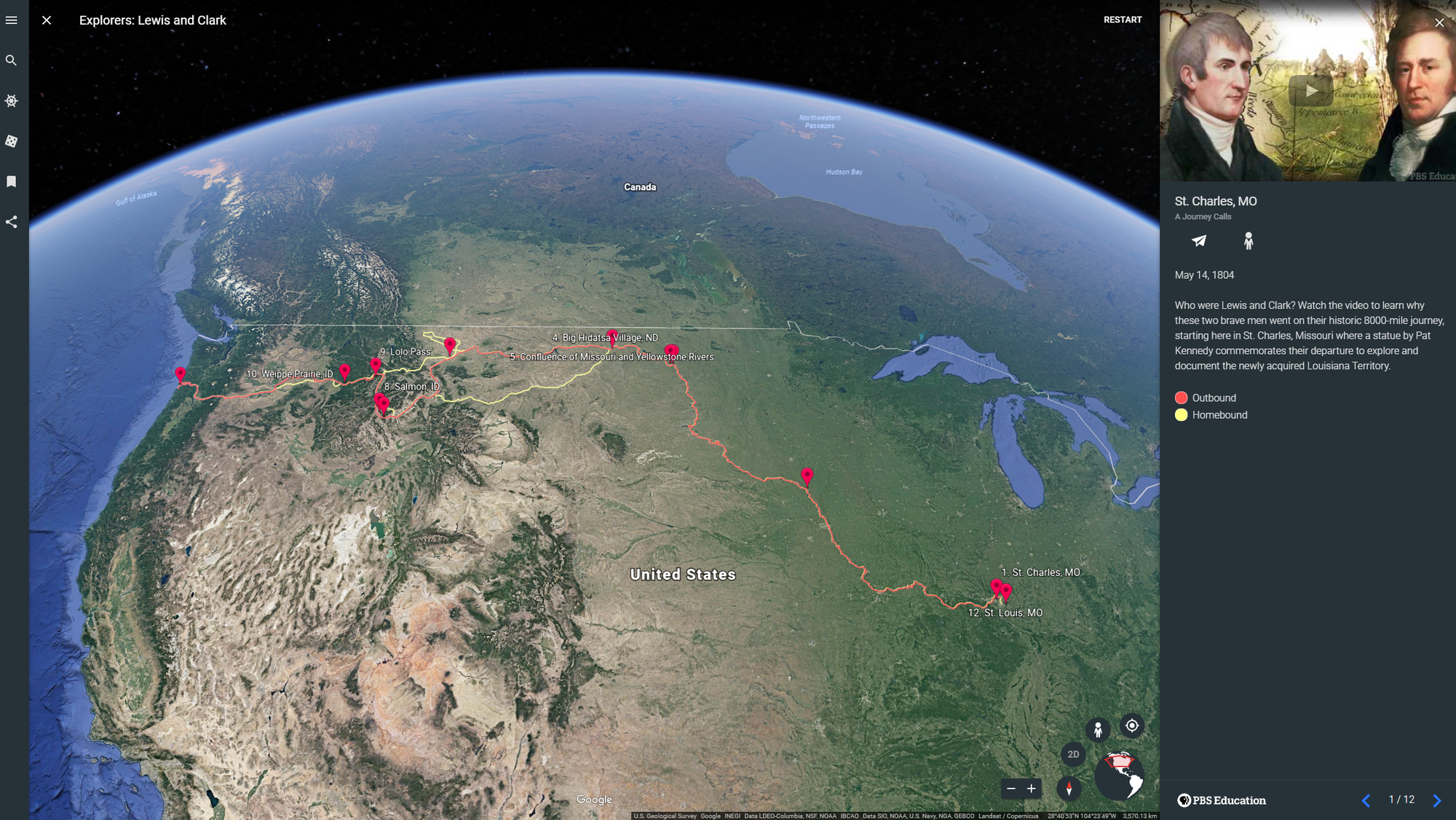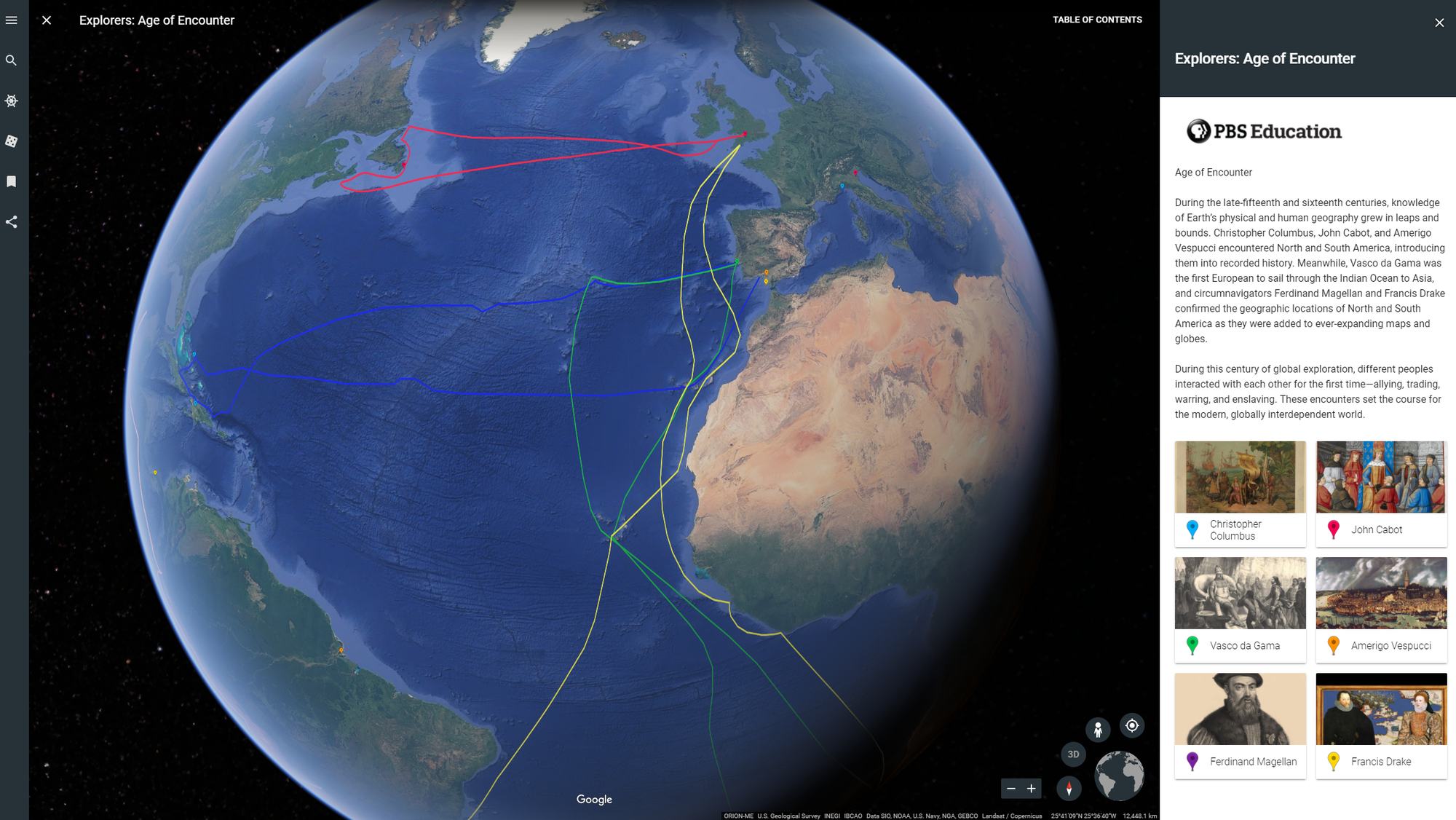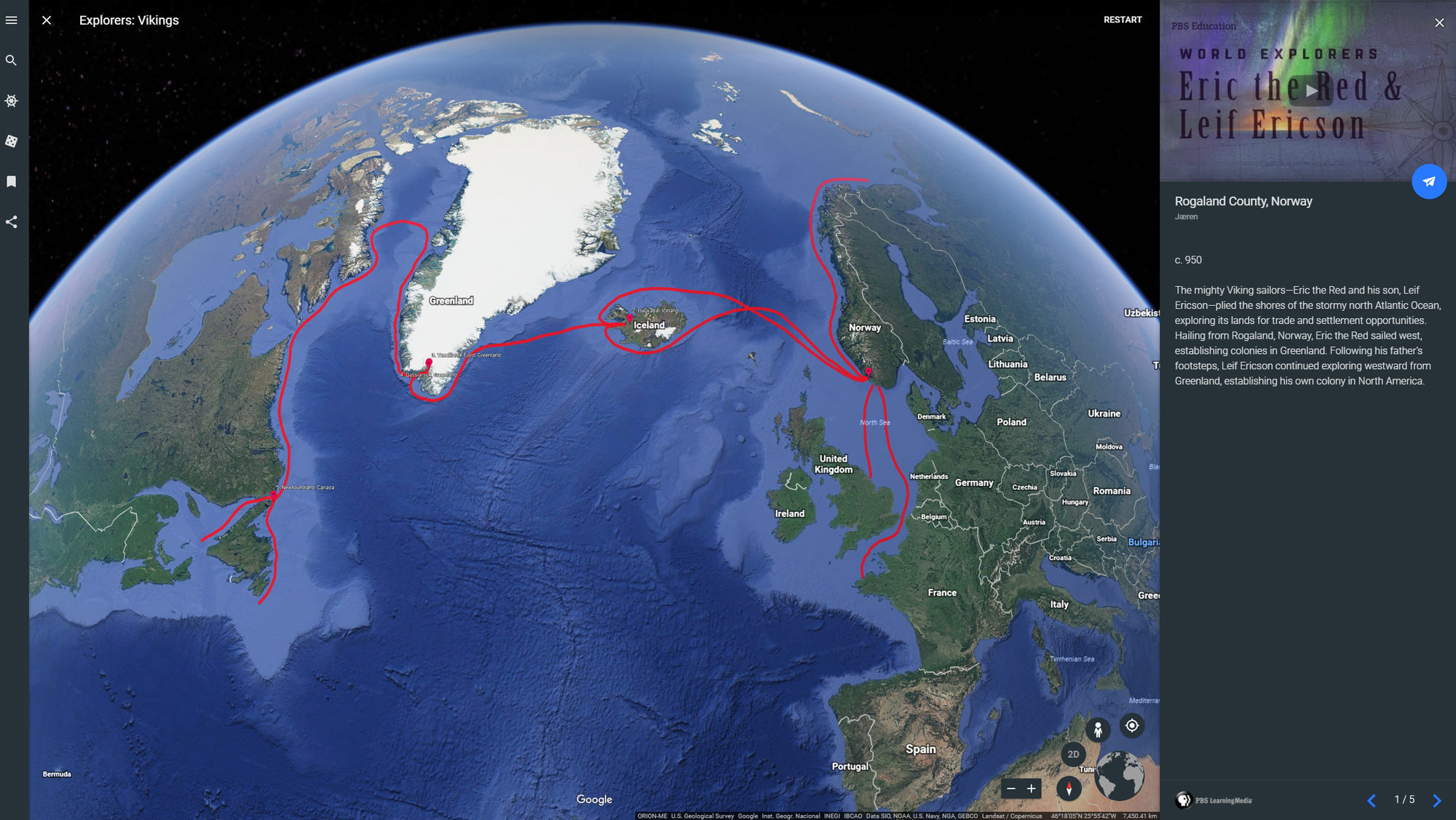 HHMI Biointeractive and Mission Blue created Voyager stories more geared towards science and math. With HHMI Biointeractive, students join "Scientists at Work" as they investigate important problems, from endangered coral reefs to the Ebola outbreak. And Mission Blue's story teaches students about the unique oceanographic conditions of Costa Rica thermal dome. Short videos and questions embedded in the stories will help guide students with their own scientific research.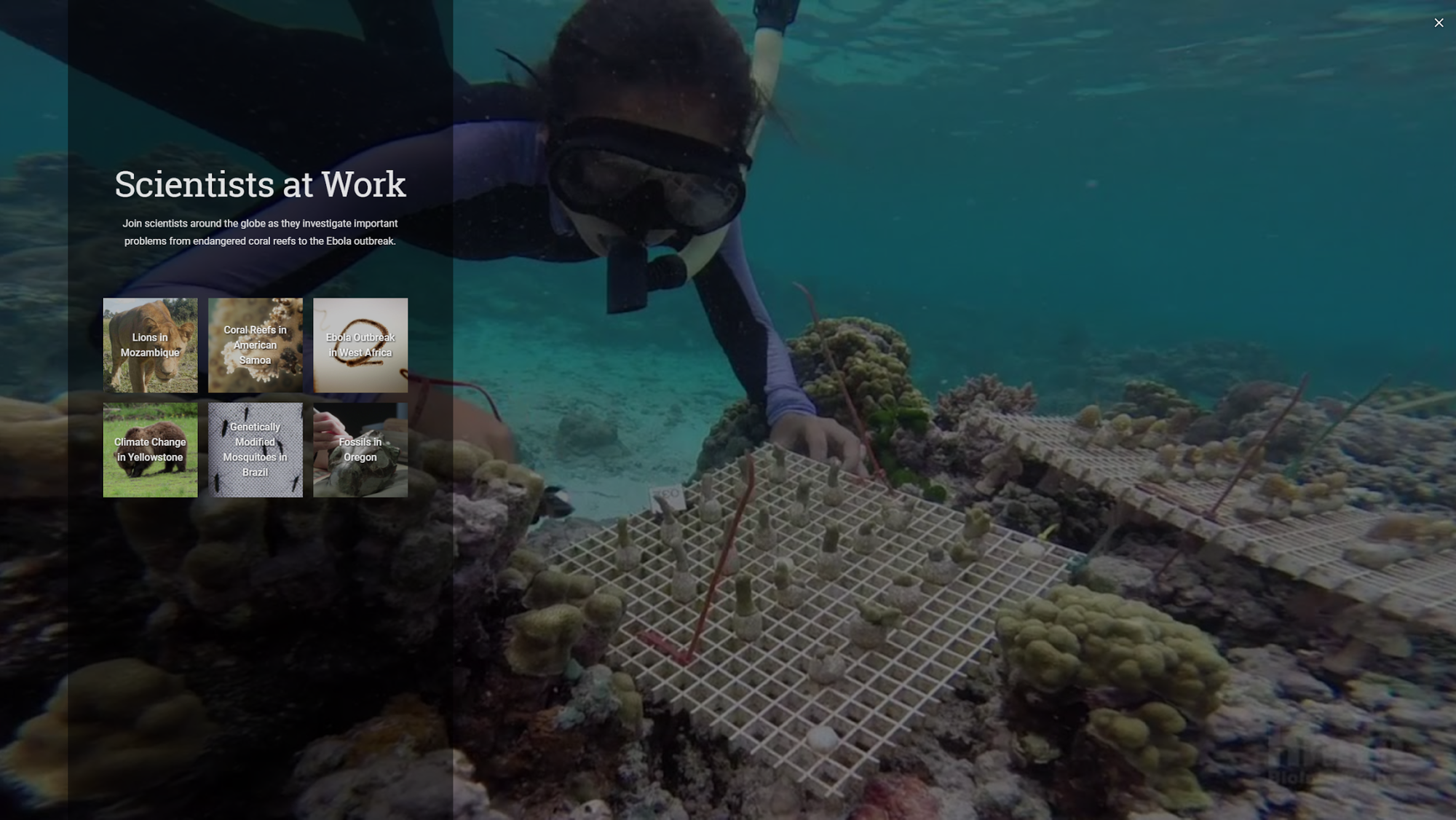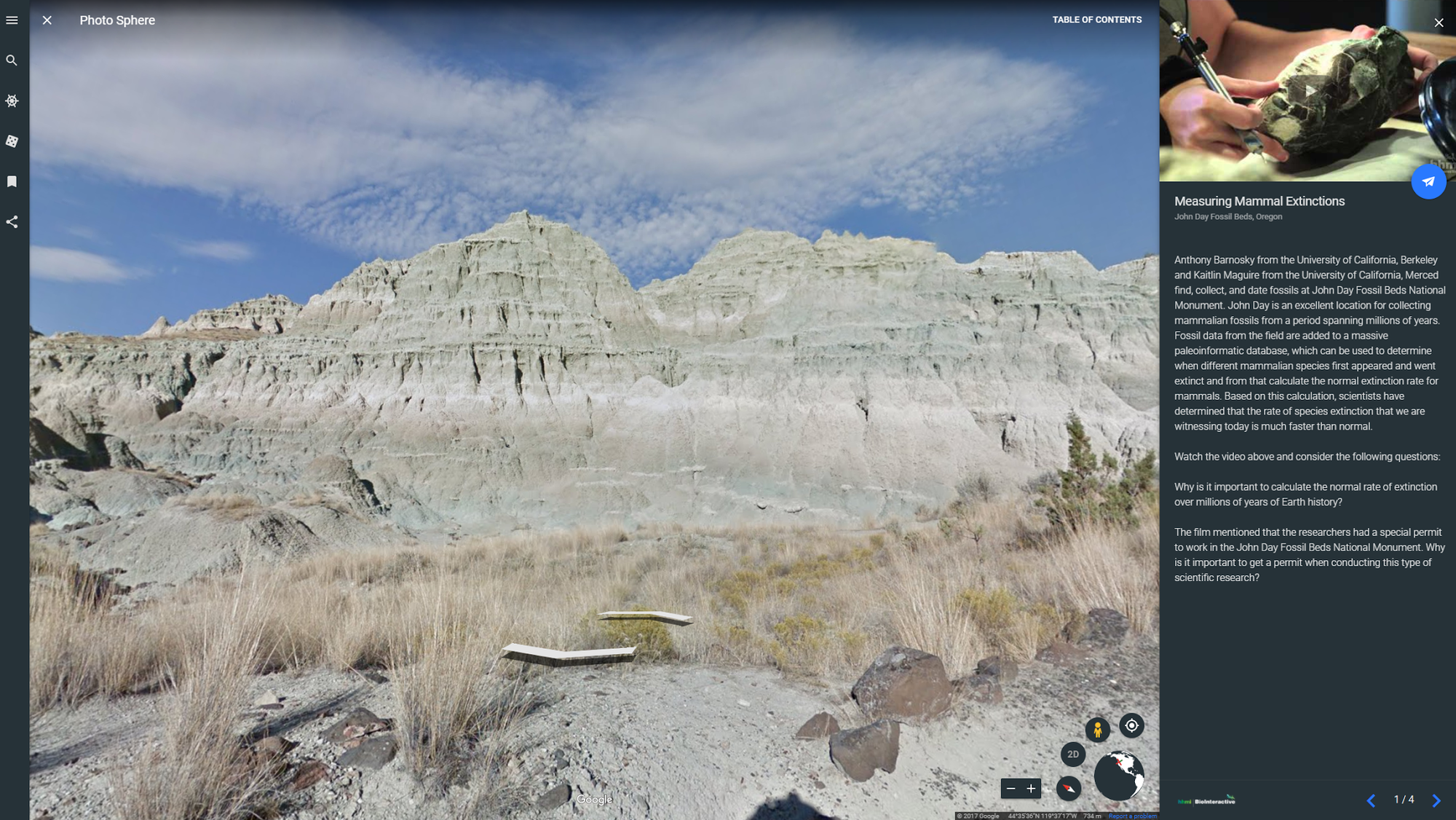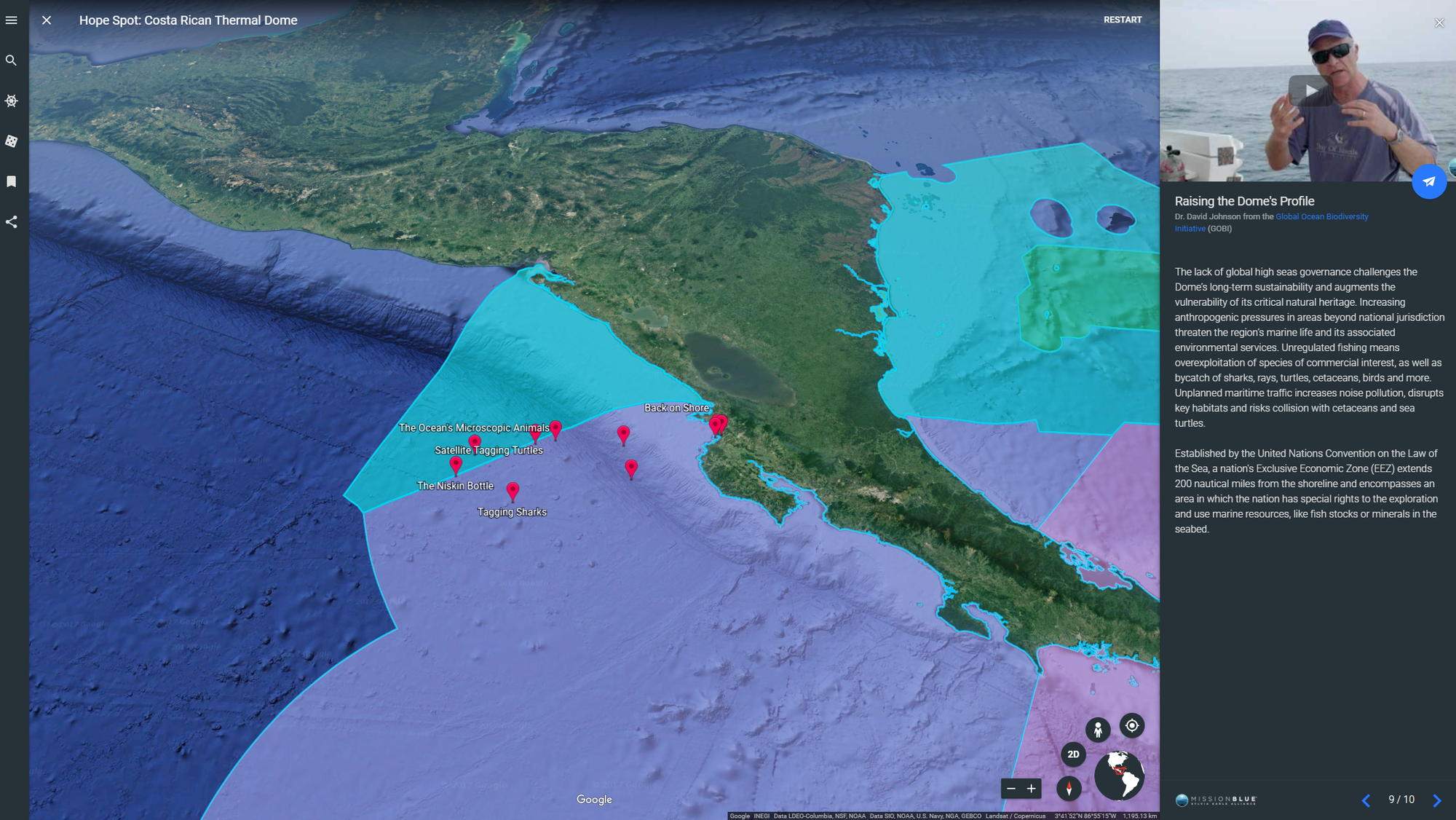 Educators everywhere can find classroom activities (created by teachers, for teachers) at our new Google Earth Education website, and easily share locations and stories directly to Google Classroom. In addition, this week Google Earth will become an Additional Service for Google for Education users, which can be managed by IT administrators through the Google Admin console.

Google Earth was built to inspire curious minds to explore, learn and care about our vast, fragile planet. With these updates, we're excited to make it easier for the next generation to see the world from a new perspective.

Joy and pain in Africa
Malawi, Mozambique, Rwanda and Sudan are among the teams through to the final round of CAF qualifying, but Senegal and Congo DR are out.

A Movie Review by Jonathan Lewis: MOZAMBIQUE (1964).
REVIEWED BY JONATHAN LEWIS: MOZAMBIQUE. Towers of London / British Lion Films, UK, 1964. Steve Cochran, Hildegarde Neff, Paul Hubschmid, Vivi Bach, Martin Benson. Director: Robert Lynn.    At least the outdoor scenery is good. That's basically my assessment of this Harry Alan Towers production about organized crime in Portuguese Africa. Filmed on location, Mozambique is […]

Financial Advisor at Britam
Britam is a leading diversified financial services group, listed on the Nairobi Securities Exchange. The group has interests across the Eastern and Southern Africa region, with operations in Kenya, Uganda, Tanzania, Rwanda, South Sudan, Mozambique and Malawi. The group offers a wide range of financial products and services in Insurance, Asset management, Banking and Property. Our Mission is to provide outstanding financial services to our customers. Our Vision is to be the most trusted financial service partner. We aim to provide our clients, with an unmatched offering, ensuring first class solutions that help secure the future.

A Libyan ambush, Central Asia's security wobbles and Mozambique's loan scandal: The cheat sheet
All eyes on Libya
It's been a rollercoaster few weeks for Libya. A spot of good news first: Libya is pumping oil at its highest rate in four years, an important boon for a country that relies heavily on the petroleum industry. Now for a bunch of bad: This week, a convoy from the UN Support Mission in Libya was ambushed and, according to reports, their staff taken at gunpoint. The UN now says its staff are all safely in Tripoli, but the incident is yet another a sign of the chaos in Libya, where multiple forces claim authority and there is heavy fighting in some parts of the country, including Benghazi. The UN has just appointed a new envoy to the country – a former Lebanese minister of culture – a process that took four months, after the US rejected a Palestinian appointee because of his nationality, followed by retaliatory objections to other candidates from Russia and other countries. UNISMIL and various UN agencies have been gradually increasing their presence on the ground in the dangerous country, but this week's ambush is likely to be a major setback. And with Italy threatening to deny entry to foreign ships docking on its shores – an effort to force its European partners to do more about the massive influx of migrants, mostly coming from Libya – the internal divisions and external debate over Libya make it one to watch. 
While it's something to celebrate, the closure today of the UN's peacekeeping mission in Cote d'Ivoire (UNOCI) has also generated some concerns. Although Cote d'Ivoire is one of Africa's fastest growing economies, two mutinies this year by disgruntled soldiers suggests it has not fully healed from the 2002-2003 civil war and the post-election violence of 2010-2011. Human Rights Watch has called on the Ivorian government to address the rights issues at the root of past political violence, including the problem of impunity and the need to professionalise its security forces. It also pointed to the incomplete national reconciliation process and continued competition over land as potential flashpoints. With the peacekeepers' withdrawal, a UN Security Council briefing noted the need for the international community to stay engaged. In a statement to the council, Sweden said the closure of UNOCI meant the "UN presence in the country is facing a 'financial cliff'. This risks undermining the sustainability of the gains achieved."
Is Afghanistan pulling Central Asia into chaos?
That's the question at the heart of this new report from the Center for Strategic and International Studies. While Afghanistan's downward spiral has been plotted meticulously by journalists and analysts, Central Asian states are often overlooked – to our potential peril, according to CSIS. The report notes that security has taken a nosedive throughout in Afghanistan in the past couple years, but asserts: "In the provinces of Afghanistan adjacent to Central Asia, the security situation has deteriorated even further than in Afghanistan as a whole on average." That situation presents huge challenges to Tajikistan, Turkmenistan, and Uzbekistan, which could become destabilized by smuggling, Taliban attacks and infiltration by extremists, among other threats. The report suggests some measures Afghanistan and its neighbours can take to mitigate those risks – including sealing borders and negotiating with the Taliban – but of none of them would be easy.
Seven more years
Few African leaders divide international public opinion as much as Rwandan President Paul Kagame, who will run for a third term in office in August, having overwhelmingly won a referendum to change the constitution in 2015. Kagame's champions see him as the architect of stability and growth in a country where some 20 percent of the population was slaughtered in the 1994 genocide. They point to free basic education for all, the halving of infant and maternal mortality, and the emergence of a vibrant economy as achievements which merit his re-election. Detractors say Kagame's authoritarian style and intolerance of opposition – some of whose leaders have been killed or disappeared, others accused of the cardinal sin of "genocidal ideology" – is a threat to democracy itself. Further evidence of this came in May, when politicians were told that all social media or online campaign content had to vetted by the National Electoral Commission 48 hours before publication. This rule was shelved a month later in the wake of domestic and international pressure, but the attempt to control the messaging will not be forgotten. Still, Kagame's re-election is pretty much a foregone conclusion: he won with more than 95 percent in 2003 and 93 percent in 2010. Rwanda's is one of four key African elections being held this year: the people of Kenya and Angola will also go to the polls in August, while Liberians will follow suit in October.
Did you miss it?
Lifting the lid on a Mozambique's loan scandal
As scandals go, Mozambique's $2.2 billion secret loan deal that crashed its economy was pretty bad (See IRIN's report). But now we're getting a handle on just how corrupt it all was. The recently-released executive summary of the Kroll audit report suggests that the Privinest Group – which was supposed to supply Mozambique with a tuna fishing fleet and maritime security vessels – overcharged by at least $700 million. For example, fishing boats were invoiced at $22 million each, but Kroll estimates the real price should have been just $2 million. And there's more. Kroll says that $500 million "remains unaudited and unexplained", on top of the $700 million overcharge. That's partly because Privinest as well as the state security service, SISE, local banks and the Ministry of Finance all refused to provide the auditors with information requested. For more on the scandal, for which Mozambicans are being forced to pay the price as the economy totters and social services are scaled back, check out Mozambique News reports & clippings.
The unpromised land
Few places these days can be described as hospitable towards asylum seekers, but in recent years Israel has outdone most other states with its policies of deterrence and detention. Not content with keeping asylum seekers confined to so-called "open" detention facilities like Holot, starting in 2014, the authorities began offering one-way tickets to "safe" third countries in Africa. By the time IRIN reported on these "voluntary" deportations in April 2015, it was already clear that those who accepted the offer to go to Uganda or Rwanda, the two countries that had quietly stepped up to receive Israel's unwanted asylum seekers, did not fare much better than those who opted to remain at Holot. This week, a year-long investigation into Israel's "relocation process" by Andrew Green for Foreign Policy revealed that the vast majority of Eritrean and Sudanese asylum seekers who are sent to Uganda and Rwanda from Israel are quickly smuggled into neighbouring countries where they have even less protection and live in undocumented limbo. Meanwhile, Ugandan and Rwandan officials continue to deny having made any agreement with Israel to receive asylum seekers.
Watch out for an upcoming IRIN film – Unwelcome Stranger - about the life of a Sudanese asylum seeker in Israel.
(TOP PHOTO: Two soldiers from forces operating under Libya's Tripoli-based government walking through the deserted streets of Bin Jawad. Tim Wescott/IRIN)
oa-am-ks-jf-as/ag
201501270911460310.jpg News Conflict Politics and Economics This week's humanitarian outlook IRIN GENEVA Global

Google Earth, class is now in session
So much of what students learn in the classroom—from social studies to history, science and literature—relates to a geographic place on Earth. Recently, we announced a new version of Google Earth, and since then, educators have been telling us what a valuable tool Google Earth is for their students. They use the "I'm feeling lucky" feature to inspire writing exercises, do research exercises with Knowledge Cards, and explore satellite imagery and cloud strata with their students. Now, to make it even easier for teachers to use Google Earth in the classroom, we've created a new "Education" category in the Voyager section, which includes new stories—complete with classroom activities—from National Geographic Society, PBS Education, HHMI Biointeractive and Mission Blue.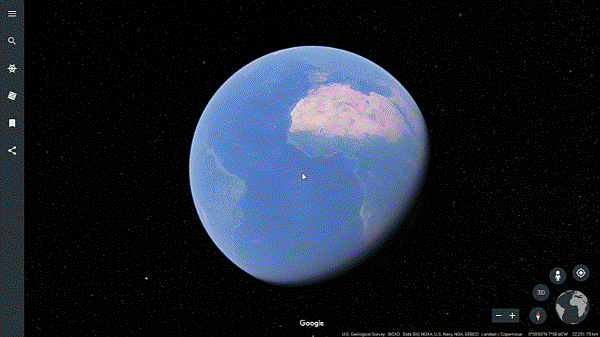 The National Geographic Society stories take students on adventures following explorers through the Middle East, India, and coral reefs. To supplement the experience, National Geographic Society created idea for activities that highlight a range of geographical concepts, such as interpreting land forms and comparing map projections.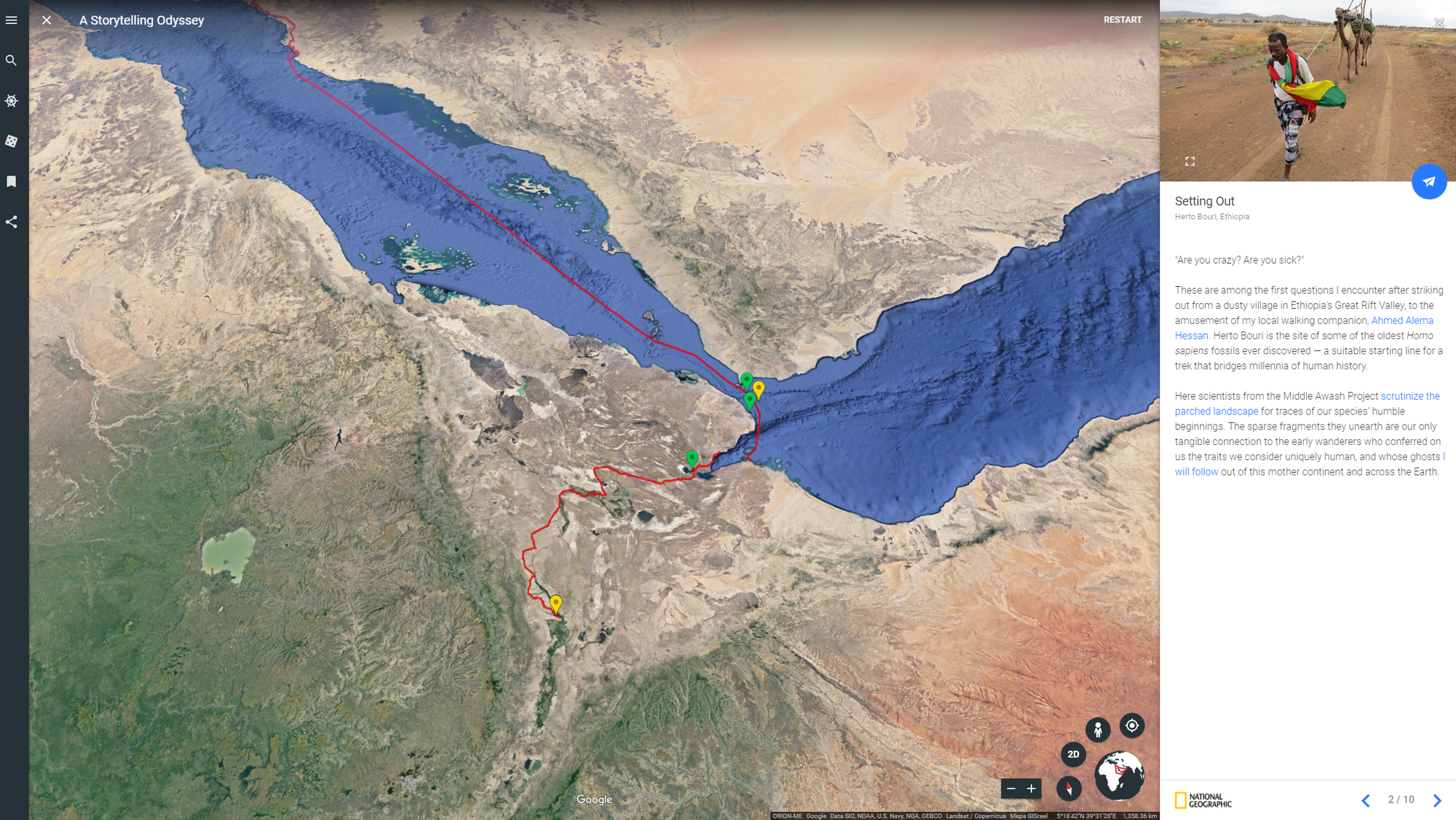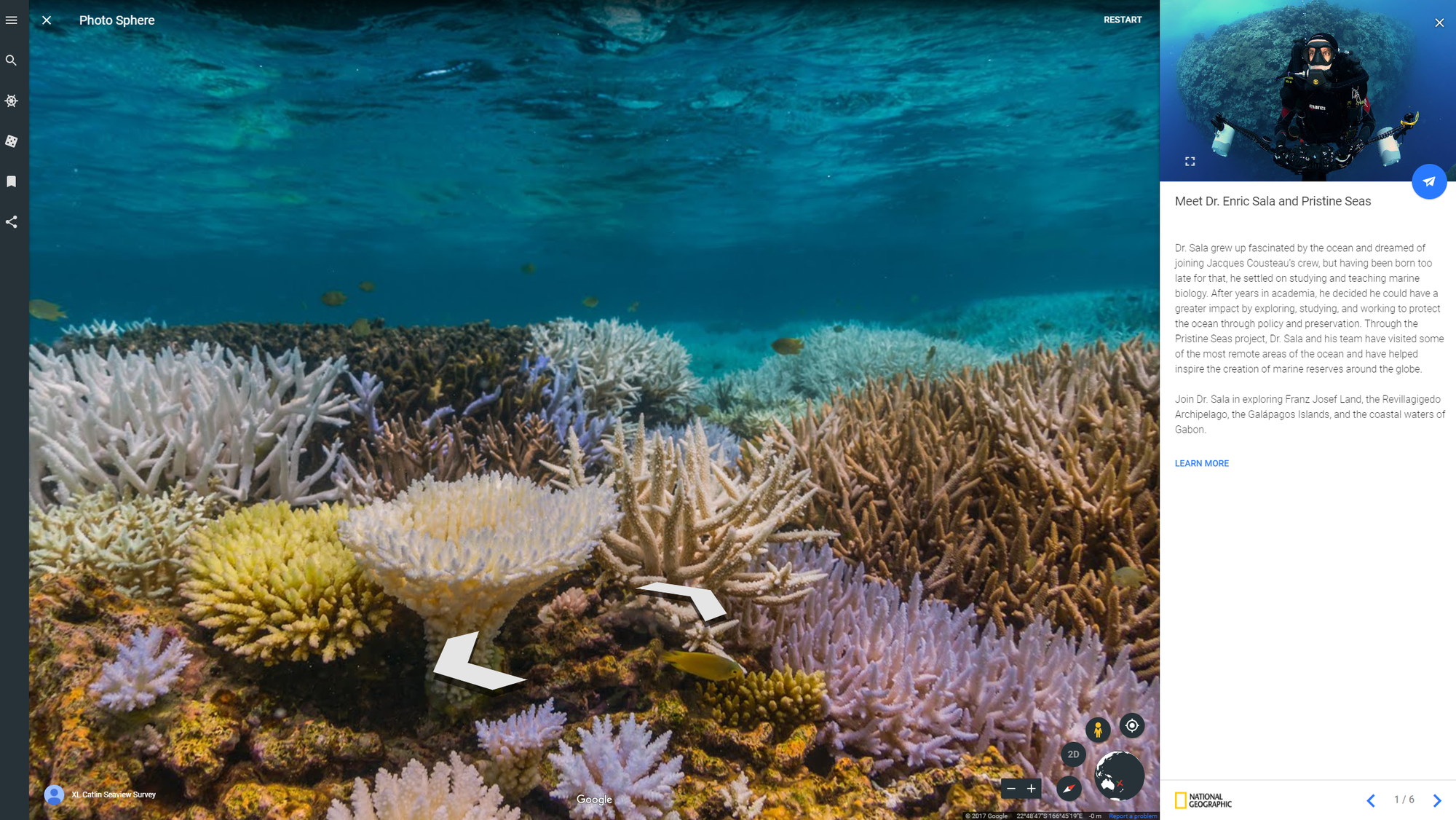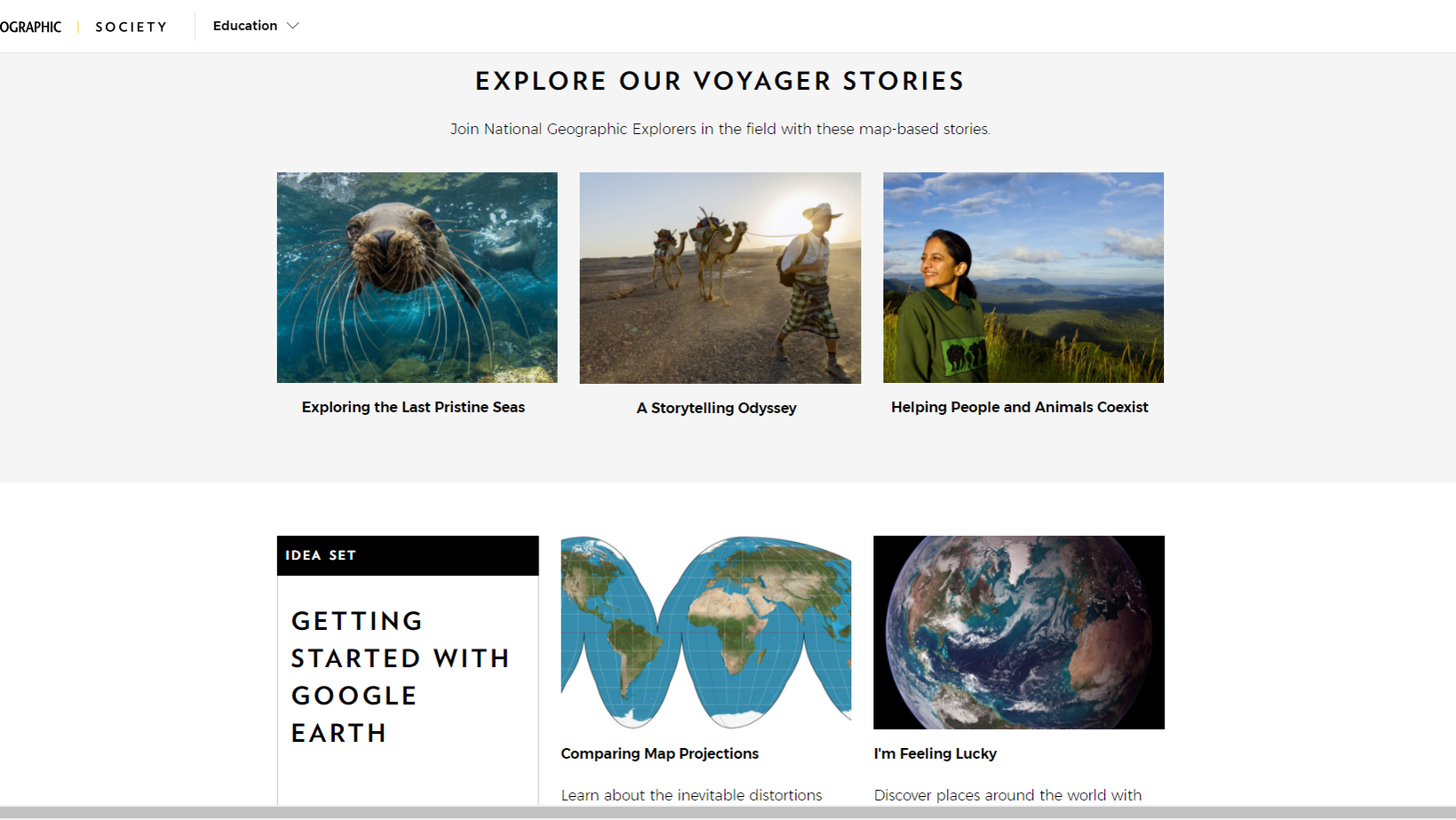 With PBS Education, classrooms can go back in time and track the paths of famous explorers, from Lewis and Clark to the Vikings. As students follow along, they, in turn, become modern-day explorers.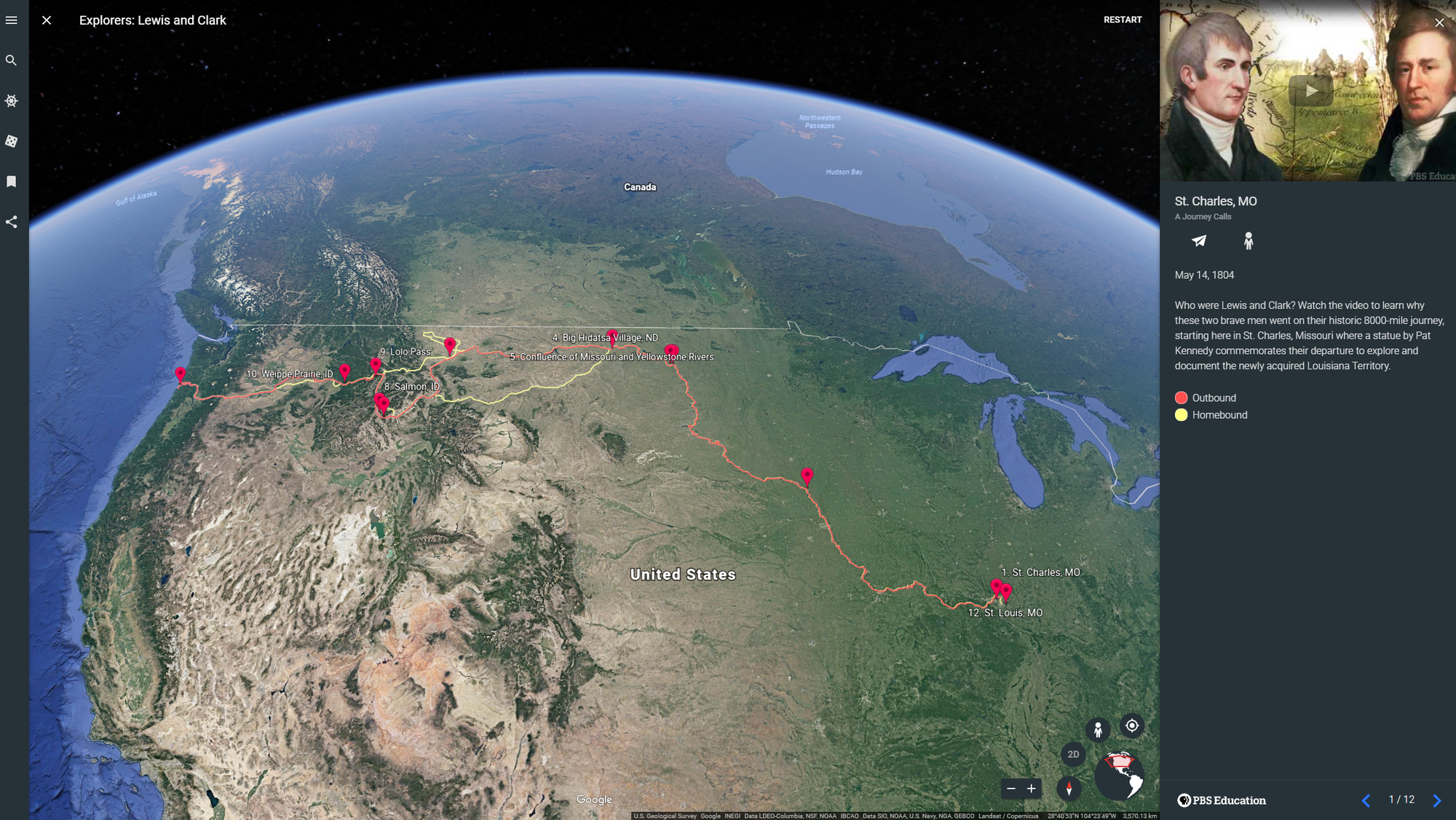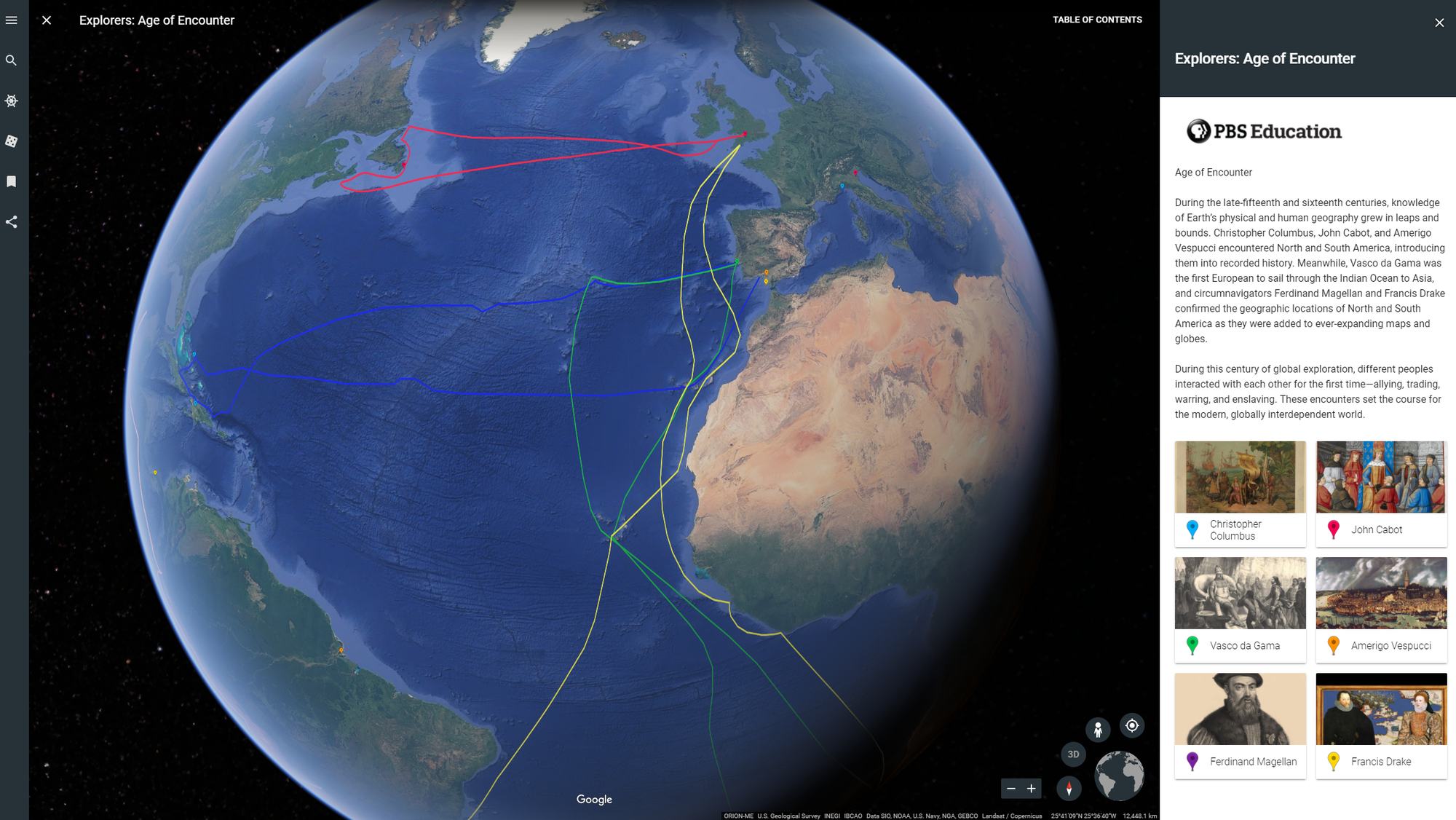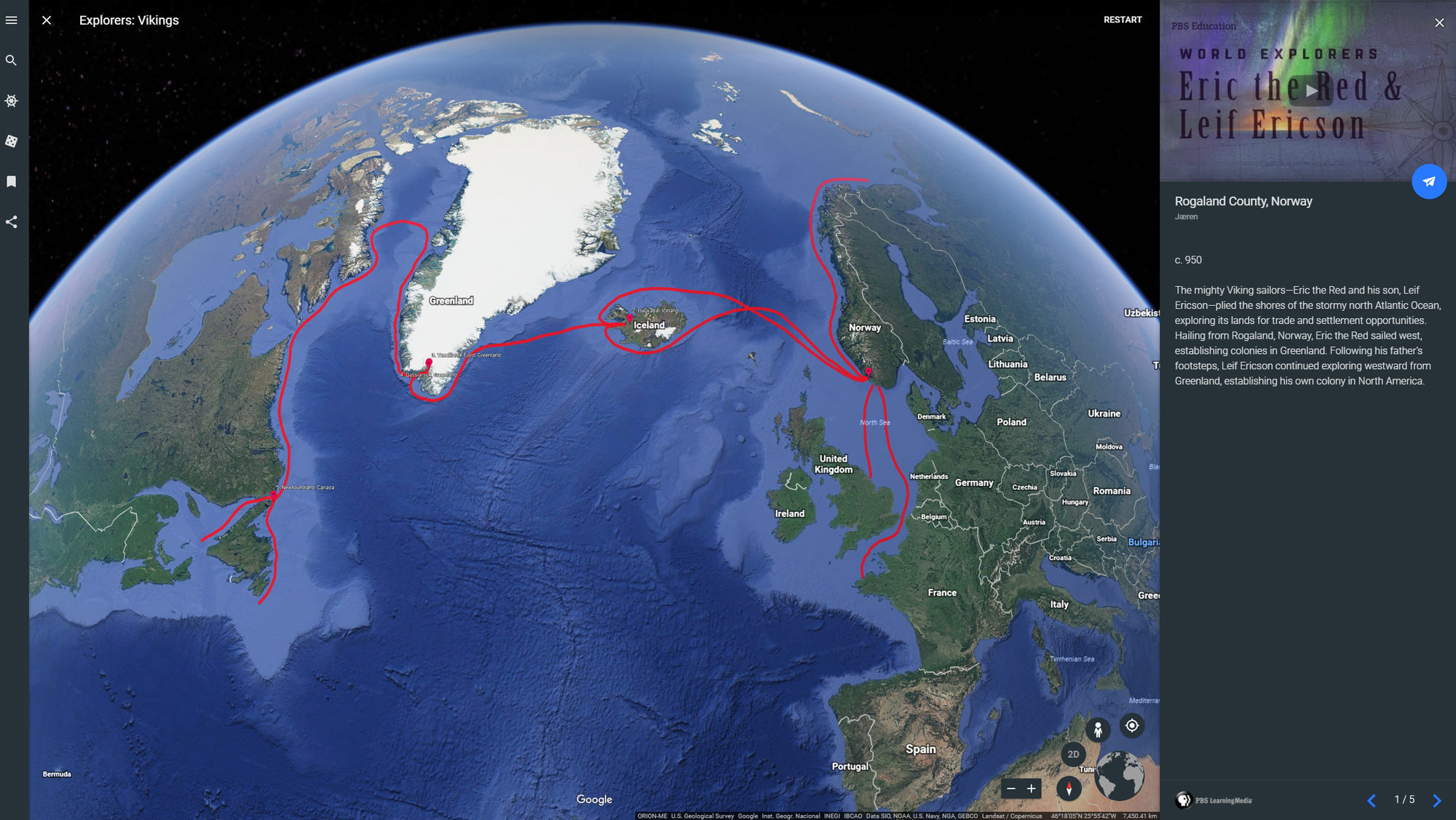 HHMI Biointeractive and Mission Blue created Voyager stories more geared towards science and math. With HHMI Biointeractive, students join "Scientists at Work" as they investigate important problems, from endangered coral reefs to the Ebola outbreak. And Mission Blue's story teaches students about the unique oceanographic conditions of Costa Rica thermal dome. Short videos and questions embedded in the stories will help guide students with their own scientific research.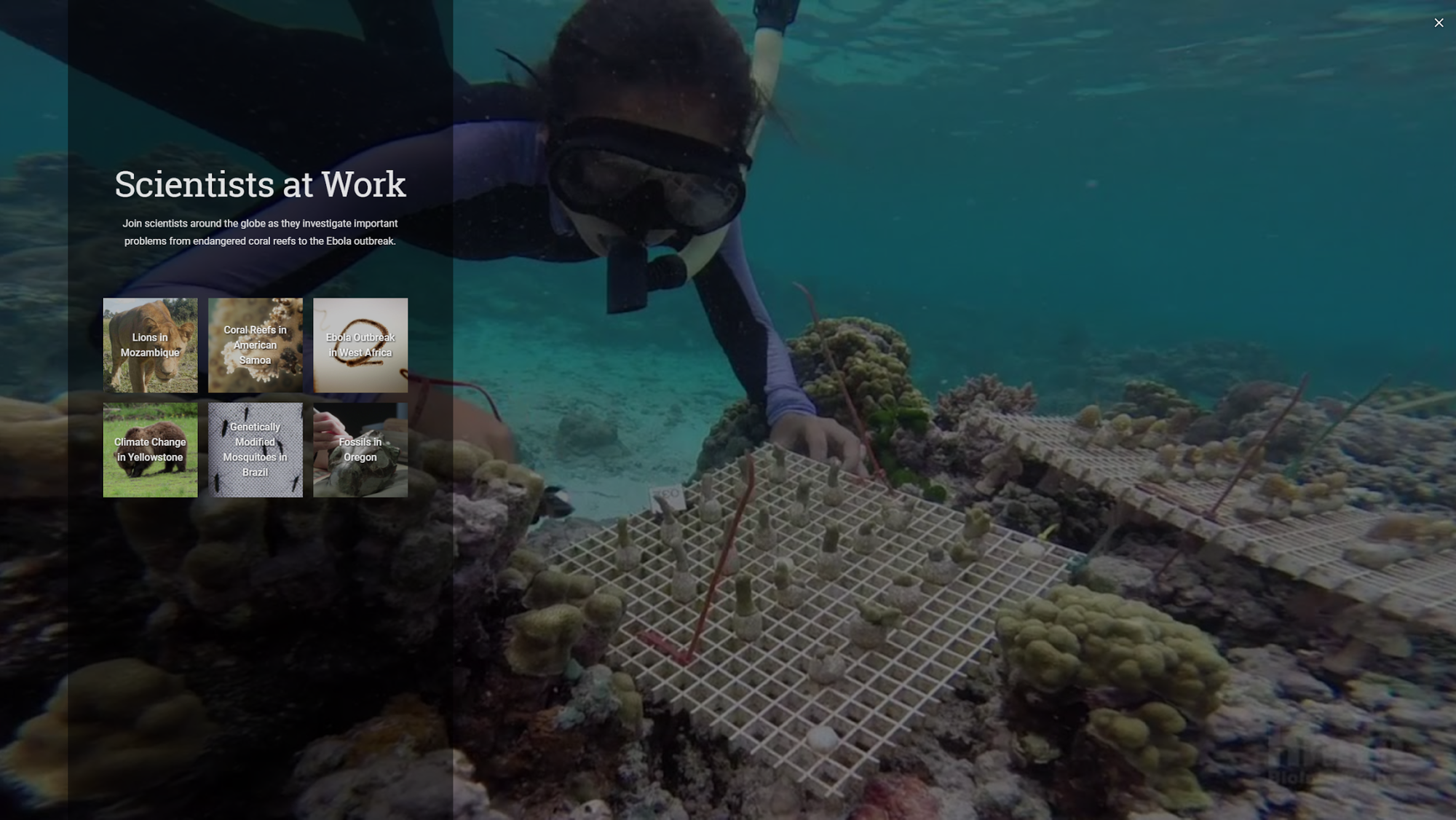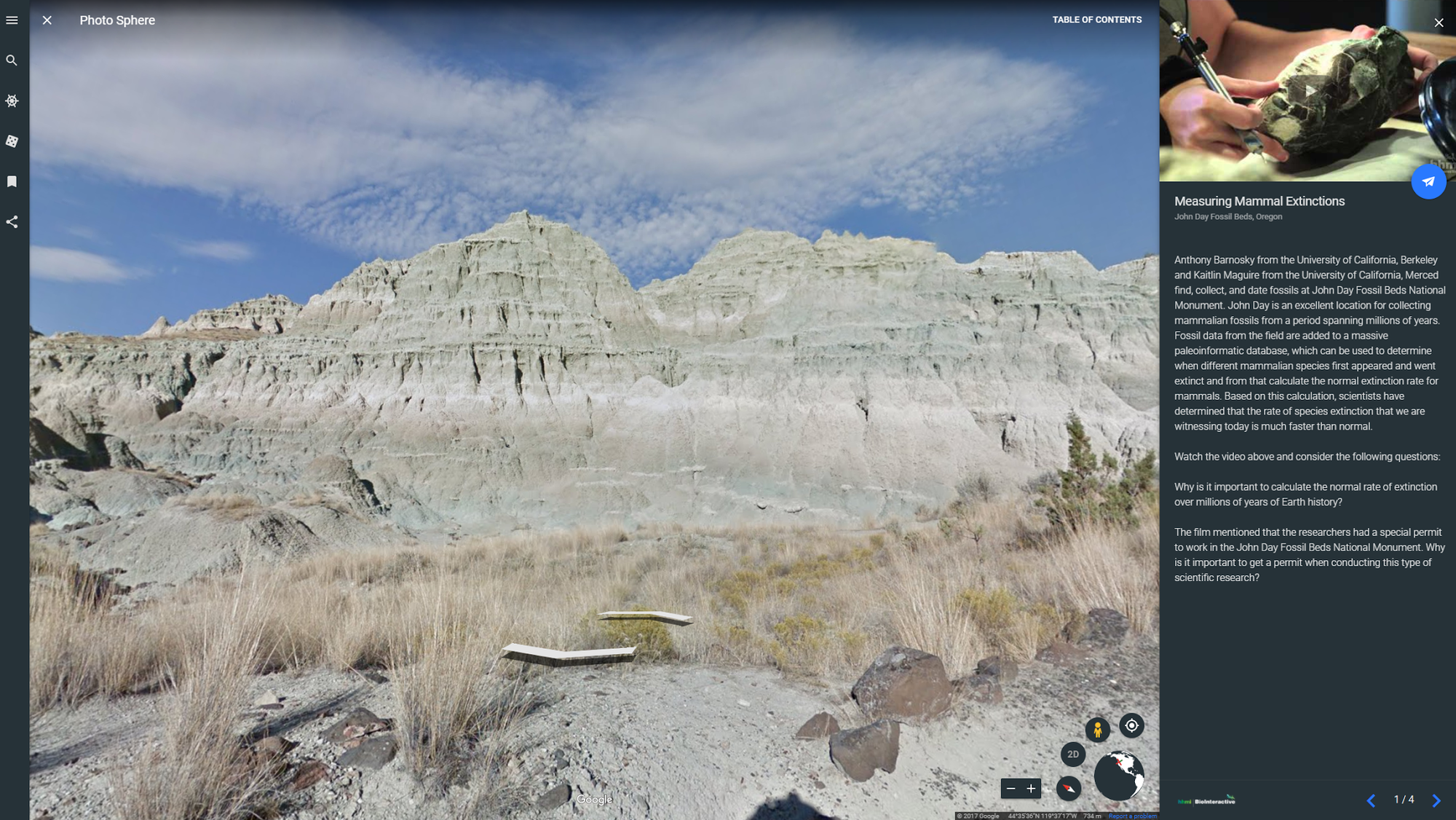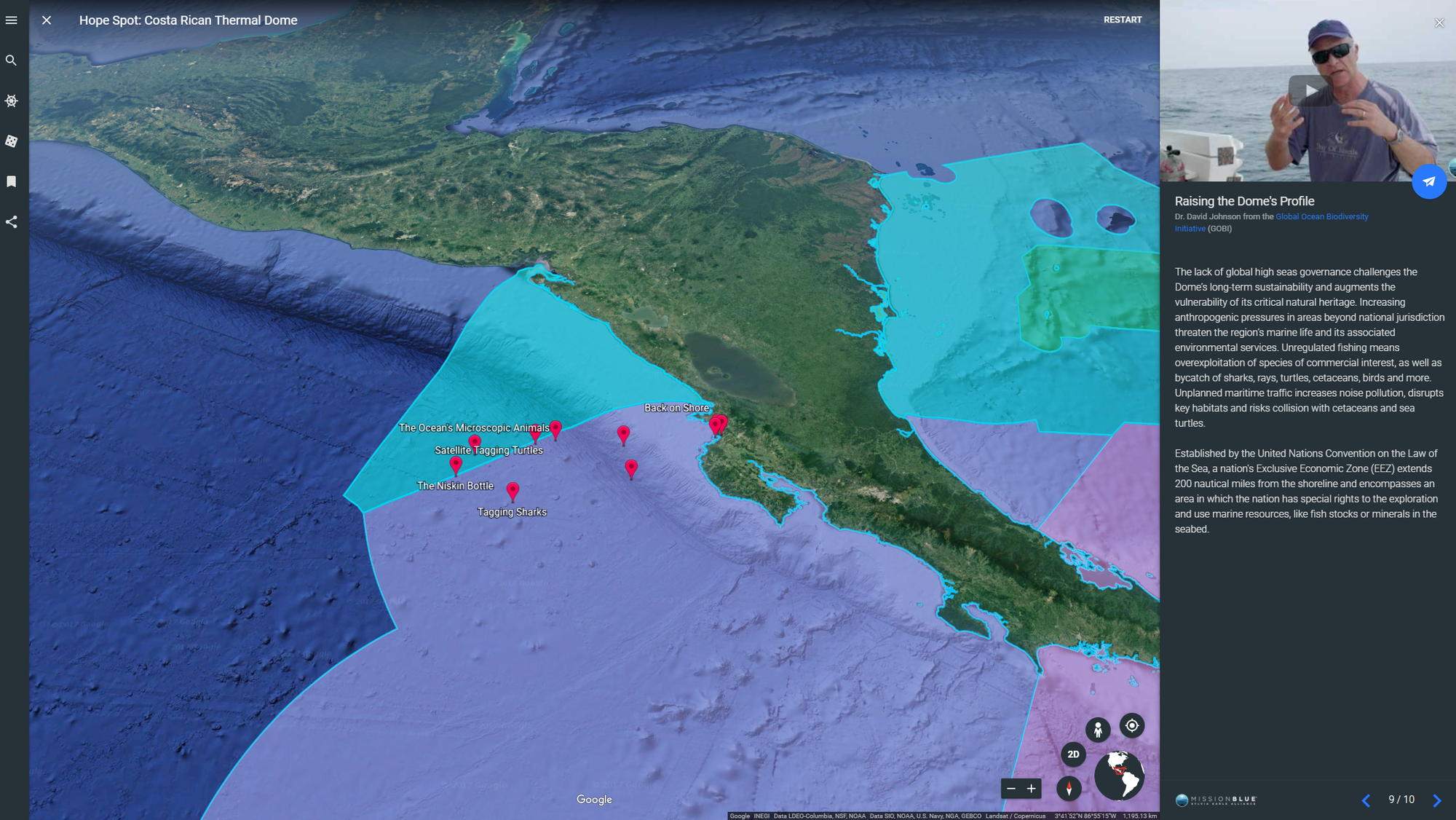 Educators everywhere can find classroom activities (created by teachers, for teachers) at our new Google Earth Education website, and easily share locations and stories directly to Google Classroom. In addition, this week Google Earth will become an Additional Service for Google for Education users, which can be managed by IT administrators through the Google Admin console.

Google Earth was built to inspire curious minds to explore, learn and care about our vast, fragile planet. With these updates, we're excited to make it easier for the next generation to see the world from a new perspective.

Aid to the Church in Need gives thanks for record year of donations
The funds helped finance 5,303 projects in 148 countries.
By Jürgen Liminski
NEW YORK--In 2016, international Catholic charity Aid to the Church in Need (ACN) has once again raised a record total in donations. Last year, ACN brought in close to $148M, topping the 2015 total by $5.7M. This was the highest total ever raised in a year. The funds helped finance 5,303 projects in 148 countries.
More than a quarter of the grants were awarded for projects in located in Africa, where the Church is growing very fast. The continent accounts for more than a third of all grant applications.
Countries located in the Saharan zone receive particular attention, as do northern Nigeria, Kenya and Tanzania, all of which are countries where an aggressive form of Islam has been spreading.
Just behind funding for Africa came emergency and subsistence aid for Church communities in the Middle East, the cradle of Christianity. This support is vital for ensuring the survival of Christianity in the region. In the Middle East, Iraq and Syria received the most aid in 2016. This is of course due to the volatile political situation in these two nations.
More than $66M flowed into the crisis areas in the Middle East since 2011. This aid is expected to continue to grow exponentially in 2017 as ACN has launched a multi-million campaign to help displaced Christians return to their homes in areas newly liberated from the grip of ISIS.
As in the preceding years, the majority of the total aid was earmarked for rebuilding projects, which accounted for 30 percent of all spending; next came emergency aid for the Middle East and subsistence aid for women religious, as well as support for pastoral formation: some 30,000 catechists and pastoral agents around the world were among recipients of support.
In Central and Eastern Europe especially, the focus of the aid is shifting from building projects to training and continued education. The Balkan countries have moved to the center of attention in this part of the world, because radical forms of Islam are making itself felt there as well. Construction and repair of 1,200 chapels, churches, cathedrals and seminaries all over the world were financed in part by ACN, mostly in regions hard hit by natural disasters. One third of the building projects were in Africa.
Every ninth priest (or 43,015 in total) received help in the form of Mass stipends, especially in Africa (14,403) and Asia (11,293). That meant that every 22 seconds Mass was elebrated somewhere in the world for the intentions of ACN donors. Aid was approved for 10,760 seminarians, a number equivalent to every eleventh seminarian worldwide. Most of them were preparing for the priesthood in Africa (4,667), Latin America (2,900) and Eastern Europe (1,577).
Training and/or subsistence aid was granted to 11,080 women religious, or every 62nd sister worldwide. In 2015, only every 67th sister received aid. In most cases, the help was in the form of subsistence aid for members of contemplative orders for women. Further funding was granted for to purchase 375 cars, 149 motorcycles and 239 bicycles as well as two boats.
ACN conducts fundraising through a network of national offices in 23 countries.
Mass in Mozambique; ACN photo
Friday Fragment: T I A
Originally posted July 25, 2008
You know that joke about the employee who takes time off because he would like to attend his mother-in-law's funeral, only to ask for time off again the next month for the same reason? (The punchline is that she isn't dead yet.)
Well, in Mozambique I don't think people would get the joke.
For starters, people refer to extended relatives as brothers, sisters, mothers, and fathers. So when someone tells you his "sister" has died, it might be his cousin. And his "mother" might be his mother's cousin. Seems sweet, but it's a little disconcerting from an employer's perspective when one tries to be sympathetic and keeps giving time off and funds for employee family funerals.
Remember our gardener, Antonio? The beanless guy? Yesterday he informed me that his wife just died, and he needs 2 weeks off and some travel money to fetch his son.
What? His wife died late last year – he took a month off then. Did he marry again already?
No, no. That wife was his second wife, his Maputo wife. His primary wife lived 3 days travel up north. And his son now has no one to care for him. The grandparents are dead, too.
How many more wives does he have????
Just these two. No more. Now he has no wives left.
My heart grieves for the motherless son. And once again I'm troubled by my lack of sympathy and compassion as an employer.
[Click here to continue reading]
Re: Maputo Mozambique
I will be visiting Mozambique soon,possibly in a month's time or 2months. How about more detailed direction of the places where the guys hang around and who to contact to show me around. You can also reach me on:moskhumalo@gmail.com.

Ferroviário da Beira - Etoile du Sahel
Mozambique side Ferroviario da Beira host Tunisia side Etoile du Sahel for the 5th round match in Group A of the CAF Champions League 2017 season. Brief Analysis -the first leg of this match in Tunisia ended 5:0 in favor of Etiole du Sahel, but despite...

UPDATE 1-Mozambique creditors: government not bound by loan guarantees
Holders of Mozambique's sovereign dollar bonds said on Thursday the government had no reason to honour guarantees on loans given to state-owned firms, which they said should be liquidated to clean up government finances. Debt-ridden Mozambique released on Saturday a forensic audit report into $2 billion worth of loans made to tuna fishing company EMATUM, security firm Proindicus and Mozambique Asset Management .
Mozambique vs Madagascar Score: COSAFA Cup Results
ST LOUIS (LALATE) – Mozambique vs Madagascar (live score results below) ignites COSAFA Cup Results today. The game just headed to the field. But who will win this MOZvMAD battle today? Mozambique vs Madagascar features two teams with contrasting records. Mozambique has four wins, one loss, in their last five battles. Madagascar in turn has […]

Archivos sonoros de Mataparda: Ris Ras 1986

Aproximadamente entre 1977 y 1988 dediqué una buena parte de mi tiempo a grabaciones sonoras. No soy músico, y mis grabaciones fueron siempre experimentos de estudio. En esa época -tenía 14 años- me influyó poderosamente el punk y el after-punk en su actitud y la música techno-industrial en sus formas. escuchaba entre otros a Kraftwerk, Cluster, Tangerine Dream, Brian Eno, The Residents, SPK, Chris and Cosey, Throbing Gristle, Tuxedomoon, Cabaret Voltaire, Aviador Dro, Esplendor Geométrico, Macromassa, Neo Zelanda, Comando Bruno, Interacción, La Otra Cara de un Jardín, Melodinámika Sensor. Un artículo bastante completo sobre la escena de la música industrial española de esos años se puede leer aquí.
Fue una época de muchos experimentos personales, la primera recopilación grabada con resultados mínimamente audibles llegó en 1984. Pero como escribió Domi en la cinta Vakaciones en Afrika vol.2 citando a Robert Fripp:

Donde haya una buena grabación casera pasa de todas esas mierdas industriales fabricadas en serie.
En el momento es que tenía construido un sonido personal utilizaba una serie de instrumentos electrónicos, sobre todo un sintetizador Korg MS20, mi primer teclado: el VL1, varios sampler como el Casio SK1, o el SK5, un Roland MC202, pedales, guitarra eléctrica, radio, percusiones analógicas y electrónicas, etc.

Las grabaciones las hacía en un Miniestudio TASCAM casero de 4 pistas.



En 2009 tuve un fructífero intercambio con Jorge, del extinto blog Hand Beanies (ahora Spain in Pain): yo le cedí una pequeña colección de cintas del panorama de la electrónica española de los años 1980 que le interesaban para digitalizar y publicar, y entre ellas digitalizó y remasterizó las 6 cintas que forman mi historia sonora. Además fue publicando los archivos digitalizados en su blog. Como aquí: Mataparda - Ris Ras (Autoedición, 1986, C30). Su blog es un sitio imprescindible si te interesa la música electrónica underground en España.
Quiero agradecerle, de nuevo, su trabajo. No fue solo digitalizar las viejas cintas de casette, remasterizar es un trabajo de creación. Esa restauración sonora de mis casettes solo podía haberlos hecho alguien como él, que ama la música electrónica.

Ris Ras
Es una colección de piezas explorando ritmos y texturas sonoras. Fue un paso intermedio, sin muchas pretensiones, un poco minimalista pero muy personal. Al final es uno de mis trabajos preferidos, por eso mismo y por su brevedad (30 minutos). Sin textos que acompañen y con un solo gráfico, la letra G saliendo de un volcán. La portada fue un pirograbado directamente sobre la tapa de la cinta.
Utilicé casettes totalmente transparentes.



Lista de archivos:

01. La Mandolina al revés




02. Suaves golpes de ruido blanco




03. Los toletes




04. Tenerife 0 - Las Palmas 2




05. Las Palmas 2-Tenerife 1




06. Dominguito y Javier




07. Por las fronteras de Mozambique




08. Barco Manche




09. T.V




10. El goro de cochinos




11. Guitarra rascada




12. Tasagaya




13. El rápido




14. Santa Cecilia




15. No convence del todo




16. Don Ángel




17. Me llena la cachimba




18. Uno-dos




19. Dibujos animados




20. Ritmo marcado variaciones




21. Mozambique de fronteras las por




22. Melodía mandolina




23. Improvisación




24. Revés al mandolina la

Los archivos sonoros se pueden escuchar en el reproductor incrustado o bien descargándolos desde aquí:




Mataparda - Ris Ras por José Mesa / Remaster Jorge J. Soler Molina se encuentra bajo una Licencia Creative Commons Reconocimiento-NoComercial-SinObraDerivada 3.0 Unported. Basada en una obra en handbeanies.blogspot.com.


.



O Telhado de Vidro
Carlos Kandanda
Na antigamente costumava dizer que, "quem tem telhados de vidro não deve atirar pedras aos dos vizinhos." Este proverbio ensina-nos a ter cautela em não ofendermos inadvertidamente as outras pessoas. Sempre é aconselhável respeitar os outros de modo que eles possam-nos respeitar também. Pois, na vida é preciso sermos modestos, prudentes e sensatos quando lidamos com outras pessoas. Evitar situações desagradáveis ou perigosas, capazes de comprometer a nossa reputaçao ou o nosso futuro.
Por isso, um homem sensato deve assumir integralmente o seu passado histórico. A nossa identidade, como pessoa colectiva, está ligada estreitamente ao nosso passado, como um espelho, que reflecte a nossa imagem. Não existe o presente sem o passado, e o futuro sem o presente. A vida é um encadeamento constante de actos concretos, que nos permite fazer um juízo dialéctico de uma realidade movente, histórica, concreta e global. Ou seja, a vida desenvolve-se e transforma-se – adaptando-se à cada realidade concreta, numa dinâmica contínua. Jugar isoladamente o passado no presente é uma metafisica que abstrai os elementos isolados de um todo, considerando-os como estáticos e independentes uns dos outros. Ao passo que, a vida é uma teia de arranha. Em função disso, o futuro reside no presente, e este último ilumina o primeiro.
Olhando para os aspectos concretos desta reflexão, Angola possui três matrizes sociopolíticas e étnico-culturais distintas. A Primeira Matriz é da União dos Povos do Norte de Angola (UPNA) que se transformou sucessivamente na União dos Povos de Angola (UPA) e na Frente Nacional de Libertação de Angola (FNLA). A sua base social e étnico-cultural é Kikongo. A Segunda Matriz é do MPLA, que desenvolveu-se no seio dos mestiços, dos brancos e dos assimilados quimbundos, com ligações fortes ao partido comunista português. A sua base social e étnico-cultural é Quimbundo, Mestiços e Brancos. A Terceira Matriz é da UNITA, que desenvolveu-se das duas matrizes acima referidas, transformando-se numa identidade politico-ideológica. A sua base social e étnico-cultural é Umbundo.
Este é o mosaico original da transformação gradual do nacionalismo angolano, cuja entidade sociocultural mante-se intacta, com algumas alterações ligeiras, na sua composição sociológica e étnico-cultural. Pois, no seio dessas matrizes socioculturais verificou-se uma integração relativa de outros povos de Angola em cada uma delas. Mas o cerne do poder político é mantido inalterável sob o controlo absoluto por núcleos internos das bases sociais e étnico-culturais que determinaram a génese destas formações politicas.
Portanto, as instituições politicas baseadas nessas matrizes socioideológicas têm dificuldades enormíssimas, quase impossível, de ajustar-se às exigências da realidade actual das sociedades abertas e cosmopolitas. O pluralismo politico, assente nos valores democráticos, na cidadania e na igualdade étnico-cultural e multirracial, exige uma transformação profunda e real, dos partidos tradicionais. O dogmatismo ideológico e o etnocentrismo, não se coaduna com a realidade actual das sociedades modernas, de maioria bantus, da Africa Austral, com grandes mosaicos étnico-culturais. A supremacia de um grupo étnico ou racial sobre os outros é insustentável. Embocando-se sempre em instabilidades internas, em rupturas e em dissidências intrapartidárias.
A título de exemplo, no Mês de Maio de 2017, realizou-se em Luanda uma Reunião de cúpula, dos Secretários Gerais dos Antigos Movimentos de Libertação Nacional da Africa Austral, actualmente no poder, nomeadamente: ANC, da Africa do Sul; FRELIMO, de Mozambique; SWAPO, da Namíbia; Chama Cha Mapinduzi, da Tanzânia; e MPLA, de Angola.Nesta Reunião de Luanda, constatou-se que, os «inimigos principais» dos Partidos Nacionalistas, da luta anticolonial, são o «fraccionismo» e a «mudança do regime».
Em face desta conjuntura, de dissidências intrapartidárias, esses partidos, decidiram (na reunião de Luanda) reforçar a «doutrina ideológica» na Juventude e a imposição da «disciplina partidária» sobre a sociedade, no sentido de «inviabilizar a cultura democrática» e a «mudança do regime» na Africa Austral. Uma das medidas tomadas nesta reunião da cúpula é dos Governos da Africa Austral adoptar o Modelo Político Chinês, de Partido-Único, adaptando-o à realidade de cada País. Acima disso, bloquear o acesso das Potencias Ocidentais ao Mercado da Africa Austral, rico em recursos naturais, minerais estratégicos e terras vastas para a agricultura e a pecuária.
O exposto acima não se conjuga bem com o mundo da globalização, que busca uma maior cooperação internacional e o intercâmbio de conhecimentos científicos e tecnológicos. Nesta lógica, a inoculação de ideologias dogmáticas não potencia a Juventude no sentido de fazer face aos grandes desafios do mundo contemporâneo. O que exige, neste respeito, enormes investimentos no sistema de educação e na formação técnico-profissional de alta qualidade. Criando Institutos e Centros de Pesquisas, bem apetrechados, com equipas de especialistas de altos níveis. Fazendo investimentos avultados na Juventude, na classe média, na camada intelectual e nas comunidades locais, como sustentáculos de desenvolvimento.
Por isso, a nossa Juventude não deve perder tempo com ideologias partidárias caducas, que visam apenas manter a sociedade no obscurantismo, no atraso, na iliteracia, na pobreza e na opressão. Ao passo que, o mundo de hoje, da época contemporânea, aposta-se nas inteligências finas, no empoderamento do Homem, na promoção das comunidades locais, na obtenção de novas tecnologias, na concorrência leal e na cooperação internacional. Por coincidência, o Senhor Isaac dos Anjos,o deposto Governador de Benguela, caracterizou recentemente os «Partidos da Independência» como sendo "muito pesados, com uma química muito forte, sem possibilidade de mudar; como acontece com Benfica e Sporting. Sendo alternativa, o Porto."
Como princípio pessoal, nunca aceitei a ideia de disfarçar a minha identidade política, de ter sido parte integrante dos nacionalistas angolanos, que lutaram contra a colonização portuguesa, sob a Bandeira da UNITA. Portanto, eu conheço bem a cultura dos Partidos Nacionalistas (partidos da independência) angolanos. A Doutrina monopartidária, de exclusão e de intolerância politica, afecta todos eles, quer os que estiverem no Poder, quer os que estão na Oposição.
Importa realçar que, a reconciliação entre esses partidos de independência é impossível. Eles são inimigos declarados e eternos, que excluem-se mutualmente. Eles não aceitam o princípio da mudança do regime. Quando estiverem na oposição utilizam a mudança democrática para apenas alcançar o poder político. Quando o Poder do Estado estiver conquistado aplica-se a mesma Doutrina que consiste na eternização do Poder do Estado.
A UNITA, por exemplo, defende a tese segundo qual: "Ela é o único partido que defende o povo angolano." Fim de citação. Por sua vez, o MPLA defende que, "ele é o único partido capaz de governar Angola." Estas duas teses, de ser «ÚNICO», contrariam o Conceito da Democracia Multipartidária, assente no Sufrágio Universal e na Alternância do Poder do Estado. O Sufrágio e a Alternância são a «ESSÊNCIA» da Democracia moderna – Multipartidária, Representativa e Participativa.
No fundo, quem tem a faca e o queijo na mão para decidir sobre o Poder Público são os Eleitores. Somente eles que tem o poder de decisão de quem governa e de quem representa melhor os seus interesses. Os Partidos Políticos não podem impor a sua vontade e determinar por si só seu estatuto de ser isso ou aquilo. Em função disso, os eleitores devem ser livres e votar em consciência, sem constrangimentos nenhuns. Na verdade, nas democracias genuínas e avançadas, os eleitores apostam-se em ter o equilíbrio político no Parlamento, a fim de poder legislar bem, fiscalizar bem e escrutinar bem o Poder Executivo. O equilíbrio político, neste respeito, constitui a condição sine qua non para a Boa Governação. As maiorias absolutas induzem os países nas ditaduras das maiorias, inibindo assim a democracia.
Portanto, o Isaac dos Anjos tem razão na sua articulação, que resultou, como esperava, da sua exoneração – já de imediato. Afirmando assim, a intolerância politica. Na verdade, ergueu-se o muro intransponível que divide a Nação Angolana em dois Campos inimigos e irreconciliáveis, como os Judeus e os Palestinos. Tem-se estado a incutir persistentemente na mente dos angolanos o espirito forte de ódio, de segregação e de revanchismo. Alias, na TV-Zimbo, o General Abílio Khamalatah Numa foi explícito e bastante contundente sobre esta matéria. Pondo a nu a natureza exclusivista do Regime do MPLA. Como vês, são dois polos distintos, bem afastados, de matrizes opostas, mas que se convergiram nas suas ideias sobre esta matéria – em busca da Cidadania Angolana.
Por isso, todos os Patriotas, bem esclarecidos, das três escolas de pensamento (matrizes sociopolíticas), acima referidas, reconhecem o imperativo de buscar uma alternativa viável, exequível e sustentável ao status quo presente. É nestes moldes em que a CASA-CE emergirá em 2012, com o propósito de desfazer a cultura segregacionista e a política da partidarização absoluta da Nação Angolana.
Em função disso, a CASA-CE nunca vai coibir-se de se defender e de defender os seus Ideais Políticos, acima sublinhados. O Conceito de «Um Só Partido», como um monólito, todo-poderoso, pertence ao passado. A Pluralidade Politica e a Diversidade de Ideias constituem a Filosofia moderna do Mundo Contemporâneo, do Século XXI, do Terceiro Milénio.
LUANDA, 12 de Junho de 2017
Os Contornos da Transição do Poder Politico em 2017 C
Carlos Kandanda
Visto por dentro, na dimensão global, o tema é bastante delicado e complexo, exigindo uma abordagem realista e objectiva. Este tema, por natureza, suscita incertezas, dúvidas, controvérsias e especulações de diferentes sectores da sociedade angolana, dilacerados por doutrinas partidárias, assentem em preconceitos totalitários, que estiveram na origem da ruptura que se verificou no seio do nacionalismo angolano. Tendo-se culminando na Guerra Civil prolongada, que tivera devastado o País durante três décadas consecutivas. Por este motivo, os desafios do ano 2017, em Angola, são imensos e transversais, envolvendo vários factores, quer de ordem interna, quer de ordem externa. Mas, na sua manifestação prática, se convergem na mesma conjuntura, com identidades e características distintas.
Logo, as questões fundamentais deste fenómeno têm a ver com o âmbito de transição do Poder público, tais como: a modalidade e as circunstâncias em que se desenrolar a transição; o carácter e a dinâmica de transição; a dimensão deste fenómeno; o protagonismo politico; o ambiente de transformação; o espirito reinante de transição; a transparência, a lisura e a credibilidade dos mecanismos eleitorais, que conferem a legitimidade e a legalidade do processo; as perspectivas e as consequências adjacentes. Acima de tudo, como lidar com as questões complexas que surgirem no decurso de transição? Se ter em consideração a postura dos regimes africanos, enraizados no poder há muitas décadas, sem alternância político-partidária.
Noutras palavras, o factor central e determinante deste processo, reside nas eleições legislativas deste ano, de 2017, que definirá o quadro real de transição e a natureza do mesmo. A qualidade do processo e o equilíbrio político resultante das eleições, são elementos chaves que garantirão uma transição eficaz e estável, com capacidade de conferir a credibilidade e a legitimidade do poder político, ora eleito.
A credibilidade e a legitimidade do processo eleitoral são factores fundamentais que permitem criar um ambiente favorável de transição, com um grau elevado de dignidade prestada ao Presidente José Eduardo dos Santos, cuja imagem, nos últimos tempos, tem estado ofuscada por vários factores, de índole moral, ético, politico, social e económico. Se este cenário estiver invertido, não só agravará a crise social e económica que o País vive, mas servirá de factor desestabilizador do processo em curso da democratização do País. Criar-se-á, neste âmbito, um ambiente conturbado que obrigará a manutenção do Consulado actual, que se encontra no estado de declínio, sem capacidade de sustentação por muito tempo.
Na realidade, isso não depende da vontade do Presidente José Eduardo dos Santos. Mas sim, da realidade humana, que nos leva geralmente a perder o controlo sobre a nossa vida, que depende do poder de Deus. Sendo assim, seria absurdo e insensato, como Nação, tapar o solo com a peneira. Presidente Nelson Mandela, por exemplo, foi justo para consigo mesmo e para com o Povo Sul-africano. Pois, toda gente, dentro e fora do país, sabia bem do estado de saúde daquele Grande Homem da História. Ele foi transparente e não fazia questão de inventar tabus em torno disso, quando os factos contundentes vieram à superfície, de uma forma irreversível.
O Jesus Cristo, por sua vez, quando aproximava o ponto crucial da sua vida na Terra, que o levava ao Monte Calvário, em Jerusalém, onde ficara cruxificado, foi transparente e honesto diante o seu Povo e perante os seus Apóstolos. Enfrentando os desafios com integridade, com coragem, com firmeza e com determinação. Na hora exacta, tivera que transferir a Liderança da Igreja ao seu Apostolo – o Pedro. Importa dizer que, quando mais cedo for a transição do poder, conforme fez o Nelson Mandela, mais credível e mais esplendor que se torna a figura de um Líder. Além disso, cria o ambiente saudável de estabilidade ao processo de transição do poder político.
Uma transição justa e equilibrada viabiliza a dignidade atribuída ao líder, reconhecendo os seus feitos e suas virtudes, de uma Obra histórica, que se torna num legado de uma Nação, como símbolo imponente, resultante de uma longa Epopeia. A este respeito, uma Nação digna deve ser capaz de valorizar a sua História, que é feita por homens e mulheres, sob a liderança das suas elites e dos seus protagonistas. Acima disso, a reconciliação para consigo mesmo e para com os outros é o fundamento mais solido da vida, que nos concede a graça de Deus, que consagra a nossa felicidade e nos dá a mão aberta ao próximo. Não é possível fazer justiça se não somos capazes de reconciliar com nós próprios. Um ditado diz, «a caridade bem ordenada por nós é começada». Dizia Shakespeare, neste respeito, «a caridade deve ser espontânea».
Um Filosofo Europeu afirmava: «Não há nenhuma revolução de grandes dimensões, sem que tenha passivos». Neste respeito, se olharmos para as grandes revoluções (Egípcia, Grega-Macedónica, Romana, Austro-húngara, Americana, Inglesa, Francesa, Germânica, Otomana, Russa, Chinesa, Indiana, Sul-africana, etc.) do Mundo, veremos que todas tiveram momentos dramáticos, de actos de barbaridades, e de violações flagrantes dos direitos do homem.
Todavia, os seus povos tiveram a sabedoria de reconciliar-se entre si, e tirar o melhor possível, no sentido de erguer uma Nação próspera, una e indivisível. Levando os seus símbolos ao mais alto Altar, servindo-se disso de elementos de referências e de orgulho nacional. A transformação dos passivos em lições de História, para a unidade nacional, faz parte integrante das «virtudes cardeais», nomeadamente: a prudência, a justiça, a fortaleza e a temperança.
Pois, é imperativo sermos moderados nos nossos desejos e na satisfação das nossas tendências, quando buscamos o bem-comum, que se traduz no bem-estar, favorável ao desenvolvimento harmonioso e sustentável para todos os membros da sociedade – sem excepção alguma. O patriotismo e a democracia residem nessas virtudes que nos permite elucidar as nossas mentes e incutir-nos a sensatez, de saber separar o joio do trigo. O Napoleão Bonaparte, na sua visualização estratégica, afirmava o seguinte:
"Meu maior talento, a minha marca, é que vejo tudo com clareza, o mesmo se passa com a minha eloquência, porque posso visualizar o que é essencial num problema, mesmo visto de vários ângulos."
Fim de citação.
Em tudo que fizemos, «o essencial» é que determina a nossa visão estratégica, de modo a sermos bem-sucedidos. Tivera sido deste modo em que emergiram as grandes Nações do Mundo, como os Estados Unidos da América, a Rússia e a China, que tiraram o maior benefício da sua História e dos seus timoneiros, concedendo-lhes a dignidade e a honra, como símbolos da Pátria.
A História das Nações não se inventa. Ela existe, e afirma-se, por factos concretos. Isso aplica-se igualmente a História de Angola, em que o Presidente José Eduardo dos Santos tornou-se uma peça fundamental, como protagonista da História Pós-independência. As virtudes e as deficiências do seu Reinado longevo constituem um grande paradoxo, que envolve aspectos positivos e elementos negativos. Os quais, no cômputo geral, ergueram um Grande Castelo. Nós, como Nação, temos que saber separar o joio de trigo, descobrir o essencial do nacionalismo angolano, tirando o melhor de si, para o engrandecimento da nossa Pátria.
Por isso, se torna imperativo uma transição do poder o mais cedo possível, nas condições favoráveis, para que as virtudes do seu Consulado sejam o fundamento solido da edificação da Nação Angolana. Este é o maior desafio do País e do próprio José Eduardo dos Santos, que é a peça central deste empreendimento estratégico.
Os outros países, da nossa região (Africa do Sul, Namíbia, Mozambique e Zâmbia), por exemplo, já deram provas da sua maturidade politica, na transição do Poder. Não obstante algumas fragilidades registadas. Porém, essas debilidades, acima referidas, são superáveis no decurso da consolidação das instituições democráticas. Os povos destes países, acima mencionados, já estão habituados a conviver com os seus antigos Presidentes, dentro do país, bem acarinhados e protegidos. Tendo a responsabilidade de cooperar com novos governos no sentido de transferir os Dossiers e os Conhecimentos acumulados ao longo da sua governação, como repositórios do Estado.
Enfim, para sintetizar o meu raciocínio, diz-se na gíria, "a bom entendedor meia palavra basta." Eu assim o entendo, quanto a conjuntura actual, que tem sido abordada extensivamente, quer no plano nacional, quer internacional. O êxito desta transformação não depende dos factores externos. Mas sim, da realidade interna do País, que está sob domínio de nós próprios, como cidadãos desta Pátria. O respeito escrupuloso da vontade dos eleitores, nas urnas, é o factor chave e decisivo que definirá o quadro real de transição.
O que acaba de acontecer na Gambia, de não aceitar a derrota eleitoral pelo Partido no Poder é capaz de acontecer aqui, nas eleições deste ano. O que irá criar um quadro difícil e nebuloso. Atendendo o facto de que, o sistema do Partido-Estado, do Poder Unipessoal, mante-se intacto, quer no ponto de vista doutrinário, quer na manifestação prática. Tendo mantido todos os órgãos públicos e as instituições do Estado sob alçada do Partido no Poder.
Sendo neste caso, a figura mais notável, o Poder Judicial, que não faz jurisprudência, na aplicação da lei, como Órgão independente de soberania do Estado. Pelo contrário, toma decisões políticas, submetendo-se ao mando do poder politico. Violando, assim, o princípio de separação de poderes, como órgão independente de soberania do Estado. Enfim, a partidarização do Estado Angolano constitui o maior obstáculo à democratização do País, e ao processo em si, de transição do poder – em vista.
Contudo, eu acredito que, a ditadura não se reforma. Por isso, o final do Reinado longevo, do Presidente José Eduardo dos Santos, pode-se transformar numa oportunidade de ouro, no sentido de efectuar mudanças profundas do sistema politico, assente nos valores democráticos de liberdade, de igualdade, de justiça, de equidade, de coesão nacional e sobretudo, de boa governação, de responsabilidade (accountability), de inclusão, de cidadania, de participação efectiva dos cidadãos e de solidariedade.
Luanda, 27 de Janeiro de 2017
Potatoes a sweet solution to Mozambique's food insecurity woes
from BERTA MADIME in Maputo, Mozambique MAPUTO, (CAJ News) – A massive sweet potato project the Mozambican government has embarked on, with the support of international partners, is transforming the lives of impoverished rural communities, addressing long running challenges of food insecurity and thwarting exposure to disease. Launched by the United States government through its […]

Bilene: Mozambique's prime beach resort
from BERTA MADIME in Maputo, Mozambique MAPUTO, (CAJ News) – THE municipality of Macia, which lies some 150 kilometres northeast of the capital Maputo, is Mozambique's flagship tourism region. Among the centre of attractions in this region in the Gaza Province is the Bilene Beach, or simply Praia de Bilene in Portuguese, which is on […]

How Can the Health System Retain Women in HIV Treatment for a Lifetime? A Discrete Choice Experiment in Ethiopia and Mozambique
Introduction: Option B+, an approach that involves provision of antiretroviral therapy (ART) to all HIV-infected pregnant women for life, is the preferred strategy for prevention of mother to child transmission of HIV. Lifelong retention in care is essential to its success. We conducted a discrete choice experiment in Ethiopia and Mozambique to identify health system characteristics preferred by HIV-infected women to promote continuity of care. Methods: Women living with HIV and receiving care at hospitals in Oromia Region, Ethiopia and Zambézia Province, Mozambique were shown nine choice cards and asked to select one of two hypothetical health facilities, each with six varying characteristics related to the delivery of HIV services for long term treatment. Mixed logit models were used to estimate the influence of six health service attributes on choice of clinics. Results: 2,033 women participated in the study (response rate 97.8% in Ethiopia and 94.7% in Mozambique). Among the various attributes of structure and content of lifelong ART services, the most important attributes identified in both countries were respectful provider attitude and ability to obtain non-HIV health services during HIV-related visits. Availability of counseling support services was also a driver of choice. Facility type, i.e., hospital versus health center, was substantially less important. Conclusions: Efforts to enhance retention in HIV care and treatment for pregnant women should focus on promoting respectful care by providers and integrating access to non-HIV health services in the same visit, as well as continuing to strengthen counseling.

Re: Maputo Mozambique
I will be visiting Mozambique soon,possibly in a month's time or 2months. How about more detailed direction of the places where the guys hang around and who to contact to show me around. You can also reach me on:moskhumalo@gmail.com.

Re: Maputo Mozambique
I will be visiting Mozambique soon,possibly in a month's time or 2months. How about more detailed direction of the places where the guys hang around and who to contact to show me around. You can also reach me on:moskhumalo@gmail.com.

Tour Guide - AMANDLA FAMILY EXPRESS TOURS - Marble Hall, North West 0458
please be able to travel the following countries if you apply for this job,Namibia,zimbabwe,mozambique,botswana,zambia,south africa,kenya,malawi and tanzania R20 000 a month
From Indeed - Thu, 29 Jun 2017 10:23:46 GMT - View all Marble Hall, North West 0458 jobs

Moz benefiting from mining-sector exports, coal now dominant mineral
Montepuez Ruby Mining (Montepuez) has announced that it achieved revenues of $54.8-million from its latest ruby auction, in Singapore. Montepuez mines rubies and corundum in the Montepuez district of Mozambique's Cabo Delgado province. The company is 75%-owned by UK enterprise Gemfields and 25%- held by Mozambican company Mwiriti Limitada. Montepuez' concession covers 33 600 hectares.

The Ilala: paradise afloat on Lake Malawi
Planning my trip to Malawi, I found a description of the Ilala. "Oh Roger", said Kevin, "just look at the dents - you've got to go for a ride on that".

We went for a ride on it, alright! Space really does not permit a full description of the Ilala experience, but here are just a few of the highlights.
Booking for this (up to) 5 day trip is not something you do in advance - queue up with the others. There is a range of accommodations available and we took advice by going to the top of the list: the Owner's Cabin. Beds! En suite! More on this later.
The Ilala has lifeboats and lifejackets, so is very safe. More on this later.
We quickly found a map of the route:

Some parts of this map were accurate.
On board catering had First and Second Class saloons: clearly, we were in First. No complaints about the menu, which turned out to be surprisingly accurate. "English breakfast" includes - of course - salad.
Shipboard entertainment was endless but informal. A group of South Africans boarded at Nkhotakota and asked the bemused bar steward (when he surfaced) for the deck quoits. I rather thought they were taking the Michael, until they explained that on their last Ilala voyage in the mid-80s, Deck Quoits had indeed been available.
The Ilala is a ferry, not a pleasure cruiser. This doesn't make "pleasure" against the rules of course - especially when watching it stop at intermediate points, at most of which there is no jetty, or water enough for tying up at shore. So it creeps up on the shore, stops engines, blows about in the wind a lot, and drops the lifeboats to ferry people to and fro. I do mean drops; also, the ferrying includes bikes, large sacks of maize, job lots of plastic buckets, etc etc. When it's breezy, this in Europe would be regarded as a high-risk activity, but in Africa it's routine for the regular travellers, and high entertainment for us.

The picture shows the boats part loaded: they are very clearly marked "22 persons", and we think this number is intended as a minimum as we usually saw more than 30, plus attendant baggage.
When you're on a trip like this, you keep thinking "Well, I've never done that on a boat before." Quite a long list. "Having a bath on a boat" was a first, so we wasted no time in using the bathroom, which contained a lot more plumbing than is normal.

The toilet flush [sic] was actually a tap mechanism; the bath taps did not work; the shower (out of view, above the bath) delivered a stream of tepid fluid. Bendigegig!
One of the Europeans to join us at Nkhotakota was an 18-yo from Cambridge; as a result of his trip planners reading the Ilala schedule [sic], he had arrived at Chipoka 4 hours after it departed, having taxied there straight from arrival at Lilongwe airport after an overnight flight. So he had to drive (= be driven) up the lakeshore in hot pursuit [pun]. Consequently he had gone 48 hours without sleep - let me tell you this makes people look pretty grim, and probably explains his confusion about the sun rising in the east - "But we're in the southern hemisphere - shouldn't it rise in the west now?".

Anyway, hats off to the fellow, who was en route to Mozambique on a summer placement leading choirs (meaning he had some hours of travel remaining).

Let's gloss over my exit from the Ilala, which involved discovery of a loose plank at the bottom of the lifeboat when jumping down laden with my rucksack. 15 days on, the ankle is nearly healed.

So goodbye Ilala.

(My African spies tell me it broke down at Chipoka last week - rather sorry to have missed this part of the experience.)
Mozambique: GIEWS Country Brief: Mozambique 30-June-2017
FOOD SECURITY SNAPSHOT. National cereal production in 2017 forecast at above-average levels, mainly as a result of generally favourable seasonal rains. Maize prices declined on expectations of improved output in 2017, while strengthening of national currency also eased inflationary pressure.

Mozambique: Nyusi in Tete Urges National Reconciliation
[AIM] Maputo -Mozambican President Filipe Nyusi on Thursday urged the population of the western province of Tete to become involved in national reconciliation, in the framework of the dialogue under way with the rebel movement Renamo, aimed at achieving effective peace.

Mozambique: Kroll Audit - Company Manager Boasts of Obstruction
[AIM] Maputo -One of the men at the centre of the scandal of Mozambique's "hidden debts" has boasted that he obstructed the work of auditors investigating the three security-linked companies Ematum (Mozambique Tuna Company), Proindicus and MAM (Mozambique Aset Management), according to a Friday report from the Bloomberg agency.

Mozambique: Kroll Audit Divides the Creditors
[AIM] Maputo -The audit by the company Kroll Associates of Mozambique's "hidden debts" has divided Mozambique's creditors, with holders of the bonds initially issued in the name of Ematum (Mozambique Tuna Company) now urging the government to revoke its guarantees to the other two controversial loans, issued to the security-related companies Proindicus and MAM (Mozambique Asset Management).

Football – Cosafa Castle Cup – Les Barea gagnent pour du beurre
Madagascar a disposé du Mozambique, hier. La Grande île est, cependant, devancée par le Zimbabwe à la différence de buts. La mission était simple pour les Barea, hier soir en Afrique du Sud, durant la troisième et dernière journée de la phase de poule en Cosafa Castle Cup. Il fallait battre les Mozam­bicains en marquant un maximum de buts.

Episode 363: Holy Kool Aid with Thomas Westbrook
Thanks to Thomas for joining us on the show! You can find his work here:  http://www.holykoolaid.com/ https://www.youtube.com/channel/UCzvoUDoDu-cKIb11rg4ODDQ https://twitter.com/holykoolaid https://www.facebook.com/holykoolaid/   Stories covered in episode:  London Bridge attack - everything we know 'He makes me puke': Ex-British ambassador blisters Trump for divisive tweets after Londonattacks Kentucky Governor's Crime Plan: Volunteer 'Prayer Patrols' Roaming The Streets Lance Wallnau Says That God Is Behind Trump's Tweets And Ignorance Of World Events Bakker: Ringling Brothers Circus Closing Was A Sign From God About The Last Days BALD PEOPLE SHOULD WATCH OUT FOR WITCH DOCTORS, MOZAMBIQUE POLICEWARN AFTER MURDERS

Saturday Open Thread: African Dances
GOOD MORNING P.O.U.!   TUFO Tufo is a traditional dance in Northern Mozambique.[1] The dance is performed by groups of women and is found in Maputo, the provinces of Cabo Delgado and Nampula and the Island of Mozambique.[2][3] Of Arab origin, the dance is performed to celebrate Islamic festivals and holidays.[3][4] The dance is traditionally […]

Tour Guide - AMANDLA FAMILY EXPRESS TOURS - Marble Hall, North West 0458
please be able to travel the following countries if you apply for this job,Namibia,zimbabwe,mozambique,botswana,zambia,south africa,kenya,malawi and tanzania R20 000 a month
From Indeed - Thu, 29 Jun 2017 10:23:46 GMT - View all Marble Hall, North West 0458 jobs

Mozambique: Kroll Audit - Company Manager Boasts of Obstruction
One of the men at the centre of the scandal of Mozambique's "hidden debts" has boasted that he obstructed the work of auditors investigating the three security-linked companies Ematum , Proindicus and MAM , according to a Friday report from the Bloomberg agency. Antonio do Rosario, an agent of the State Information and Security Service , is also the chairperson of the boards of all three companies which between them borrowed over two billion dollars from European banks in 2013 and 2014.
Unitard
Unitard, "NYC's naughtiest, nastiest, no-holds-barred comic trio," just announced its new residency "Tard Core: There Are No Safe Words" at Joe's Pub, starting May 3. The group is made up of Mike Albo, Nora Burns, and David Ilku. They poke fun. It has come to my attention that they'll be poking fun of the hyper-gentrified city, so I asked Albo a few questions.




With Unitard, and in your solo work, you've roasted gentrifiers and gentrification. What makes the topic so right for comedy?

Well, greed is always something ripe for satire and parody. Its always amazing to watch, especially in this city, and now elsewhere, how insane and absurd-minded people get about real estate and what they can accomplish by selling avocado toast for 12 dollars.

What's so wrong about 12-dollar avocado toasts?

Oh, they are delicious! Especially when you make it yourself for an eighth the cost! Its just friggin' toast with some avocado on it! We have fabulized ourselves into financial oblivion. Somehow we need to make bad coffee and oily omelettes at diners cool again.

I'd love to hear your suggestions for how to do that.

Get Gigi Hadid or Kendall Jenner to take a pouty Instagram photo? One weird mutation with our food culture now is how people just buy things to take pictures of it. Have you seen the new "Unicorn Frappucino" at Starbucks? It's basically diabetes in a cup. But it's more a photo op than it is food.

I'm afraid diners don't have eye-catching entrees, so maybe if we opened a diner and stuck a bunch of Smurfs and confetti all over it, we would have a business.

What gentrifi-centric subject matter can people expect in this upcoming show?

Oh, so much! We have "Ruiners," who are three types of people who come and ruin your city. But then at the same time we also have a sketch of people who sit there and complain about how great things used to be.

So you'll also be roasting people like me! And yourself. When you complain about how great things used to be, what do you complain about?

See above about diners. Most everything I complain about has to do with the affordability of things before, say, 1999. My life "before" was so cheap, but I barely remember it. I made about $1,500 a month tops and somehow afforded to go out, eat out, enjoy myself. I produced a solo show or a play every year, too. I was still poor (I am always poor), but I wasn't in a constant state of financial panic like I am now. A swarm of hidden fees and costs plague me now--my cellphone, my Netflix, my everything.

And this has affected me artistically. I can't afford to publicize myself or my work and I feel like I am languishing in obscurity while the moneyed have assistants to tweet and Instagram and get their T magazine sidebar article. Have you noticed that everything is about publicity now? PR and events are what keep this city alive.

We also didn't used to see the rich everywhere. Now they're everywhere--or just about. And they're very conspicuous with their wealth. I think this constant visual has a big impact on how it feels to live in New York and not have that wealth.

Yes. And it sort of creeps into your psyche. I learned a hard lesson on how our culture is designed for the wealthy when I was canned at the New York Times, something I explain in my solo show and Kindle Single The Junket. In a nutshell, I was a freelancer there with no contract or salary, and I was invited on a free trip (which I made sure was on my own time and in no way associated with the Times), and that was "exposed" by Gawker (r.i.p., you bitch!), and I was "let go" for violating their ethics code. Now I totally understand journalistic ethics of keeping your reporters free of commercial influence, but there is a secret system of bread buttering going on that is WAY more egregious than one low-income freelancer taking a trip on his own time. Essentially, if you want to write about anything, especially travel or style, you have to be able to afford to pay your own way, know the right people, have the right access. It's why you see articles like "The Alluring Treehouses of Mozambique" in that insane T Magazine and wonder who the fuck wrote that. They are written for rich people by rich people.

And you are right the rich people are everywhere now! How are there so many?! Do they grow them on trees? After he saw The Junket, my friend, the talented Rob Roth, told me how, back when the legendary weirdo dance night Jackie 60 was happening in the Meatpacking District, there would be just one or two rich people in the mix of queers, trans people, drag queens, and artists. They were just part of the mix.

It's awe striking how long ago and completely unlike our current climate it was when going somewhere fancy was getting a burger at Bowery Bar or maybe a mimosa at the Four Seasons if you were feeling ironic. But you went to Florent mostly to just feel the energy and be among your artsy peers, and get their goat cheese salad and spend under 25 bucks and feed your soul.

We have this whole repeat gag in our Unitard show about an 18 dollar glass of wine. I love that there are people out there who actually just pay for that breezily. If I did that I would be essentially taking a fork and stabbing myself in the stomach.


Check out Mike Albo and Unitard at Joe's Pub--starting May 3.

Are Black Fraternity & Sorority Calls And Stomp & Shake Cheerleading Yelps Remnants Of Plantation Field Hollers And/Or African Ululation?
Edited by Azizi Powell

This pancocojams post points out the very close similarities between certain historically Black sorority calls and certain stomp & shake cheerleading yelps.

This post also asks interested persons to consider whether historically Black fraternity & sorority calls, and stomp & shake cheerleading yelps might be remnants of 29th century and earlier African American field hollers (arhoolie) and/or remnants of or examples of the African (and elsewhere) vocalization custom of ululation.

The content of this post is presented for folkloric, historical, and cultural purposes.

All copyrights remain with their owners.

Thanks to all those who are quoted in this post. Thanks also to all those who are featured in the YouTube videos that are embedded in this post and thanks to the publishers of those videos.

*****
INFORMATION ABOUT THE TYPES OF VOCALIZATIONS THAT ARE REFERRED TO IN THIS POST
FIELD HOLLERS (ARHOOLIES)
From https://en.wikipedia.org/wiki/Field_holler
"The field holler or field call is a mostly historical type of vocal music sung by southern labourers to accompany their work, to communicate usefully or to vent feelings.[1] It differs from the collective work song in that it was sung solo, though early observers noted that a holler, or 'cry', might be echoed by other workers. Though commonly associated with cotton cultivation, the field holler was also sung by levee workers, and field hands in rice and sugar plantations. Field hollers are also known as corn-field hollers, water calls, and whoops. An early description is from 1853 and the first recordings are from the 1930s. The holler is closely related to the call and response of work songs, and arhoolies, to Afro-American and ultimately influenced strands of African American music, such as the blues, rhythm and blues, and spirituals.[2]

It had prevalence among whites in the southern United States too."...

****
From http://mudcat.org/thread.cfm?threadid=99525
Subject: Etymology: ARHOOLIE
From: Vixen
Date: 02 Mar 07

"I did a search of the Forum, and all the references to "arhoolie" refer to the record label or the non-profit organization. I'm looking for an etymology and a definition.

What follows is the only definition I found, by googling "arhoolies", at
The Bluehighway Website

Field Hollers And Arhoolies

I'll tell you where the blues began. Back there working on them cotton farms, working hard and the man won't pay 'em, so the started singin', "Ohhh, I'm leavin' he one of these days and it won't be long." See, what's happenin' is givin' them the blues. "You gonna look for me one of these mornings and I'll be gone, ohhh yeah!" -- Sonny Terry (3, p. 18)

Field hollers and arhoolies began in the fields as musical exclamations that expressed the mood of the singer, and they eventually grew into longer phrases and verse. Few recordings of these exist, so we have to accept the testimony of the old bluesmen, such as Sonny Terry and Son House, as to their nature:

All I can say is that when I was boy we was always singing in the fields. Not real singing, you know, just hollering. But we made up our songs about things that were happening to us at the time, and I think that's where the blues started. -- Son House (3, p. 18)

The vocal techniques of these were very unique and they formed the basis for early blues vocals."...

****
ULULATION
From https://en.wikipedia.org/wiki/Ululation
Ululation... is a long, wavering, high-pitched vocal sound resembling a howl with a trilling quality. It is produced by emitting a high pitched loud voice accompanied with a rapid back and forth movement of the tongue and the uvula.

Around the world

Ululation is practiced either alone or as part of certain styles of singing, on various occasions of communal ritual events (like for example weddings) used to express strong emotion.

Ululation is commonly practised in most of Africa, the Middle East and Central-to-South Asia. It occurs a few places in Europe, like Serbia, Cyprus, Malta and parts of Spain. It likewise takes place among the diaspora community originating from these areas....

In Ethiopia and Eritrea, ululation (called ililta) is part of a religious ritual performed by worshippers as a feature of Sunday or other services in the Ethiopian Orthodox Tewahedo Church[11] and Eritrean Orthodox Tewahedo Church. And it is also randomly (spontaneously) uttered during secular celebrations such as parties or concerts. Elsewhere in Africa ululation is used as a cheer, mourn or attention seeking sound by women. In Hausa ululation is called guda, , sigalagala and in Zulu lilizela in Tsonga nkulungwani and in Shona kupururudza. Ululation is incorporated into African musical styles such as Shona music, where it is a form of audience participation, along with clapping and call-and-response.

In Tanzania ululation is a celebratory cheer sound when good news has been shared or during weddings, welcoming of a newborn home, graduations and other festivals even in church when sermons are going on. In Swahili it is known as vigelele and in Luo dialect it is known as udhalili. Generally women exuberantly yell lililili in a high-pitched voices. Female children are usually proud of being able to ululate like their mothers and aunts...

Ululation is rooted in the culture of Eastern Africa as well as Southern Africa and is widely practiced in Tanzania, Kenya, Angola, Botswana, Lesotho, Malawi, Mozambique, Namibia, South Africa, Swaziland, Ethiopia, Somalia, Zambia, and Zimbabwe. It is used by women to give praises at weddings and all other celebrations. It is a general sound of good cheer and celebration, when good news has been delivered in a place of gathering, even in church. It is also an integral part of most African weddings where women gather around the bride and groom, dancing and ululating exuberantly. During graduation ceremonies ululation shows pride and joy in scholastic achievement. The women ululating usually stand and make their way to the front to dance and ululate around the graduate."...
-snip-
Italics were added by me to highlight these sentences.

****
HISTORICALLY BLACK FRATERNITY AND SORORITY CALLS
From https://pancocojams.blogspot.com/2013/09/black-fraternity-sorority-calls.html
Fraternity & sorority calls are signature vocalizations that members of a specific organization make to greet another member of that specific organization and/or to "represent" (promote, "big up") their organization during their own chanting and/or celebratory gatherings and during public events. A fraternity and sorority might have more than one signature call. These calls are usually informal (i.e. not recognized as an official part of that organization by that organization's governing body.) Non-members of a specific organization are strictly prohibited from verbally or in writing using that organization's call in public or in private.

Fraternity & Sorority "Roll calls"

When used by historically Black [university based] Fraternity & sororities (BGLOs) - and particularly by those BGLOs that are known as "The Divine Nine"*, "roll calls" refer to the consecutive vocalization of their signature call/s by multiple BGLOs during a public event. A host or moderator of that event formally announces each organization, usually in the order of their founding, beginning with the earliest founded fraternity and then, after the fraternities are recognized, beginning with the earliest founded sorority. Representatives of "sister" or "brother" organizations may respond to a call with their own call. Also, as an expression of admiration and/or unity, a member of a Divine Nine organization might combine their own signature call with part of the signature call of another member "Divine Nine" organization (either fraternity or sorority).* That said, I've read that some BGLO members disagree with that practice.

*Here's an example of combining two sorority calls:
t goodwill, 2011, https://www.youtube.com/watch?v=5n4A1mf_fr0
"Even though imma ZETA, i was jamming to SGRho's Roll call..LOL get it ladies!

ZZZZZZ-Yip!!"
-snip-
Refer to the list of calls given below.

****
A STATEMENT ABOUT CALLS & HAND SIGNS BY NATIONAL PAN-HELLENIC COUNCIL
From http://www.afa1976.org/Portals/0/Membership_Intake_Guide_NPHC.pdf NPHC National Membership Intake Guide
Hand Signs & Calls
"Hand signs and calls have evolved into another historical facet of Black fraternal organization life. According to Kimbrough (2003), the concept of calls is embedded in both African and African-American tradition. These sounds were a form of yodeling known as whooping in the Congo and Angola tribes. Additionally, these audible sounds, also known as cries and arhoolies, could he heard being sung by slaves. It is not clear when calls were first used, however, it seems possible that calls used by NPHC organizations became prevalent during the mid-1970's.

Much like calls, the exact origin of hand signs cannot be pinpointed. According to Kimbrough (2003), pictures from college campuses of Black fraternities and sororities indicate that hand signs became a part of the Black fraternal experience during the 1970's. Although it is not clear how calls and hand signs evolved, these traditions are long standing.

These universal symbols can be seen as exclusive outward expressions of pride and of strong organizational identification."

****
LIST OF NINE HISTORICALLY BLACK GREEK LETTER ORGANIZATION CALLS THAT ARE REFERRED TO AS "THE DIVINE NINE"
These organizations are given in categories (Fraternities/Sororities) and in chronological order with the earliest founded organizations in that category listed first.

Letters [or numbers] in these calls are often repeated to show enthusiasm and/or to stretch out the call.

Additions and corrections are welcome.
Fraternities:
Alpha Phi Alpha Fraternity, Inc. (1906)
call: "O6"

Response [from a member or members of Alpha Phi Alpha] - "You know"

****
Kappa Alpha Psi, Fraternity Inc. (1911)
Yo Yo

****
Omega Psi Phi Fraternity, Inc. (1911)
Roo or Roo Roo

****
Phi Beta Sigma Fraternity, Inc. (1914)
Blue Phi

****
Iota Phi Theta, Fraternity, Inc. (1963)
Ow Ow

****
Sororities
Alpha Kappa Alpha Sorority, Inc. (1908)
Skee Wee

****
Delta Sigma Theta Sorority, Inc.
Oo-Oop

****
Zeta Phi Beta Sorority,Inc. (1920)
Z-Phi

****
Sigma Gamma Rho Sorority, Inc. (1922)
Eee-Yip

****
Examples of these calls are given in the videos that are showcased in Part II of this series http://pancocojams.blogspot.com/2013/09/seven-videos-of-black-greek-fraternity.html

****
STOMP AND SHAKE CHEERLEADER YELPS
"Stomp & Shake" cheerleading is a referent for a relatively new form of African American originated style of cheerleading.

Stomp & shake cheerleading focuses on the group performance of choreographed percussive, rhythmic foot stomping, (individual) hand clapping, leg lifts, and African American/Caribbean originated dance moves. These body movements are often but not always accompanied by the cheer squad's performance of self-bragging and/or competitor insulting unison chanting. Although most stomp & shake cheerleaders are female, a few males also are members of certain (usually university) stomp & shake squads. This particularly appears to be the case among university cheerleading squads that perform stomp & shake cheerleading and mainstream ("traditional") cheerleading.

Like mainstream cheerleading, the purpose of the cheer squad is to increase the enthusiasm of event attendees. However, the focus of stomp and shake cheer squads' performances and their textual (word) cheers are on the cheer squad itself, and not nearly as much as mainstream cheerleading on the football (or basketball) athletic team. Stomp & Shake is a relatively new form of cheerleading.

The earliest documentation that I've found for stomp & shake cheerleading is the early to mid 1970s at Virginia State University's cheerleading squad (the "Woo Woos) and in the late 1970s at Winston-Salem State University cheerleading squads (known as "Cheer Phi" and later as "the Red Team" and the "White Team").

Some, but not all university based stomp & shake cheerleaders include vocalizations of yelps (also informally referred to as "calls", "cries", and yells as part of their cheers. The vocalization of yelps (cries, yells) while cheering particularly appears to be a characteristic of Winston-Salem State University's (WSSU's) cheerleading style. WSSU's yelp is usually written as "Eeee-yiiip!" or similar spellings. Rightly or wrongly, fans of WSSU indicate that other cheerleading squads from other Historically Black Colleges and Universities' cheerleading squads that use this yelp "stole it" from WSSU.

because Winston-Salem State University's cheerleading squad continues to greatly influence American high school and younger stomp & shake cheerleading squads, their "yelp" vocalization is also found among those squads.

****
VIDEO OF BLACK FRATERNITY AND SORORITY CALLS
Greek Speak Roll Call



UABStudentLife, Published on Sep 19, 2008

Check out the eight organizations of UAB's NPHC.
-snip-
Selected comments:
1. ninjapoodle22, 2009
"I see my soRHOrs! EEEEE-YIP!"
-snip-
soRHOrs = Sigma Gamma Rho Sorority, Inc.

**
2. t goodwill, 2011
Even though imma ZETA, i was jamming to SGRho's Roll call..LOL get it ladies!

ZZZZZZ-Yip!!
-snip-
"Zeta" - a member of Zeta Phi Beta Sorority,Inc.

Notice that "ZZZZZZ-Yip"!! is a combination of the Zeta's signature call and Sigma Gamma Rho's signature call.

**
3. BUTLERU, 2011
"EEEEEEEEEEEEEE-YIP SIGMA SORORS!"

**
4. MonaJalisa90, 2013
"I agree 100%! Luckily, Sigma Gamma Rho doesn't have to deal with such drama lol
EEE-YIP!"
-snip-
That video and three other videos of historically Black fraternity and sorority calls are embedded in the pancocojams post whose link is given above as http://pancocojams.blogspot.com/2013/09/seven-videos-of-black-greek-fraternity.html.

****
EXAMPLE OF A WSSU STOMP & SHAKE CHEER THAT INCLUDES A YELP (CALL)
SAY IT IN OUR FACE
Eeeyep!
Fight fight the power,
Hey go head go head.
Hey fight fight he power.
Go head go head.
Hey fight the power.
We are the Rams
And we stay on your case.
If you have something to say
Say it to our face. Haw!
Hey fight the power
Hey fight the power,
Say what
Say what
We are the Rams
And we get on your case.
If you have something to say
Say it in our face.
Say it in our face.
Say it
in
our
face.
HAWHHHHH!
-Winston-Salem State University WSSU Cheer Phi Cheerleaders,
transcription posted by SAC010 in that video's discussion thread by secalong, February 2011 (along with some transcription by Azizi Powell)

*This is the second cheer in that video. I previously (erroneously?) gave the title for that cheer as "Fight The Power".

Here's that video:

WSSU CHEERLEADERS GETTIN' CRUNK



ORIGINALCHEERPHI, Published on Feb 22, 2008

WSSU CHEERLEADERS SHOWING U HOW IT SHOULD BE DONE AT THE ULTIMATE CHEER & DANCE EXPERIENCE TRIAD HIGH SCHOOL CHEERLEADING COMPETITION 2007

****
TWO ADDITIONAL VIDEOS AND SELECTED COMMENTS FROM TWO ADDITIONAL YOUTUBE DISCUSSION THREADS ABOUT STOMP AND SHAKE CHEERLEADER YELPS
WSSU CHEERLEADERS FOR MTV



Flow Child Entertainment Published on Sep 24, 2008

WSSU Cheerleaders tryout for MTV Show
-snip-
Selected comments:
1. Tez Parker, 2011
"Ayyyy dey betta do it!! Eeeoooppp!"

**
3.Asha Broo, 2012
"is that that guy going '' yyyyeepp'' lmaoo"

**
3. AORaines, 2013
"Love the originality, the loudness, and the enthusiasm but cheerleaders don't woo nor eyyyupp....not sorority cheerleaders
-snip-
This comment indicates that stomp & shake cheerleading isn't really cheerleading because of the way that they perform. The commenter is also disparages WSSU's squad by referring to them as "sorority cheerleaders".

"Woo" here probably refers to Virginia State University's cheerleading squad that is known as "the Woo Woos". Unlike WSSU, it doesn't appear that the squad vocalizes "woo woo". Instead, "woo woo" is a vocalization of admiration and support is vocalized by that squad's fans. Click https://www.youtube.com/watch?v=blDqcHBu-Cs for a 2008 video of VSU's Woo Woos peforming their popular and often imitated cheer "Work It". At the end of that video, a male fan yells "Woo! Woo!".

**
4. pdga9205,2013
"Y'all remind me of FSU (Fayetteville state) cheerleaders especially with the eeeyyyooppp thing!"
**
Reply
5. RJRDEMONS, 2013
"WSSU its there original song they made in 2002"

**
6. dstgirl9of9, 2014
"FSU got thier eeyyooppp from WSSU! "
-snip-
"FSU" here refers to Fayette State University (North Carolina)

****
NC A&T Cheerleaders (Aggie Cheer) / Powerhouse National Competition (Stomp and Shake)



Kevin Crawford Published on Mar 17, 2017
-SNIP-
Selected comments:
1. Midget Catfish, 2017
"Why are they making the sghro call?"

**
2. Ashley Monique Styles, 2017
"They killed it! How come the make the same noise that WSSU cheerleaders make? (Eee-yup) or it just sounds similar?"

**
Reply
3. nevano, 2017
"Ashley Monique Styles If I'm not mistaken, I believe that's the call for Cheerleaders that are apart of the cheer world. I won't say too much cause I don't wanna stomp on any toes."

**
Reply
4. Ashley Monique Styles, 2017
"nevano hmm I wonder if it's certain Colleges. When I cheered, we had our own call."

**
5. Lilly, 2017
"They sound like cheering AKA's"
-snip-
"AKA's" = members of Alpha Kappa Alpha Sorority, Inc.
The signature AKA call is a high pitched, usually extended "Skeeeee- weeee!"

**
6. Takiya Eiland, 2017
"I know they are not eee-yip in"
-snip-
This comment probably is a put-down of North Carolina's A&T cheerleaders for doing the yelp (call, cry) that is associated with WSSU's cheerleaders.

**
7. OrbiT BabE, 2017
"The squeak gave me life"

****
Thanks for visiting pancocojams.

Visitor comments are welcome.

Comment on Ponta d'Oro, Mozambique by cuizine
We didn't have a problem. You just cannot bring meat and seafood back into South Africa. Here's a handy link for the Kosi Bay border and further info: http://tartaruga.co.za/customs.htm

Zimbabwe vs Seychelles Preview
Results of each team's last 5 matches across all leagues and competitions Zimbabwe LAST FIVE GAMES DATE COMPETITION D Zimbabwe 0-0 Madagascar Jun 28, 2017 International Friendly W Mozambique 0-4 Zimbabwe Jun 26, 2017 International Friendly D Zimbabwe 0-0 Zambia Mar 26, 2017 International Friendly L Zimbabwe 2-4 Tunisia Jan 23, 2017 African Nations Cup ...

Mozambique vs Madagascar Preview
Results of each team's last 5 matches across all leagues and competitions Mozambique LAST FIVE GAMES DATE COMPETITION W Seychelles 1-2 Mozambique Jun 28, 2017 International Friendly L Mozambique 0-4 Zimbabwe Jun 26, 2017 International Friendly W Zambia 0-1 Mozambique Jun 10, 2017 African Nations Cup Qualifying W Mozambique 1-0 Lesotho Mar 28, 2017 International ...

Re: Maputo Mozambique
I will be visiting Mozambique soon,possibly in a month's time or 2months. How about more detailed direction of the places where the guys hang around and who to contact to show me around. You can also reach me on:moskhumalo@gmail.com.

Tour Guide - AMANDLA FAMILY EXPRESS TOURS - Marble Hall, North West 0458
please be able to travel the following countries if you apply for this job,Namibia,zimbabwe,mozambique,botswana,zambia,south africa,kenya,malawi and tanzania R20 000 a month
From Indeed - Thu, 29 Jun 2017 10:23:46 GMT - View all Marble Hall, North West 0458 jobs

Tiffany Chairs
Tiffany Chairs for Sale Durban South Africa Tiffany Chairs Manufacturers Durban South Africa Tiffany Chairs are manufacture & supplier of Frame tents for Warehouse, Party, Wedding, Event, Exhibition and Function. These Aluminium tents are also called as Warehouse Tents, Party Tents, Wedding tents, Event Tents and Function Tents. We supply tents to countries like South Africa, Zambia, Zimbabwe, Angola, Swaziland, Namibia, Nigeria, Lesotho, Mozambique, Kenya and Botswana. we are specialize...
The post Tiffany Chairs appeared first on Tent For Sale Durban South Africa.
Draping Material
Draping Material for Sale Durban South Africa Draping Material for Sale Durban South Africa. Leading Manufacturers of Draping. Buy for Function, Event, Party and Wedding. Draping Manufacturers Durban South Africa Draping are manufacture & supplier of Draping Material for Warehouse, Party, Wedding, Event, Exhibition and Function. We supply to countries like South Africa, Zambia, Zimbabwe, Angola, Swaziland, Namibia, Nigeria, Lesotho, Mozambique, Kenya and Botswana. we are specialize in the manufacture...
The post Draping Material appeared first on Tent For Sale Durban South Africa.
Re: Maputo Mozambique
I will be visiting Mozambique soon,possibly in a month's time or 2months. How about more detailed direction of the places where the guys hang around and who to contact to show me around. You can also reach me on:moskhumalo@gmail.com.

Pêche : îles de l'océan Indien et pays de l'Afrique de l'Est unis contre la pêche illégale
Les 27 et 28 juin 2017, des représentants de l'industrie de la pêche, de la société civile, des gouvernements et des administrations des pêches des Seychelles, de Maurice, des Comores, de Madagascar, de Tanzanie, du Kenya et du Mozambique, se sont retrouvés sur l'île de Mahé, aux Seychelles, pou...



Presidente da Ematum, MAM e Proindicus ataca autor do relatório sobre Moçambique
O presidente das empresas Ematum, MAM e Proindicus, António do Rosário, confirmou hoje à agência Bloomberg que expulsou os auditores da Kroll do seu escritório "porque queriam detalhes sobre questões da segurança do Estado".
De acordo com uma carta obtida pela Bloomberg e que foi autenticada pelo responsável destas três empresas públicas no centro do escândalo da dívida de Moçambique, António do Rosário assume que é a 'Pessoa A' identificada no sumário executivo publicado pela Procuradoria-Geral da República e mostra-se desafiante face às críticas da consultora.
"Para a Kroll, nós sabemos quem vocês realmente são e o que querem", escreveu o presidente das empresas na carta obtida pela Bloomberg, acrescentando: "Estou contente de ver a maneira muito negativa como me atacaram, porque isso prova que nós não cedemos a pressões e não temos medo".
A direcção das empresas, continuou, fará o que for preciso para que tenham sucesso, e explicou que a compra dos navios, através dos empréstimos, era necessária para proteger os 2.800 quilómetros de costa de piratas do mar.
As três empresas entraram em incumprimento financeiro nos últimos meses ao não pagarem os cupões relativamente aos títulos de dívida pública, em Janeiro, e aos empréstimos, cujas prestações começaram a ser falhadas já no ano passado.
António do Rosário disse ainda, na carta enviada à Kroll e citada pela agência de informação financeira Bloomberg, que as críticas que lhe foram dirigidas vêm de pessoas não identificadas que "querem desesperadamente" que as forças de segurança falhem.
"Hoje a nossa independência económica está em risco", disse. "A luta continua! Independência económica ou morte, nós vamos vencer", concluiu o presidente das três empresas públicas que contraíram dívidas no valor de mais de 1,4 mil milhões de dólares.
Segundo a auditoria que foi divulgada parcialmente no sábado, a Mozambique Asset Management (MAM) e a Proindicus não conseguiram explicar para onde foram quase 2 mil milhões de dólares em empréstimos obtidos nos últimos cinco anos.
António do Rosário é o presidente da Ematum, que emitiu obrigações entretanto convertidas em títulos de dívida pública no valor de 850 milhões de dólares, e é também o líder da MAM e da Proindicus, que contraíram empréstimos escondidos no valor de 535 e 622 milhões de dólares, respectivamente.
No sumário da auditoria, a Pessoa A, que António do Rosário assume ser ele, é criticada por não dar informação alegando ser "classificada" e não estar disponível e, por outro lado, são apresentadas inconsistências entre as explicações dadas pela Pessoa A e o Ministério da Defesa e a Privinvest, o empreiteiro que organizou a venda dos navios, sobre o uso dos 500 milhões de dólares dos 850 milhões angariados pela Ematum.
A auditoria diz ainda, segundo a Bloomberg, que a Pessoa A geriu mal as três empresas, atrasando a entrega dos projectos, e que disse à Kroll que as facturas dos navios de pesca atuneira escondiam a compra de outros activos, o que a Privinvest diz ser "completamente falso".
Auditoria à dívida de Moçambique é "incorreta e enganadora", aponta Credit Suisse (na íntegra)
O banco suíço Credit Suisse considerou que as conclusões da auditoria da Kroll à dívida escondida de Moçambique são "incorretas e enganadoras", disse o banco numa declaração citada pela Bloomberg.
O banco suíço Credit Suisse considerou esta segunda-feira que as conclusões da auditoria da Kroll à dívida escondida de Moçambique são "incorretas e enganadoras", garantindo que as comissões recebidas foram de 23 milhões de dólares (20 milhões de euros). "A conclusão [da auditoria] de que o Credit Suisse recebeu 100 milhões de dólares (89 milhões de euros) ou mais em taxas de mediação financeira é incorreta e enganadora", disse o banco suíço numa declaração citada pela agência de informação económica Bloomberg.
As taxas bancárias para o Credit Suisse totalizaram 23 milhões de dólares, mais ou menos 2,3% do financiamento total e estão em linha com as transações financeiras comparáveis realizadas nos mercados emergentes", acrescenta o banco que mediou, juntamente com o russo VTB, os empréstimos de empresas públicas moçambicanas que não foram comunicados nem às autoridades do país nem aos doadores internacionais.
O banco suíço respondeu assim à divulgação, no sábado, do sumário executivo da auditoria apresentada pela consultora Kroll à Procuradoria-Geral da República de Moçambique, que afirmou que estes dois bancos receberam 200 milhões de dólares (178 milhões de euros) em comissões por terem organizado os empréstimos às empresas públicas Mozambique Asset Management (MAM) e Proindicus.
O VTB, por seu turno, disse que não irá comentar a auditoria até ler o documento de forma detalhada. A divulgação do sumário era uma das condições defendidas pelos doadores e pelas instituições financeiras internacionais para voltarem a ajudar o país, o nono mais pobre do mundo.
A auditoria às dívidas ocultas de Moçambique deixou por esclarecer o destino dos dois mil milhões de dólares contraídos por três empresas estatais entre 2013 e 2014, disse a PGR no domingo.
"Lacunas permanecem no entendimento sobre como exatamente os 2.000 milhões de dólares (1.780 milhões de euros) foram gastos, apesar dos esforços consideráveis" para esclarecer o assunto, refere a PGR em comunicado sobre a investigação da Kroll.
Por outro lado, "a auditoria constatou que o processo para a emissão de garantias pelo Estado parece ser inadequado, sobretudo no que respeita aos estudos de avaliação que devem ser conduzidos, antes da sua emissão", acrescenta-se.
As garantias foram passadas sob a presidência de Armando Guebuza, sem conhecimento do parlamento, nem dos parceiros internacionais – como o Fundo Monetário Internacional (FMI) – para suportar os empréstimos contraídos pelas empresas Ematum, Proindicus e MAM.
O escândalo das dívidas ocultas rebentou em abril de 2016 – a dívida de 850 milhões de dólares (759 milhões de euros) da Ematum era conhecida, mas não os 622 milhões (556 milhões) da Proindicus e os 535 (478) da MAM – e atirou Moçambique para uma crise sem precedentes nas últimas décadas.
Os parceiros internacionais suspenderam apoios, a moeda desvalorizou a pique e a inflação subiu até 25% em 2016, agravando o custo de vida já de si elevado para os cidadãos.
Segundo a procuradoria, a investigação da Kroll descobriu "divergências entre as explicações" para uso da verba e detetou "falhas graves na forma como foram feitas as avaliações para emissão de garantias pelo Estado". Há mesmo um valor de mil milhões de dólares (893 mil milhões de euros) correspondente a três garantias, do total de cinco que foram emitidas, em que "não há evidências de ter sido feita qualquer avaliação".
Foram ainda identificados "potenciais conflitos de interesse em relação a algumas pessoas intervenientes no processo de autorização das garantias do governo para as empresas auditadas".
A PGR destaca ainda que o Grupo Privinvest, contratado pelas empresas estatais para fornecer bens e serviços para os quais supostamente serviria o dinheiro, teve "um papel determinante no projeto" participando em quase todo o seu desenho, inclusivamente na ligação aos bancos que emprestaram o dinheiro, o Credit Suisse e o VTB.
Whale Shark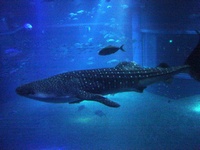 The whale shark, is a slow filter feeding shark that is the largest living fish species. This distinctively-marked shark is the only member of its genus Rhincodon and its family, Rhincodontidae (called Rhinodontes before 1984), which is grouped into the subclass Elasmobranchii in the class Chondrichthyes. The shark is found in tropical and warm oceans and lives in the open sea. The species is believed to have originated about 60 million years ago. The name "whale shark" comes from the fish`s physiology; that is, a shark as large as a whale that shares a similar filter feeder eating mode. Though it is often seen offshore, it has also been found closer to shore, entering lagoons or coral atolls, and near the mouths of estuaries and rivers. Its range is restricted to about ±30 ° latitude. It is found to a depth of 700 metres (2,300 ft) The whale shark is a filter feeder—one of only three known filter feeding shark species (along with the basking shark and the megamouth shark). It feeds on phytoplankton, macro-algae, plankton, krill and small nektonic life, such as small squid or vertebrates. The many rows of teeth play no role in feeding; in fact, they are reduced in size in the whale shark. Instead, the shark sucks in a mouthful of water, closes its mouth and expels the water through its gills. During the slight delay between closing the mouth and opening the gill flaps, plankton is trapped against the dermal denticles which line its gill plates and pharynx. This fine sieve-like apparatus, which is a unique modification of the gill rakers, prevents the passage of anything but fluid out through the gills (anything above 2 to 3 mm in diameter is trapped). Any material caught in the filter between the gill bars is swallowed. Whale sharks have been observed "coughing" and it is presumed that this is a method of clearing a build up of food particles in the gill rakers. This species, despite its enormous size, pose any significant danger to humans. It is a frequently cited example when educating the public about the popular misconceptions of all sharks as "man-eaters". They are actually quite gentle and can be playful with divers. There are unconfirmed reports of sharks laying still, upside down on the surface to allow divers to scrape parasites and other organisms from their bellys. Divers and snorkellers can swim with this giant fish without any risk apart from unintentionally being hit by the shark`s large tail fin. The shark is often seen by divers in The Bay Islands in Honduras, Thailand, the Maldives, the Red Sea, Western Australia (Ningaloo Reef), Gladden Spit Marine Reserve in Belize, Tofo Beach in Mozambique, Sodwana Bay (Greater St. Lucia Wetland Park) in South Africa and at the Galapagos Islands. The highest concentration of whale sharks to be found anywhere in the world is in the Philippines. From January to May, they congregate in the shallow coastal waters of Sorsogon province (at Donsol). Lucky divers have also come across whale sharks in the Seychelles and in Puerto Rico. Between December and September, they are well known to swim along the bay of La Paz in Mexico`s Baja California. Sometimes, they are accompanied by smaller fish, in particular, the remora. Recently, they have been seen in the vicinity of Tenggol Island, off the east coast of West Malaysia.

CGAP Financial Diaries with Smallholder Households 2014-2015
CGAP Financial Diaries with Smallholder Households 2014-2015 FDSH 2014-15 MOZ_2014_FDSH_v01_M, ["Jamie Anderson - World Bank Group"," Wajiha Ahmed - Bankable Frontier Associates"," Daryl Collins - Bankable Frontier Associates"] - Mozambique

World: Price Watch: May 2017 Prices (June 30, 2017)
Source: Famine Early Warning System Network
Country: Afghanistan, Burkina Faso, Chad, Costa Rica, El Salvador, Ethiopia, Guatemala, Haiti, Honduras, Kazakhstan, Kenya, Libya, Madagascar, Malawi, Mauritania, Mozambique, Nicaragua, Niger, Nigeria, Pakistan, Senegal, Somalia, South Africa, South Sudan, Sudan, Tajikistan, Thailand, Uganda, United Republic of Tanzania, World, Yemen, Zambia, Zimbabwe
Key Messages
In West Africa, regional staple food production during the 2016/17 marketing year was well above average. International rice and wheat imports continue to support regional market supplies. Prices continued to increase seasonally in many areas in May with the onset of the lean season. Current market anomalies remain largely concentrated in the eastern marketing basin, including but not limited to: conflict-related market disruptions in the Lake Chad basin, localized above-average grain deficits in Niger, and the impacts of the continued depreciation of the Naira. In East Africa, staple food supplies remain tight and prices well above-average in South Sudan, Somalia, and Yemen. Markets remain severely disrupted by insecurity in Yemen and South Sudan. Import capacity in Yemen is uncertain, and food availability will likely remain constrained in the coming months. Uganda and Kenya are also facing below-average staple food supply and above-average and increasing prices following poor harvests. In Southern Africa, regional maize availability continued to improve in May with the progression of harvests from the 2016/17 production season. Regional maize production prospects for the current season are good with record-high harvests anticipated in South Africa. Maize prices declined sharply in most areas in May, and were below their respective 2016 levels in many areas. The exceptions to these trends are in Zambia, where prices remain above average. Low regional maize prices encouraged exports to East Africa and beyond. In Central America, staple food availability continued to decline following the end of the recent Postrera harvest and Apante harvest. Maize and bean prices were seasonally stable or decreasing across the region, with varied trends compared to average levels. In Haiti, local maize prices were firm while local black beans prices saw a modest increase from their April levels. Imported rice prices were stable as the Haitian gourde appreciated marginally against the U.S. dollar. Higher transportation costs will continue to place upward pressures on staple food prices in the coming months. Central Asia sustained adequate supplies. Wheat prices remained stable in Kazakhstan, Tajikistan, and Afghanistan, but started to decline in Pakistan with the arrival of the new harvest. Rice prices in Pakistan increased following larger export demand, affecting also rice prices in Afghanistan. Intraregional trade is expected to fill staples' deficits on importing countries. International staple food markets remain well supplied. Maize prices fell, soybean prices rose while rice and wheat prices were mixed. Crude oil prices fell and remain well below average.
Tricontinental Conference Fourth Anniversary - Rostgaard 1970
This simple and playful image by Alfredo Rostgaard uses the revolutionary fighter in three colours to represent the armed struggle for freedom among the three geographic areas represented by OSPAAAL (A, A, A = Asia, Africa and Latin America). The conference was designed to further the aims of a number of communist and socialist countries including Cuba, North Korea, Vietnam and was an annual event in Havana.
Solidarity with the People of Mozambique - Forjans 1969
Here is a typically vibrant and interesting design from Jesus Forjans using an African doll like figure to represent the traditional, historical nature of Mozambique and the superimposed weapon to symbolise the armed revolution that was going on in 1969. During the 60s and early 70s the country saw an uprising against the Portuguese colonial government by the guerrilla forces of the Mozambique Liberation Front, backed by communist and left leaning counties including Cuba.
Typical of Cuban designs this poster is simple and colourful, using a national symbol to identify the country in terms of its local history in defiance of the ideology of the Portugese-led government of the time. Forjans has used an unusual cartoon-style method for seperating the purple and blue colours using psychedelic floral motifs (detail below), something that is often seen on Cuban silkscreen posters of the time.

AGPAHI YAENDESHA KAMPENI YA UPIMAJI MAAMBUKIZI YA VVU MSALALA NA MANISPAA YA SHINYANGA

Shirika la Ariel Glaser Pediatric Aids Healthcare Initiative (AGPAHI) linalojihusisha na mapambano dhidi ya Virusi vya Ukimwi (VVU) na Ukimwi nchini Tanzania limeendesha Kampeni ya Upimaji wa Maambukizi ya Virusi Vya Ukimwi kwa watoto na vijana katika halmashauri ya Msalala na Manispaa ya Shinyanga katika mkoa wa Shinyanga.

Zoezi la kupima watoto na vijana limefanyika Juni 30,2017 na Julai 1,2017 katika zanahati ya Buluma iliyopo katika kijiji cha Buuma kata ya Jana katika halmashauri ya Msalala na zanahati ya kijiji cha Galamba katika kata ya Kolandoto katika manispaa ya Shinyanga.

Zaidi ya watoto na vijana 760 walipata fursa ya kupima afya zao.

Akizungumza wakati wa zoezi hilo la upimaji,Afisa Mradi, Huduma Unganishi kwa Jamii AGPAHI mkoa wa Shinyanga, Charles Simon, alisema kampeni ya Upimaji VVU kwa vijana na watoto yenye kauli mbiu ya "Ijue Afya ya Mwanao" inalenga kuwafikia vijana na watoto wengi zaidi ili kujua afya zao.

"Hili ni zoezi endelevu,AGPAHI kwa kushirikiana na serikali tumekuwa tukipima afya za watoto na vijana na pale inapobainika wamepata maambukizi ya VVU huwa tunawaanzishia huduma ya tiba na matunzo",alieleza Simon.

"Kupitia kampeni hii tunashirikiana na viongozi wa serikali za mitaa, vijiji na tumekuwa tukiwahamasisha wazazi kuwaleta watoto na vijana ili wapimwe na zoezi hili limekuwa na manufaa makubwa kwani watoto wengi wameletwa na wazazi wao kupima afya zao",aliongeza.

Naye Mratibu wa Masuala ya Watoto AGPAHI mkoa wa Shinyanga,Dk. Jane Kashumba alisema wameamua kuanzisha kampeni hiyo ili kuwarahisishia wananchi kupata huduma ya kupima VVU kwa hiari katika maeneo ya karibu yao ili waweze kujua afya zao.

"Tunaushukuru mfuko wa kusaidia Watoto wenye VVU Kwa hisani ya watu wa Uingereza (CIFF) kwa kuwezesha kampeni hii",alieleza Dk. Kashumba.

"Tumeanza zoezi hili katika halmashauri hizi mbili na tutaendelea na kampeni katika maeneo mengine kwani lengo la AGPAHI ni kuwafikia watoto na vijana zaidi",aliongeza Dk. Kashumba.

Kwa Upande wake Mratibu wa Wahudumu wa afya ngazi ya Jamii na Upimaji VVU wilaya ya Kahama, Peter Shimba alisema serikali itaendelea kushirikiana na shirika la AGPAHI katika mapambano dhidi ya VVU na Ukimwi.

Shirika la AGPAHI linatekeleza shughuli zake katika mikoa ya Shinyanga,Simiyu,Mwanza,Tanga,Geita na Mara kwa ufadhili wa Watu wa Marekani kupitia shirika la Centres for Disease Control and Preventation (CDC),mfuko wa kusaidia Watoto wenye VVU Kwa hisani ya watu wa Uingereza (CIFF) na Shirika la Development Aid From People to People (ADPP - Mozambique).

Ijumaa Juni 30,2017: Hapa ni katika Zahanati ya Buluma iliyopo katika kijiji cha Buluma kata ya Jana halmashauri ya wilaya ya Msalala mkoa wa Shinyanga .


Afisa Mradi, Huduma Unganishi kwa Jamii AGPAHI mkoa wa Shinyanga, Charles Simon akiwaeleza wazazi na walezi walioleta watoto na vijana katika zahanati ya Buluma kuhusu lengo la Kampeni ya Upimaji wa Maambukizi ya Virusi Vya Ukimwi kwa Watoto na Vijana.


Wazazi,vijana na watoto wakimsikiliza Afisa Mradi, Huduma Unganishi kwa Jamii AGPAHI mkoa wa Shinyanga, Charles Simonwakati akitolea ufafanuzi juu ya kampeni ya Upimaji VVU.


Mwenyekiti wa kijiji cha Buluma, Budila Teremka akisisitiza jambo kabla ya zoezi la kupima watoto na vijana halijaanza.


Mratibu wa Wahudumu wa afya ngazi ya Jamii na Upimaji VVU wilaya ya Kahama, Peter Shimba akizungumza kabla ya zoezi la upimaji VVU halijaanza ambapo alilishukuru shirika la AGPAHI katika harakati zake za mapambano dhidi ya VVU na Ukimwi na kwamba serikali itaendelea kushirikiana nalo katika mapambano hayo.


Mtoa huduma za afya akimtoa damu mtoto ili kumpima kama ana maambukizi ya VVU au la!


Kulia ni mzazi aliyeambatana na watoto wake katika zahanati ya Buluma kwa ajili ya kupima VVU.


Kushoto ni mama aliyekuwa ameambatana na watoto akishuhudia zoezi la upimaji VVU kwa watoto.


Zoezi la upimaji VVU likiendelea.


Mbali na kupima VVU, kulifanyika michezo ya watoto na vijana kama vile kukimbia na yai.Pichani kulia ni Charles Simon akitoa maelekezo kwa washiriki wa shindano la kukimbia na mayai.


Vijana wakikimbia na mayai yaliyowekwa kwenye vijiko.


Mchezo wa kukimbia na mayai ukiendelea.


Mratibu wa Wahudumu wa afya ngazi ya Jamii na Upimaji VVU wilaya ya Kahama,Peter Shimba akiipongeza moja ya familia iliyojitokeza kupima VVU

na kubainika kuwa hawana maambukizi ya VVU. Katika zahanati ya Buluma

kati ya watoto na vijana 525 waliopimwa VVU,watano pekee walibainika kuwa na maambukizi ya VVU.


Jumamosi Julai 1,2017: Hapa ni katika Zahanati ya Kijiji cha Galamba iliyopo katika kata ya Kolandoto manispaa ya Shinyanga ambapo pia Kampeni ya Upimaji wa Maambukizi ya Virusi Vya Ukimwi kwa watoto na vijana imefanyika.


Mratibu wa Masuala ya Watoto AGPAHI mkoa wa Shinyanga,Dk. Jane Kashumba akizungumza wakati wa zoezi la kupima VVU kwa vijana na watoto katika kijiji cha Galamba.


Dk. Kashumba akizungumza na wazazi,vijana na watoto katika zahanati ya Galamba.




Mtoa huduma za afya akimchukua damu mmoja wa vijana kutoka kijiji cha Galamba waliofika kupima VVU.


Vijana na watoto wakisubiri kupima VVU.

Afisa Mradi, Huduma Unganishi kwa Jamii AGPAHI mkoa wa Shinyanga, Rehema Kivuyo akizungumza katika zahanati ya Galamba ambapo vijana na watoto 238 VVU na hakuna aliyepatikana kuwa na maambukizi ya VVU.


Michezo nayo ilikuwepo: Pichani ni Mratibu wa Masuala ya Watoto AGPAHI mkoa wa Shinyanga,Dk. Jane Kashumba akiongoza vijana katika mchezo wa kukaa kwenye viti.


Mchezo wa kukimbia na mayai ukiendelea.


Rehema Kivuyo akiwapa zawadi ya mayai vijana walioshinda mchezo wa kukimbia na mayai.

Vijana na watoto wakicheza mchezo wa kukimbiza kuku.

Picha zote na Kadama Malunde-Malunde1 blog
Comment on I won't quit, says Tsvangirai by mama
TV AFRICA opened my eyes KAMOHELO MANONO Klerksdorp NW I got more than I paid for. After using BUYA TANDO CRYSTALS my husband came back Immediately and I got PREGNANT for the first time in my life after 4 MISCARRIAGES and 2 unwanted DIVORCES Stop dreaming and start living MANGALISO DAVID from LADYSMITH KZN testifies 28 years experience as a FACTORY WORKER. I started as a CLEANER for 10 yrs and got PROMOTED to a RECEPTIONIST . Two months past I was promoted again to a FLOOR MANAGER Which was my last position in the company. Many people became jealousy at even my friends and they blackmailed which forced my boss to fire me without paying me any cent. The GOVERNMENT DEPARTMENT was taking long to process my pension fund .But it all changed when I visited MAMA SHAFIK on Saturday she performed her rituals on Monday and I was clued on Tuesday to go sign the papers and my money was deposited the next day Mama shafik +27836708212 MBUYISANI MYENDE after using WANGUVU DREAM POWDERS I hit a jackpot of 18MILLION RANDS in LOTTO and I keep DREAMING winning numbers day by day. It changed all my life and am living like a king now thank u Mama shafik +27836708212 JOSE CAVARIO from ALMADA PORTUGAL I lost my shop in Mozambique due to politics 17years ago. Then I decided to travel to my uncle figo in RANDFONTEIN JOHANNESBURG Who introduced me to his personal traditional doctor mama Shafik They gave me a MAGIC WALLET which made wonders and now I own a big butcher two wholesale shops in KRUGERSDORP and ROODERPORT Thanks mama I will always respect and honour you forever.call her to help you with the above problems.+27836708212.email,mutubba@gmail.com

Re: Maputo Mozambique
I will be visiting Mozambique soon,possibly in a month's time or 2months. How about more detailed direction of the places where the guys hang around and who to contact to show me around. You can also reach me on:moskhumalo@gmail.com.

Ilha de Mozambique: un incanto in rovina…
I Viaggi di Repubblica son stati a Ilha De Mozambique, piccola isola di tre km che fino a fine '800 era capitale del Mozambico, ricca di vestigia architettoniche e spiagge bellissime.Consigliano,...

Business and Private Diplomacy: A Potential Catalyst for Sustainable Peace
30 Jun 2017
By Misha Nagelmackers-Voinov for Geneva Centre for Security Policy (GCSP)
The UN has frequently acknowledged that the private sector can function as a powerful agent of change. However, the world body's preferred partners to resolve conflicts and build peace remain civil society and armed actors. Additionally, the leaders of UN peace operations have never been expressly mandated to consult with business communities or use their influence to build peace. Well, these practices have to change, argues Misha Nagelmackers-Voinov, both at the multinational and micro-national levels.
This article was originally published by the Geneva Centre for Security Policy in June 2017.
Introduction
A general overview of what the term "private sector" entails will help define the scope of this paper. The private sector can be defined as the part of the economy that is not run by a state, but by individuals and companies for profit. It comprises a large diversity of organisations such as publicly or privately owned companies, including multinational companies (MNCs); organisations owned and operated by a group of individuals for their mutual benefit such as cooperatives; or organisations that raise funds to operate and are financed by government or intergovernmental organisations or through hybrid business models, such as non-governmental organisations (NGOs), but excluding non-profit organisations (NPOs).1 When referring to the private sector, this paper will include publicly or privately owned companies, including MNCs, but exclude private military companies. All private sector organisations' main driving forces can be summed up as a quest for profits, security and reputation.
Because it is multidimensional, the private sector can be classified in many ways. In addition to a classification by sector, businesses can be ranked by size, number of employees, geographical presence, if they are a local business or the subsidiary of an MNC, or are tailored to serve domestic needs or export markets (or both). In a violence-or conflict-affected context each category of business will evolve differently, reinvent itself or disappear.
Key Points
Small businesses/micro-companies serve as a good starting point for a conflict resolution process because they often constitute the only form of economic activity in a conflict zone.MNCs have a range of options to respond to conflict, but cannot openly take part in conflict resolution and peacebuilding initiatives, and rarely become involved officially. Track Two diplomacy is their more likely area of involvement.The United Nations has frequently supported the view that the private sector can be a powerful agent of change. However, the UN still engages only two players in conflict resolution and peacebuilding: civil society/NGOs and armed actors. UN peace operations have never been expressly mandated to consult with business or use its influence to build peace.Combining the resources, expertise and leverage of all possible actors would produce a more formidable force for peace. World affairs would benefit from integrating the private sector into a new UN system of governance; new routes are possible for a truly inclusive approach, recognising the business sector's positive contribution to sustainable peace through informal mediation and collaborative engagement.
A converging definition and shared approach
Size is the most convenient and easily available criterion of classification for private sector companies. In emerging market economies affected by violence or conflict there would be five main categories of private businesses: formal businesses (big companies that are registered with local authorities and pay taxes); semi-formal medium-sized companies (which pay taxes, but are not systematically registered with authorities); small companies (which represent the vast majority of businesses, operate in a dedicated area or office, and are registered with local authorities); micro-companies (which operate from a variety of places such as markets or in the street and pay some form of tax on the temporary location from which they conduct business, such as a market place or handcart); and home workshops (which are mainly to be found in larger cities). Small companies operating from a dedicated or informal area provide more than half of the world's formal jobs. They are key drivers of economic growth and development, as well as the backbone of a local economy. Among the medium-sized or small private companies mentioned above, government employees might run such small businesses in some countries in order to diversify sources of income or risk, and allow close or even remote family members to make a living.
As violence increases or conflict breaks out, micro-companies and MNCs will be impacted, but never in the same ways or at the same pace. Generally, the private sector will shift from traded to non-traded goods (i.e. goods provided by donors), cut investment, and shift its capital to foreign currency assets and away from its production tools. Commerce and tourism will be the first sectors to contract, followed by manufacturing and construction. This shift will create conditions for an informal economy (which employs 80% of the population of the Democratic Republic of the Congo/DRC2) as households' incomes deteriorate and inflation affects official and parallel markets alike. Falls in employment will create falls in domestic savings and greater reliance on external aid. In such environments, agriculture and public administration will often remain the only source of official employment and income. Violence and conflict also change the prosperity equilibrium as individual roles evolve. When men die in conflict, women become responsible for ensuring the community's survival by starting informal businesses or taking up farming.3
Small players, such as micro-companies, become important: in chaotic times grassroots, local entrepreneurs provide the only goods, services and jobs available in a given conflict zone. They can also make an important contribution to conflict transformation because they maintain their economic influence and local political contacts during the conflict, and thus serve as a good starting point for a conflict resolution process. So do business associations, because they often also have close links to governments and represent all sides of the conflict.
The Guatemalan experience illustrates the role of business associations. The 36-year civil war in that country was caused by interlinked social, economic and political factors, "specifically ideological differences embedded in the global political struggle of the Cold War".4 Initially, the Guatemalan private sector was not a fervent supporter of the peace negotiations. The overall intensity of the war was low and geographically contained in mountainous areas, and the sectors that were most affected by the conflict were limited to tourism and the coffee industry. Negotiations with all stakeholders, including business, started on a very positive note. However, because of tensions between factions within the association representing the private sector, Comité Coordinador de Asociaciones Agricolas, Comerciales, Industriales y Financieras (CACIF), it refused to meet rebel groups, demanding instead an immediate ceasefire. Interestingly, the coffee industry did not embrace peace talks, because the peace process was associated with economic reform, while the tourism sector, too weak to lobby, was absent from the process. This tends to support the idea that different groups within the business sector are more or less willing or able to support mediation or a peace process.
At the other end of the size spectrum lie MNCs. They account for two-thirds of world trade and can be defined as large corporations incorporated in one country, implementing a consistent multinational response among their various subsidiaries. Their global number is estimated at 80,000, with 840,000 subsidiaries across the world, representing 75,000,000 employees. During the 1950s and 1960s host governments rarely intervened in the affairs of MNCs. Nowadays, these large companies are more flexible and more responsive to their host governments' demands. But not all MNCs follow the same strategy, and some will sacrifice market participation to preserve strategic autonomy. "There can be no growth in an environment where there is no peace", says Unilever boss Paul Polman, insisting that business "can and must be a force for good5". The "corporate coalition" backing Peace One Day – including Skype, McKinsey, Ocado, Innocent, Coca-Cola and Burger King – is a start, but certainly not what corporations do best.6 Instead, they could engage in discussions on good governance and obstacles to peace.
An MNC subsidiary faces complex governance challenges in the wake of violence or conflict. It is controlled by its parent company, which is often based outside the region or country; this company bears the ultimate responsibility for the group's worldwide strategic direction. The affiliate or subsidiary is expected to support the overall objectives of its group, contributing to its brand and matters of corporate priority such as Western-led concepts like corporate social responsibility (CSR). This is a first possible gap between the subsidiary of a MNC and its host country. Understanding often diminishes and misunderstandings widen as violence increases in the country hosting the subsidiary, due to the distance between the centre of power (company headquarters) and the local affiliate.
Going Beyond CSR; or, the limitations of policies
Recent literature7 has explored how MNCs are expected to contribute to peace and security in the absence of public or government capacity to fulfil this role. Most of those who participated in this research (through individual phone interviews or plenary sessions) were communications directors, CSR managers, and line and business managers from MNCs' subsidiaries. Many respondents seemed to ignore the role their employer could or did play in peace and security. This might be because CSR involves voluntary self-commitments focusing mainly on the environment, health care, education or security. The role of business in conflict is rarely addressed in this context, either because the CSR agenda needs to be broadened or because businesses are indeed active in issues related to the conflict, but it is not considered part of CSR. This constitutes a second gap in the corporate governance of MNCs: local CSR is part of a more global CSR strategy and is often managed as an extension of local public affairs, public relations or marketing efforts. In order to offer any sense of how MNCs' subsidiaries can have an impact on peace and security, further research is needed from the business point of view involving risk managers, chief financial officers, and members of the executive board in charge of audit and control committees.
Research by swisspeace focused on Swiss MNCs and how they engage in peace efforts.8 The paper in question is based on interviews with CSR managers from the MNCs' head offices and focuses on their knowledge of their companies' contribution to peacebuilding. The data covers eight to ten Swiss companies from various sectors. Most CSR managers appear to be unaware of the ways in which they could engage in peace processes or what role they could play. As the authors suggest, this might be because peacemaking or conflict transformation "is not linked to the business case".9 Other explanations also come to mind. Firstly, involvement in a political process can only result from an informal individual initiative, not as part of a formal representation of the company, and strictly on a confidential basis, which means no public relations communications – in fact, no communication whatsoever. Secondly, the lack of institutional trust between civil society or advocacy NGOs and the private sector is so heightened that such high-level strategic information will be considered only on a need-to-know basis. The CSR manager will deal with philanthropic initiatives to improve the environment or help local communities, as well as manage advocacy NGOs or research foundations. CSR or security managers might not be involved in all formal or informal contacts between a local business manager and strategic stakeholders.
The review of existing grey research covering CSR managers in MNC subsidiaries and MNC headquarters demonstrates that there is an obvious need for more research in the area of violence and conflict resolution in terms of risk management. As a result, the issue of the relationship between business and peace might be more one of board policy or operational strategy, and therefore falls beyond CSR.
Take a positive peace perspective
When an MNC considers suspending its activities due to violence or conflict, the result is an important depletion of local knowledge – and an increase in risk for the local population and local business alike, because of outsourced goods and services. The immediate consequence of an MNC's withdrawal or shutdown is undesirable from a local employment perspective: selling a subsidiary to a competitor might appear more desirable, but not if the new owner recognises fewer rights for employees and local communities (human rights, labour rights, development rights, social and economic rights).
Acting truly locally is a strategic challenge for global MNCs. Some are able to act like local businesses.10They employ local people, thus contributing to social mixing, and support those who wish to start their own businesses. This strategy maintains a certain level of economic normality in times of violence or conflict – and prepares for future peace. This can also be achieved by an MNC subsidiary maintaining local infrastructure such as transport, or temporarily covering basic health and social services. In all these examples the private sector can compensate for temporary state shortcomings or the total collapse of state-supplied services.
But in the absence of a mandate to participate in peace settlements, the private sector might resolve to consider its bottom line rather than its humanitarian impact, and shut down or sell its operations, despite adverse local consequences. In Nepal, for instance, the economic stagnation that marked the period following the end of civil war in 2006 was caused by the withdrawal of Indian MNCs that supported the Nepalese economy, and clearly hindered political and social stability.
It might be of interest to consider what strategies the private sector – MNCs and local businesses alike – can chose in a context of violence or conflict. Firstly, it can decide to take advantage of the economics of war and grow its business. Secondly, it can conduct business as usual, under local regulation or the absence of it, either because it cannot withdraw (e.g. a local business), or because violence is not affecting its operations. Thirdly, it can withdraw from the conflict zone and disengage. Fourthly, it can decide to engage proactively and contribute to public security.
From a positive peace perspective, business can foster economic development, support an emerging or existing legal system, and nourish a sense of community. It does not, however, consider the provision of assistance to local communities as a political act, but as tangible ways of reducing its operational costs. In matters of general strategy or corporate policy, CSR is considered as part of operations, while supporting peace or conflict resolution is the exclusive prerogative of the local or international political domain. In practice, the difference between CSR and working for peace and stability follows a very fine line, and is more of a corporate philosophy than an entrenched position. Businesses are committed to avoiding conflict as best they can. But as outsiders in a host country they must remain neutral: actively negotiating between warring parties cannot be part of their licence to operate. Business therefore cannot openly take part in conflict resolution and peacebuilding activities.
Because of the reputational and security risks involved in participating in peace mediation processes, companies rarely become involved officially, and if they do, it is with the utmost confidentiality and discretion. If the private sector contributes to conflict transformation efforts – for instance, through good offices or by supporting higher national interests – it is often on condition that its non-core contribution remains secret. If its contribution is publicised, its licence to operate and the safety of its staff, operations or infrastructure on the ground might be at risk. This need for discretion – for security or competitive advantage – is certainly one of the reasons why business's engagement in peacebuilding or conflict mediation as a facilitator or information intermediary is rarely properly investigated or publicised. Short-term political ambitions only contribute to business's caution when publicising any involvement in conflict prevention or resolution.
In terms of 'economic' peacebuilding, the private sector is encouraged to use its direct economic influence to promote peace. In terms of so-called 'political' peacebuilding, the private sector participates in initiatives such as 'policy dialogues' with local stakeholders. According to International Alert,11 this more political form of engagement includes participating in truth and reconciliation commissions; supporting weapons hand-ins; providing capacity-building support for local government, including judicial and police forces; supporting initiatives to attract foreign investment; and helping the local private sector build capacity and governance systems.
In a number of cases the private sector has decided to act as an agent of prevention in order to mitigate violence. One example is the campaign led by the Kenya Private Sector Alliance (KEPSA) and its 100,000 members following the 2008 electoral violence in that country. This violence caused major disruptions to the Kenyan tourism, tea and flower industries: exports fell by up to 40% in some areas of the country, while tourist inflows decreased by more than a third and job losses increased dramatically. The private sector decided to embark on a five-year corporate campaign to prevent possible violence ahead of the 2013 elections. Many initiatives were conducted, including a communication and training campaign in cooperation with civil society organisations, interfaith groups, developmental partners and the media. KEPSA is also reported to have supported legislative advocacy to tackle the causes of poverty in Kenyan society, lobbied key politicians to commit to peaceful elections, and pressured members of the media to avoid inflammatory content in their publications. Mobile operators also took steps to prevent their networks from being used to disseminate political hate speech. This local perspective on conflict transformation remains an important avenue for further research.
Business's motivations to remain in violence- or conflict-affected zones
Assuming it has the possibility to leave a violent or conflict area, a company might still decide to remain in an unstable environment for four main reasons. Firstly, it might still be able to make a profit: costs related to the conflict do not outweigh the income the business can generate. While ensuring income for both the company and its local staff, the company thus contributes to preserving some kind of economic normality for local communities. Heineken, the Dutch brewer founded in 1864, imported its first beer into Africa in 1900. It is now present in 23 African countries. The current CEO, Jean-François van Boxmeer, worked in Rwanda in the early 1990s. He then moved to the DRC, where he helped to deal with the refugee crisis that followed the 1994 Rwandan Genocide.
Among the refugees were many of Heineken's Rwandan employees and their families. As general manager of Bralima, Heineken's DRC subsidiary, Van Boxmeer decided the company would help his former Rwandan employees, offering shelter and basic income. This meant that the company's resources would go to humanitarian aid rather than running the company. But it was the only possible decision, Van Boxmeer says: "The larger the company, the larger the stakes. But you have a social contract. It's one of the crucial elements for a leader to remember and live by."12
Secondly, if the company represents the interests of a foreign state, it might need to balance the evolution of the relationship between its home country and its host government with regard to the conflict; this relationship will have an impact on its dealings with local authorities and its host government. It might not be in a position to balance the risk/opportunity equation, but the company will remain in the country for the purposes of its home government's national interest. Total is one of the major world oil companies, and the French government has a 15% stake in it (down from 34% in 1992). Active in Burma/Myanmar since 1992, the company's investments in the country are guaranteed by the French government through Coface (Compagnie française d'assurance pour le commerce extérieur). Over time, Total expanded its direct investments to become the largest foreign investor in Burma after all the major MNCs left the country following boycotts. In 2002 a case was filed against Total in Brussels by four Myanmar refugees for alleged complicity in violations of human rights in the course of the construction and operation of the Yadana Gas Pipeline. Belgian authorities dropped the case in 2008.13
Thirdly, the business might simply 'hold the market' and secure future resources or interests, as part of a long-term business strategy in the sector or region, and as mandated by its shareholders. And, finally, the company might decide to keep its operation active in a conflict zone to gain critical learning experience and ultimately improve the way in which it operates. When he sent the French army into Mali in 2013 to deal with an insurrection in the north of the country, President Hollande recommended that French citizens should leave the country, but hardly any left. In 2010, 60 French-owned subsidiaries and companies were in Mali, mainly in Bamako. These companies were active in mining (Vinci and Bouygues via subsidiaries), banks (BNP Paribas), telecoms (Alcatel-Lucent), transport (Air France), etc. Most of them considered that if security measures were put in place early, it was possible to continue working in near-normality; for instance, to limit travel and risk, employees could move into and live in the work site. Security procedures were submitted to the local French embassy for its future evacuation plans.
Some businesses are considered better peacebuilders than others, partly because of their exit options or the amount of capital invested. Extractive industries have few options in conflict-affected areas and require high investments over decades, but they also have powerful incentives to contribute to peace. Despite this economic stimulus, the extractive industry is often criticised for continuing to work in conflict-affected areas, while industries like tourism or telecoms are regarded as better suited to peacebuilding activities.
Engaging Business in Private Diplomacy
Would world affairs benefit from integrating the private sector into a clear UN mandate or as part of a new system of governance engaging traditional and new parties to multilateral diplomacy? First and foremost, business needs to recognise that conflicts provoke many emotions, "which in turn play a crucial role in the evolution of conflict".14 If greed and grievance are the main sources of conflict, then government and business might very well share responsibility for a conflict. Poverty, social inequality, unemployment or divided identity politics fuel conflict, particularly when accompanied by illegal behaviour on the part of governments – through corruption or illegitimate private wealth accumulation, or when divisive political leaders plant the seeds of ethnic conflict. But this can also be the case when companies indulge in illegal or irresponsible behaviour.
Governments' interests have always gone beyond their national borders, leading to foreign conquests and in many cases causing massacres and atrocities. These conquests were mostly conducted through either direct or indirect engagement. The private sector also contributed to these conquests, with the blessing of states, for better or worse, working with governments to export alleged liberalisation and democratisation. An example of direct military engagement is the 2003 invasion of Iraq. A more recent example of indirect engagement is when Nasdaq-listed companies were sent as emissaries to Iran in 201315.
Because of the perceived shortcomings of governments and their political agendas, as well as business's considered failure to act responsibly, new actors have entered conflict-resolution or mediation efforts: the Crisis Management Initiative, the Carter Center's Conflict Resolution Programme, the United States Institute of Peace and the Geneva-based Centre for Humanitarian Dialogue. These private organisations actively participate on behalf of governments in Track Two diplomacy (as part of unofficial government diplomacy), but also increasingly in Track One (official government) diplomacy initiatives, exploring new channels or contacts when the official lines of communication and negotiation have broken down. Their lack of a political mandate is recognised by all parties to mediation processes and is a welcome development in a peace market that has suffered from the presence of actors who promote peace, democracy and human rights, but do not strictly abide by the principles of impartiality, neutrality and independence. Mediators themselves mention the relevance of business actors in the two diplomacy tracks and the increasing importance of business actors as economic actors and facilitators in fragile states: "local business actors may have more leverage within track 2 processes than as part of a large internationally peace mediation process."16 From the mediator's point of view, "it is of little relevance whether (the business) becomes engaged in a peace process for personal business interests or for more altruistic interests in peace".17
The United Nations has frequently supported the view that the private sector can be a powerful agent of change. However, in real life the UN still considers two actors to be relevant in conflict resolution and peacebuilding processes: civil society/NGOs and armed actors. Peace operations have never been expressly mandated to consult with business or to help regulate their impact on peace, including in countries where the UN Security Council (UNSC) has imposed trade sanctions. This (voluntary?) decision by the UN and UNSC not to work with pro-peace businesses indicates a wider institutional pattern: "It is irresponsible of UN practice to ... overlook the way in which these actors might help – or hinder – near and long-term conflict transformation."18 Combining the resources, expertise and leverage of all possible actors would probably produce a more formidable force for peace.
The only reference to business being consulted can be found in the December 2005 founding mandate of the UN Peace Building Commission (PBC); since then, neither the PBC annual session reports nor working papers for 2013, 2014, 2015 and 2016 mention encouraging the possibility of engaging with business in any peace process – with the exception of local business, which is merely reminded of its duty to pay taxes ...! One might consider that this is because business is publicity shy on topics it considers to be of political relevance. Or it might be because business has simply not wished to be actively involved in any PBC activities. The truth lies certainly somewhere between the PBC not knowing how to engage business and business not wishing to be seen as active in what it perceives to be part of the political arena. However, since perceptions effectively constitute reality, the PBC seems to be missing out on the engagement of an important stakeholder, while business is guilty of not supporting the peace efforts of intergovernmental organisations.
The feeling is that economic transformation might exclusively be the responsibility of policymakers. The absence of the private sector in the so-called inclusive approach to peacebuilding and the absence of engagement with businesses to generate improvements represent at best an omission and at worse ignorance on what important stakeholders can potentially contribute to building peace. As things stand today, except in communication and fund-raising events, the private sector is not considered as a sound partner in peace processes. There is hardly any formal record either in UNSC mandates or UN peace operations (MONUSCO, UNOCI, UNMISS, etc.) of consulting with commercial entities such as trade professionals, purchasers, suppliers or commercial agents. UN entities only address regulatory issues through civil society monitoring. The UNSC engages states to take the necessary measures to deal with natural resources-related conflicts and invites international financial institutions to contribute to establishing regulatory governance: it does not consult on, engage with or regulate this process, and does not deal with the issue directly.
Should the UNSC adopt a wider mandate, no doubt responsible companies active in natural resources would support conflict transformation efforts in post-conflict areas, but without an "exceptional transitional business regulatory role".19 Business could also proactively initiate networks and engage actors or trade associations in the post-conflict business sector to adopt responsible peace-related business self-regulation.
Responsible leadership
A case can be made for a new kind of responsible leadership to support integrated and comprehensive peace processes through mediation. Through a collective, cooperative approach, the underlying causes of conflict could be addressed; such an approach would include companies, NGOs, labour organisations, and local and national governments. This approach might take time to set up and implement, but it would bring hope to and positive developments for all parties involved:
It will be argued that the factors affecting the issue are not within the control of companies – it is a matter for government. Or it will be claimed that the issue is not as widespread as suggested and that things are not really so bad. Or that it would require industry-wide effort to have an impact. Companies, like NGOs, are human organisations and they suffer from the natural conservatism of all human organisations – they like to carry on doing what they have been doing successfully for years and tend to resist any change to a smoothly running system.20
Understanding possible informal engagements among political actors, mediators and business, as well as the role of each industry within the economy, must be explored in order to influence the overall process. One of the most successful ways in which business can support peace has been through trade associations, including businesspeople from both sides of the conflict. Mediators praise their direct or indirect, pragmatic, economics-focused, bridge-builder approach21 and consider that it is relevant to include business actors, depending on the context or the stage of the mediation process: early in the process as part of formal Track One initiatives or on their own initiative in a Track Two or Track Three process; during the negotiation phase, using their knowledge of economic development, trade or employment; and/or during the implementation phase, for instance by providing suitable jobs to former combatants, thus providing them with gainful options other than armed violence, or hiring people from all sides of the conflict, thus contributing to breaking down stereotypes and biases.22
Facilitating informal, off-the-record talks between mediators and businesses is also a route that needs to be systematically explored. The inspiration for these informal/briefing talks between business and mediators is as much about rebuilding trust as building knowledge and understanding on both sides. For instance, the private sector was successfully involved at the Track One level in the recent successful negotiation process between the Colombian government and the Revolutionary Armed Forces of Colombia (FARC), playing an important informal role throughout these negotiations. Some businesspeople were even members of the negotiation team. The government, the FARC and the business sector themselves welcomed the private sector's engagement: "Business leaders held off-the-record meetings of multi-sectorial groups in order to generate space for developing personal relationships."23 Members of the business sector sponsored and were involved in public demonstrations and activities to protest against the conflict and lobbied on numerous public occasions for a peaceful settlement. Business representatives also established contact with an imprisoned leader of the other main Colombian armed opposition group, the National Liberation Army, "leading to the signing of a goodwill accord pledging the parties to seek a solution to the Colombian crisis".24
The first major work on business-based conflict transformation is less than 20 years old.25 The World Bank has found that the first thing that must be dealt with after the restoration of peace and the examination of various fundamental social issues is the question of establishing a framework for restoring business.26 The past decade has seen an increase in initiatives to address a possible multi-stakeholder approach to conflict transformation, including MNCs and local businesses.27 On the basis of these principles, further initiatives have been launched such as the Organisation for Economic Co-operation and Development principles on MNCs and the International Bill of Human Rights of the International Finance Corporation, which is the World Bank's lending arm.
But the debate is still largely dominated by policy built on examples of businesses sustaining and fuelling violent conflict – largely reported by civil society and raised as banners to condemn all businesses indiscriminately. Corporate-bashing (or brand-bashing) - as NGO-bashing - are probably not the most promising strategies to achieve inclusive dialogue. A new type of engagement is needed to avoid the institutionalisation of business models such as Greenpeace's28, which replicate bipolar models of good versus evil. The misinterpretation of how companies perceive a peace process has, for instance, led to the publication of some negatively oriented guidance for corporate engagement in conflict transformation, i.e. "good corporate practice is about negative peace and what companies should not do".29 There is nevertheless a growing interest in constructive ways of including companies in conflict management and peace support, recognising what business has achieved as well as understanding business's perspectives on the potential and limits of corporate engagement.
In "Money Makers as Peace Makers? Business Actors in Mediation Process",30 swisspeace identifies 14 case studies where private sector efforts complemented those of the public and civil society sectors. These were in Colombia, Cyprus, the DRC, El Salvador, Guatemala, Aceh/Indonesia, Kenya, Mozambique, Nepal, Northern Ireland, Somalia, South Africa, Sri Lanka and Sudan. There is an obvious need for more research from the business perspective, and particularly on the governance of MNCs and the role that MNCs' local subsidiaries can play in violence prevention and conflict resolution.
Conclusion
This paper has focused on cases where the private sector supported private and/or multilateral diplomacy. Such cases indicate that building trust and engaging both traditional and new parties to peace talks might allow a better understanding of a conflict resolution and peacebuilding process and improve cooperation. The paper also explored ways in which world affairs would benefit from integrating the private sector into peacebuilding and suggested routes for a truly inclusive approach to advance peace processes.
A successful peace agreement often brings peace dividends. Liberia's economy grew at an annual rate of 11% after peace was achieved, South Africa is still one of Africa's most advanced economies, Aceh has become a source of economic and political innovation for its region, Mozambique has experienced an average growth of 7% (except for 2013 and 2014), and Northern Ireland experienced economic growth of 3.2% in 2005, almost twice as much as the United Kingdom as a whole. But the international community has also engaged in a number of unsuccessful attempts to build sustainable peace in war-stricken areas/ countries such as Bougainville (2001), Liberia (2003), and Sudan and South Sudan (2005). Despite comprehensive peace agreements and going through the same path of security building, governance building and transitional justice as successful peacemaking efforts, all these areas/ countries experienced outbreaks of instability and violence, in particular during elections.
Less than half of the peace agreements referred to above included an economic dimension in their settlement:31 there was no mention of reinvigorating post-war economies, no ways of supporting the reconstruction of a local private sector, no plans to revive a war-torn society, and no reference to economic reforms. If state‐building must rightly remain an internally driven process, economic recovery remains a turning point between success and failure in peacebuilding, because failure retards development and holds back foreign investment. Surely it is time for comprehensive peace agreements to become truly comprehensive and include the private sector as one of the most important sources of the widespread economic empowerment that is needed to mitigate the effects of conflict and violence?
Notes
1 An NGO, also known as a civil society organisation, is a non-governmental organisation even though its funding might be provided by a government. An NPO uses its extra funds for the purposes of the organisation, rather than dividing it among the shareholders and owners of the organisation. Examples of NPOs are universities, trade unions or charitable organisations. However, an NPO might operate in conjunction with a government.  
2 TDRP (Transitional Demobilization and Reintegration Program), "5 Democratic Republic of Congo", in Assessing the Reintegration of Ex-combatants in the Context of Instability and Informal Economies, December 2011, p.31, http://www.tdrp.net/ PDFs/Informal_Economies_Dec2011-5.pdf
3 C. Samba-Panza, interim president of the Central African Republic, "The Central African Republic: 'Land of Wealth and Opportunity'", transcript of her speech during the handover ceremony to President-elect Faustin-Archange Touadéra, 30 March 2016, http://www.worldbank.org/en/news/ speech/2016/03/30/the-central-african-republic-is-a-land-of-wealth-and-opportunity
4 E. Jonas, "The Role of the Private Business Sector in Peace Negotiations: Lessons from Guatemala", Sicherheit und Frieden/ Security and Peace, Vol.4, 2007.  
5 O. Balch, "Businesses have a role promoting peace in conflict zones", The Guardian, 23 September 2014, https://www. theguardian.com/sustainable-business/2014/sep/22/businesses-role-promoting-peace-conflict-zones-drc-palestine  
6 J. Hatcher, "Goma Peace Concert Criticised for Overshadowing DR Congo's Grim Reality", The Guardian, 23 September 2014, https://www.theguardian.com/global-development/2014/sep/23/goma-peace-concert-dr-congo-jude-law  
7 See D. Jamali, R, Mirshak, "Business-Conflict Linkages: Revisiting MNCs, CSR, and Conflict", Journal of Business Ethics (2010) 93:443–464; A. Graf & A. Iff, "Conflict-Sensitive Business; Review of Instruments and Guidelines", swisspeace, January 2013  
8 A. Iff, R. Alluri and S. Hellmüller, "The Positive Contributions of Businesses in Transformations from War to Peace", swisspeace Working Paper 2/2012, http://www.swisspeace.ch/fileadmin/ user_upload/Media/Publications/WP2_2012.pdf
9 Ibid., p.15, quoting L. Zandvliet, "Conflict Transformation and the Corporate Agenda – Opportunities for Synergy", in B. Austin, M. Fischer and H.J. Giessmann (eds), Advancing Conflict Transformation. The Berghof Handbook II, Opladen/Framington Hills, Barbara Budrich, p.360.  
10 What managers can do strategically depends on where they are located. National influences limit corporate behaviour in important ways.  
11 J. Banfield, C. Gündüz and N. Killik (eds), Local Business, Local Peace: The Peacebuilding Potential of the Domestic Private Sector, London, International Alert, 2006.
12 P. Vanham, "How Heineken's CEO Went from Congo to the Company's Top Spot", LinkedIn, 22 July 2015, https://www. linkedin.com/pulse/how-did-heinekens-ceo-go-from-congo-global-peter-vanham
13 Business and Human Rights Resource Center, "Total Lawsuit in Belgium (re Myanmar)", 2014, https://business-humanrights. org/en/total-lawsuit-in-belgium-re-myanmar  
14 G. Carbonnier, Humanitarian Economics: War, Disaster and the Global Aid Market, London, Hirst, pp.30-32.
15 General Motors traveled to Iran on this occasion, drafting contracts for the resumption of GM's activities In Iran. To ensure US success, President Obama signed the Executive Order Act 13645 on 3 June. This presidential decree sanctioned any foreign entity that sold or supplied parts or services to the Iranian automobile sector but did not prohibit the supply of vehicles. Renault being the main foreign operator with 90,000 cars produced in 2012, the US decree clearly targeted France. Furthermore, United Against Nuclear Iran summoned Carlos Ghosn, the boss of Renault, to withdraw from Iran under penalty of American sanctions (G. Malbrunot, "En Iran, l'offensive discrète des entreprises américaines", Le Figaro, 4 October 2013)  
16 A. Iff et al., "Money Makers as Peace Makers? Business Actors in Mediation Processes", swisspeace Working Paper No. 2/2010, p.24, http://www.swisspeace.ch/fileadmin/user_upload/ Media/Publications/WP2_2010.pdf
17 swisspeace/CS ETH Zurich, "Peace Mediation Essentials: Business Actors in Mediation Processes", December 2010, p. 2, http://www.swisspeace.ch/fileadmin/user_upload/Media/Topics/ Mediation/Resources/Peace_Mediation_Essentials_Business_ Actors.pdf  
18 J. Ford, Regulating Business for Peace: The United Nations, the Private Sector, and Post-conflict Recovery, Cambridge, Cambridge University Press, 2015.  
20 M. Moody-Stuart, Responsible Leadership: Lessons from the Front Line of Sustainability and Ethics, Oxford, Greenleaf, 2014, p.36.
21 swisspeace/CS ETH, Peace Mediation Essentials, p.8.
22 Ibid., p.12.  
23 A. Rettberg, "Local Business' Role in Formal Peace Negotiations", in Banfield, Gündüz and Killik (eds), Local Business, Local Peace, p.51.
24 A. Rettberg, 2007, p. 486 in A. Iff et al., "Money Makers as Peace Makers? Business Actors in Mediation Processes", swisspeace Working Paper No. 2/2010, p.16, http://www. swisspeace.ch/fileadmin/user_upload/Media/Publications/ WP2_2010.pdf
25 J. Nelson, The Business of Peace: The Private Sector as a Partner in Conflict Prevention and Resolution, London, Prince of Wales Business Leaders Forum, International Alert and Council on Economic Priorities, 2000.
26 J.-D. Wolfensohn, Statement during a special session on the role of business in conflict prevention, peacekeeping and peacebuilding, UN Security Council, 15 April 2004, http://siteresources.worldbank. org/INTCPR/214578-1112884026494/20482671/Role+of+WB+in+Conflict+and+Development.pdf
27 J. Ruggie and T. Nelson, Human Rights and the OECD Guidelines for Multinational Enterprises: Normative Innovations and Implementation Challenges, Harvard Kennedy School of Government, Corporate Social Responsibility Initiative, Working Paper No. 66, May 2015, p.5. https://www.hks.harvard.edu/ index.php/content/download/76202/1711396/version/1/file/ workingpaper66.pdf
28 See the Greenpeace campaign against Timberland in J. Swartz, "Standing up to 65,000 Angry Activists", Harvard Business Review, September 2010; and W.M. Hoffman, R.E. Frederick and M. Schwartz (eds), Business Ethics: Readings and Cases in Corporate Morality, Chichester, John Wiley, 2014).
29 A. Iff, "What Guides Businesses in Transformations from War to Peace?" in A. Pigrau and M. Prandi (eds), Companies in Conflict Situations, Barcelona, International Catalan Institute for Peace, pp.153-78.
30 Iff et al., "Money Makers as Peace Makers?", pp.16-19.  
31 UN Development Programme and Crisis Management Initiative, "Peace Processes and Statebuilding", in J.-K. Westendorf (ed.), Why Peace Processes Fail: Negotiating Insecurity after Civil War, Boulder, Lynne Rienner, 2015, p.17.  
About the Author
Misha Nagelmackers-Voïnov is a member of Woodz Public Affairs and an Executive-Fellow-in-Residence with Geneva Centre for Security Policy (GCSP
EVOLUTION OF THE AFRICAN NATIONAL CONGRESS:
1912 ANC founded. 1949 Program of Action, including nonviolent civil disobedience, starts. 1953 Civil disobedience. Discontinued when South African government passed law providing stiff penalties for those who break even minor laws. 1959 All-black Pan-African Congress (PAC) forms in protest of ANC's multiracial membership. March 1960: Nationwide passive resistance demonstrations. 69 killed at Sharpeville. South Africa declares state of emergency. April 8, 1960: ANC, declared illegal, goes underground. Dec. 1961: ANC leader Nelson Mandela forms military wing of the ANC. The group begins its sabotage campaign. 1963 South African police find underground ANC headquarters in Johannesburg suburb of Rivonia. 1964 Mandela convicted at Rivonia trial and is given a life sentence. 1976 African riot in Soweto against forced use of Afrikaans language in school curriculum. Thousands of school-age children flee South Africa; many link up with ANC forces outside the country. June 1980: Bombing of Sasol, South Africa's oil-from-coal refinery. August 1981: Rocket attack on Voortrekkerhoogte, Pretoria, center of country's military establishment. Dec. 9, 1982: South Africa, in retaliation for alleged ANC sabotage staged from bases in Lesotho, attacks ANC residences in Lesotho capital of Maseru. 40 killed. Dec. 18, 1982: Bombing of South Africa's only nuclear power station at Koeberg, outside Cape Town. May 20, 1983: Car bomb explodes outside Air Force Headquarters, Pretoria. 17 killed, more than 200 injured in worst sabotage incident in South African history. May 23, 1983: South Africa retaliates with air strike against suspected ANC targets in Mozambique's capital. 6 killed, more than 20 wounded. June 9, 1983: Three ANC members charged with attacking police stations hanged.
Read this story at csmonitor.com
Become a part of the Monitor community
Tour Guide - AMANDLA FAMILY EXPRESS TOURS - Marble Hall, North West 0458
please be able to travel the following countries if you apply for this job,Namibia,zimbabwe,mozambique,botswana,zambia,south africa,kenya,malawi and tanzania R20 000 a month
From Indeed - Thu, 29 Jun 2017 10:23:46 GMT - View all Marble Hall, North West 0458 jobs

Comment on Govt, banks row over 99-year leases by nelson moyo
rukudzo - Mozambique is a "basket case" of a country altogether. It has virtually no commercial agriculture - farming is largely subsistence only. Try and learn the difference between that and commercial farming. Sadly without proper title to an asset banks will not lend to someone who has no assets. Mozambique is insolvent itself by the way. This is the first rule of capitalism - the only person who gave something away without work was Jesus with the fishes - so the story goes !

The Man from Beijing by Henning Mankell
January 2006. In the Swedish hamlet of Hesjövallen, nineteen people have been massacred. The only clue is a red ribbon found at the scene. Judge Birgitta Roslin has particular reason to be shocked: Her grandparents, the Andréns, are among the victims, and Birgitta soon learns that an Andrén family in Nevada has also been murdered. She then discovers the nineteenth-century diary of an Andrén ancestor—a gang master on the American transcontinental railway—that describes brutal treatment of Chinese slave workers. The police insist that only a lunatic could have committed the Hesjövallen murders, but Birgitta is determined to uncover what she now suspects is a more complicated truth. The investigation leads to the highest echelons of power in present-day Beijing, and to Zimbabwe and Mozambique. But the narrative also takes us back 150 years into the depths of the slave trade between China and the United States—a history that will ensnare Birgitta as she draws ever closer to solving the Hesjövallen murders. Download EPUB     Mirror
The post The Man from Beijing by Henning Mankell appeared first on Top Shelf Book | Free eBooks.
TGIH
Thank God I'm Home.
There was a terrible chapa (mini-bus) accident in Gaza province yesterday that injured three volunteers and killed two others. One of the volunteers that died was going to fill my position teaching biology in the Chimundo secondary school.


It's so tragic, I can hardly believe it. It's just sickening that in Mozambique, car accidents kill more people than AIDS and malaria combined. I am grateful to have made it home safely, and almost feel guilty that this happened to the young woman that was going to replace me, that she was robbed of that experience and the innumerable others that happen throughout a lifetime. I ask that you keep these volunteers and their families in your thoughts and/or prayers.
Much love, and happy holidays.
Isn't It Pretty to Think So?
At last, here we are; Erica and I are in Maputo, on our way up and out. Our National Science Fair was a success, my beach vacation with my brother and sister-in-law was delightful, and my last trimester disappeared in a haze of grades and goodbyes. Everything is unraveling and wrapping up, and it's all a bit overwhelming. As it should be—I am leaving behind two years of teaching, bucket baths, latrines, Portuguese, malaria prophylaxis, unbearable heat, and unforgettable events, taking with me my memories, my souvenirs, my remembrances, my extensive capulana collection, and my… favorite clothing. (After all, I wasn't planning on coming all the way to Mozambique and looking like a die-hard hiker/camper/REI model for two years.)
To respond to the yet-unasked question that I'm certain to hear, I can't say that this experience has necessarily changed me, but instead, it's made certain beliefs and characteristics stronger, like the single frown line inherited from my father that has been etched deeper by the African sun. I can probably say that I've become more myself, as we are all wont to do with time, and yet looking at the experiences that tie together all humanity, African, American, Asian, or Australian, I imagine I've also become more like everyone else. Which is just fine with me; for the most part, I'd say I'm in good company.
The End Has No End
The final trimester has begun! Summer is coming around again and Mozambique is slowly warming up. I'm making packing lists and getting things ready for the next volunteer. Everything in our lives is leading up to our homecoming in another two months. We will be leaving Mozambique in the third week of October and I should hopefully be home just before my 26th birthday. Words can't express how happy I will be to be home for my birthday; the prospect of spending three birthdays in Mozambique was dreary at best. After spending a weekend with family, I'm flying back to NYC to spend a week with Erica, where we'll pamper ourselves, get haircuts and buy new clothes that aren't threadbare from handwashing. These efforts will be preemptive actions to prevent hearing, "You were in the Peace Corps? I could see that."
We have a few more events to squeeze in before saying our goodbyes. I finally made it back to Namaacha to visit my host family this weekend, which was nice. Our first ever National Science Fair will take place in Beira in another week, and things are finally coming together. It will be nice to have an opportunity to make it up to central Mozambique, because with our teaching schedules, we haven't done as much traveling in Mozambique as we'd hoped (this country is huge, and I haven't made it past the southern region since training). My brother and sister-in-law will come to Mozambique in September, and I am thrilled to have one last beach vacation before heading home, especially since Erica and I were sick and didn't get to do any traveling during our week-long trimester break. Hopefully we'll get together with our nearby PCVs for one last get-together in Xai-Xai, and then we'll be packing up our things and our animals, homeward bound!
Thankfully, I think I can say that I'll be leaving Mozambique with few regrets; I wish I would have taken more pictures of my colleagues and students during the first year, I regret not eating more mangoes during the last mango season (neighborhood kids stole all of ours), I wish I would've practiced violin more often, I regret not writing letters this year (postage prices tripled), and I would have liked to spend more time with some PCV friends, particularly those that are already stateside. But, c'est la vie, assím é a vida. So it goes. On the flip side, I learned how to play guitar, did some drawing and painting, baked a cake every Wednesday, read 57 books (and counting), made several pieces of clothing by hand, and formed rewarding relationships with colleagues, neighbors, and students. After two years here, I think that's a respectable assessment.
Things I am looking forward to at home (in no particular order):
hot showers and baths

cheese and milk

ice cream!

not feeling like I've narrowly escaped disaster every time I step out of a motor vehicle

white Christmas

celebrating holidays with friends and family

Target

coffee

public radio

fun restaurants

snack food, granola bars, and breakfast cereal

not having a trail of children asking me for candy and money when I leave the house

not having a group of children hollering for candy and crayons when I'm in the house

punctuality and accountability

playing piano (and on occasion, the accordion)

having more than two friends nearby

leaving the house past 6 PM

having things to do past 6 PM

not needing to do sweeping cockroach extermination on a regular basis

watching media on something other than a 10-inch laptop screen
Little things I'll miss:
the occasional lost chicken that waltzes into the house and sets the dogs into a frenzy
walking through the beautiful, underdeveloped matu for 40 minutes every day on my way to and from school
the vibrant colors--rust sand, sky blue, verdant fruit trees
having ample free time
feeling comfortable with silence and utter inactivity
fresh papaya, mango, passionfruit, pineapple, tangerines, oranges, coconuts, and... all of the other yummy fruits that don't even have names in English
brushing my teeth under the stars every night
And here's a brief look back, a few pictures from the last few months that fill in some of the gaps: my boyfriend serenading Erica and the dogs on her birthday (he doesn't actually play the guitar); my students tearing it up with a cultural dance; a woman in the market selling papayas the size of basketballs; Erica cooking by headlamp on a night with no electricity (my headlamp bit the dust--I unfortunately dropped it in the latrine); my Geração Biz students performing their theater piece; three of my students who dropped by for a visit.
My Extraterrestrial Mozambique
Suddenly, I have just three months left in Mozambique, and I once again have to borrow from Kurt Vonnegut, once again from Slaughterhouse-Five, to best describe the feeling. This passage comes from the extraterrestrials' description of their reading experiences, and aside from the context, it relates pretty well to how I feel while looking back at my time here.
… There isn't any particular relationship between all the messages, except that the author has chosen them carefully, so that, when seen all at once, they produce an image of life that is beautiful and surprising and deep. There is no beginning, no middle, no end, no suspense, no moral, no causes, no effects. What we love in our books are the depths of many marvelous moments seen all at one time.
I've been feeling nostalgic for the last two weeks, caught in a wash of moments and memories. I am typically awakened from my reverie either by an inquisitive cockroach edging towards my glass or by a small neighbor child hollering for candy or crayons in a shrill voice at our door. So while I am seeing my time in Mozambique slip away, day by day, part of me is also racing towards my imminent return home. I've learned and enjoyed many things here, but I'm looking forward to going home and feeling like a whole person again, a fully-functioning member of society, back in the comfort of my familiar cultural context, back in the company of family and friends.
Things are going just fine here. The second trimester is wrapping up—the exams have been given, the averages have been calculated, and we'll have our conselhos in another two weeks. We'll have our provincial science fair this weekend and start planning for the national fair, coming up on its heels in August. My Geração Biz students have been presenting at school events and will do their theater pieces and lectures during their biology lessons next week. When we're not doing something with our projects or schoolwork, we're typically just trying to keep warm—this winter has been downright chilly! Fifty degrees Fahrenheit feels much colder when it's damp and windy and there's no insulation or heating. I'm going to be in for a brutal shock when I face the first Midwestern winter in 3 years. Good thing I'll be too busy soaking up everything America to notice.
Glimpses of the Glittering First World
With just four months to go, there is a light at the end of this "dark continent" proverbial tunnel.
(I must say, I think that's a terrible nickname for Africa, and only appropriate in reference to the widespread lack of electricity and light pollution.)
This light is the beacon of reliable electricity, heralding my return to the developed world.
Throughout these two years, there have been days that Erica and I have thought this experience would never end, and that we'd be suffering with our cockroach infestation in Mozambique forever.
There have been other days, eating tropical fruits and basking in the sun's rays on one idyllic beach or another, that I've wished the days to lengthen and multiply.
But although I've toyed with the idea, I've never considered extending my service another year; I started my Peace Corps application 47 months ago now, and it's time for something new.
So as we lesson-plan, grade tests, organize Science Fair events, visit our up-and-running cultural center, and try to keep the cockroach population under control, we make plans for the future, and the focal point of our plans is entrance into graduate school.
We are in South Africa right now for Erica to take the GRE and both of us are reveling in the luxury of fast, reliable internet and delighting in the ease of obtaining graduate school information that is otherwise a headache to access in Mozambique.
I will be applying to Master's of Public Health programs, getting my degree in the environmental sciences and global health departments.
In the future, I'd like to work with issues of water supply and sanitation in developing countries.
I am pretty darn excited.
Water quality and availability have interested me since my junior semester abroad in Asia, and my experiences in Mozambique have turned that passing interest into a passion, after spending days without water where I forego a much-needed evening bath, turn a blind eye to a basin full of dirty dishes, and plan a dinner that would involve frying instead of boiling or steaming to conserve water.
As far as I'm concerned, running water is the best thing since sliced bread (so to speak).
And potable running water—well, that's just too much for words.
So, I'm narrowing down my school choices, working on my Statement of Purpose, and trying to figure out how to best execute the application process when I am always in Chimundo, the Chibuto suburb where you can't even buy bread, let alone get online.
It's a work in progress (my applications
and
Chimundo
).
The Overbos do Barra
In the dead of the second trimester, Erica and I had a little shining ray of light in the form of visitors from home. Four of my cousins came to visit with a friend of theirs, and we made plans to meet them in Maputo and then spend a few days at the beach. Naturally, things never go quite as smoothly as they could or should. First of all, my cousins had reserved rooms via the internet, and the receptionist had no record of this and no room for all of us, and evidently no need to be courteous or helpful (to be expected in Mozambique). So when my first cousin arrived early, we switched hotels. The next day, I spent an hour at the airport waiting for them, worrying they were being interrogated or were left stranded in South Africa. Someone mentioned that there was a group in the room for international arrivals, but it was a group of Chinese men—definitely not my cousins. As it turned out, the four of them had taken an earlier flight and had checked into the original hotel, and they'd already arranged a taxi for the next morning, so after tracking them down at that hotel, I was wildly relieved to find that my family had safely made it. Unfortunately, we all felt a little stress the next AM, when we arrived at the hostel where the bus would pick us up and did not see the last four members of our group. I tried to ask another traveler if I could quickly use the hostel computer he was using to look up the phone number for their hotel, but he looked at me as if I were absolutely crazy and after a brief pause, gave me a resolute "no." OK. Thankfully, there was a phone book lying out, so I called the hotel and asked if my cousins were still there. The receptionist said the taxi had left almost an hour earlier and had taken them to the junta. I think I have omitted descriptions of the junta from earlier posts, so let me quickly explain what the junta is and why those ominous words struck fear into my heart. The junta is the Maputo bus stop where you can get onto a mini-bus that will take you almost anywhere in the country. At any given moment, this lot is filled with 20 or more buses and scores of people milling about, trying to sell you things or get you onto their taxi. It is crowded, smelly, and a little dangerous, particularly for foreigners, and is probably one of the last places on earth you want to be at 5:00 in the morning. I was horrified. Our bus arrived shortly thereafter, and I explained the situation to our driver, asking if he could call a driver at the junta. I told him I was looking for a group of four white people, two men and two women. He punched in a number, said a few words, and handed me the phone. I heard my cousin Renee's voice on the other end of the line; of course, in Mozambique, you can quickly identify a group of lost-looking foreigners with minimal effort. It's a rapid process of elimination. Our bus dropped by the junta to pick up my family and a few other passengers to pack the bus to capacity (or past, depending on who you ask). So our collective nightmare ended, and seven hours later we arrived at our resort, cramped, exhausted, and excited. I think this is best summed up in pictures, so here it is.
It was awesome, and my cousin Joshua uploaded a bunch of gorgeous photos on Facebook that do more justice to the experience. We also went on an ocean safari and weaved between jellyfish to keep up with whale sharks. They were beautiful, and large. One sort of snuck up behind me and gave me a small heart-attack; they are harmless to humans, but their mouths are still a good two-and-a-half feet wide, so I easily imagined myself getting stuck in there and did double-time to try to maintain the recommended three-meter distance between myself and the inquisitive shark. Plus, that shark dorsal fin is just plain scary, even on a vegetarian fish. Aside from our animal encounters, we did some shopping, were beach bums for several hours, and went on a sunset catamaran ride on our last evening. It was delightful.
We rented a chapa to take us back to Maputo so people could have more space, and it dropped us off at the door to our hotel, where I'd reserved two large rooms for us. Unfortunately, they didn't actually reserve them for us and gave them to other guests, and I spent the better part of an hour frantically calling ten or more hotels, looking for accommodation for seven people at 4:00 on a Saturday night. It was unpleasant and unsuccessful, and I longingly dreamed of home, the land where the customer is always right. A guest at our hotel saw our troubles, took pity on us, and gave us a number to a hotel where she'd stayed. Miracle of miracles, it was the only hotel that cost less than $400 a night that had room for all of us. We dropped off our things and went out for our last dinner together. It was sad to feel our vacation ending, but after some of our Maputo misadventures, I don't know how much more vacation we could actually handle. Erica and I had breakfast with our group the next morning, said our goodbyes (mine a little tearful, I have to admit), and hopped on a chapa back to Chibuto. Now we're back in school, working on our projects, and counting down until our next break. Every trip, we learn something from a new crisis, so if anybody else is still planning on visiting (you know who you are), maybe by then we'll have perfected the formula and will have a karma payback with a smooth, trouble-free trip. Maybe. If not, well, it will be an adventure. One can always count on that here.
March´s Pocket Full of Mumbles
Erica and me with students at a ceremony to commemorate Mozambique´s first president, Samora Machel.
Kids helping us with the messy task of de-feathering chickens.
Our new sitemate!
January drag-g-ged along, and I somehow suddenly found myself in the middle of March. February came and went, and was a transient month in general: we went to Maputo for several days to have our mid-service medical check-ups (clean bill of health, no parasites that I know of) and our friend from Cape Town came to visit us for a few days. This visit coincided with a two chickens leaving their lives, ones we had purchased, butchered, and de-feathered with the help of our empregada for a tasty little dinner festa. My fan went out, a victim of certain dogs who like to chew on electrical wires. And my internet phone left my life, lifted on a chapa in Maputo. It's almost as if with just 28 days, February is an unanswered question, lacking those last few days to punctuate the month and let it form any solid conclusions (aside from the obvious conclusion that any electronics I own in Mozambique will inevitably be stolen or broken). Mozambique is an excellent study in time and its passing. Too bad I don't have any Proust lying around.
In the theme of comings-and-goings, I suppose I could say that March came in like a lamb, since it was ever-so-slightly-cooler for a few evenings, but those happy dreams of an early winter died as the mercury rose, and March is going out like a lion, devouring us in an unfortunate heat wave. We fled to Xai-xai for a day trip one weekend with our sitemate Vivienne and her visiting boyfriend; we cooled off in the water, bought souvenirs on the beach, and ate oysters. It was a nice day. One of our Mozambican friends just bought a car, so we're hoping to hitch a ride with him to the beach sometime again in the near future, because it sure beats hopping aboard an overstuffed, overheated chapa, and Chibuto is an insufferable oven in this infernal heat.
School is going well. Since I'm teaching the same material as last year, I have minimal lesson-planning to do, and I have a much better grasp on how to use my classroom time. That is to say, I have realized that my students absorb precious little from the two 45-minute lessons we have each week and study less, so I teach fewer concepts and pack more practice problems into their short lessons. Classroom management has also drastically improved, thanks in part to the classes' daily behavior grade, which I dramatically erase and re-write based on my whims and their noise levels. It's still exhausting, with larger classes of 60-70 students this year and an inconvenient schedule that leaves me little time to run into Chibuto for internet and errands, but I'm enjoying it more. Also, we have a new director, and having new leadership is motivating other teachers to shape up a little and actually show up for class, thereby minimizing the chaos of hundreds of students running around school in the mid-afternoon. That's always a plus.
Science Fair is starting, and since Erica and I are coordinating the project on the national level (Erica as President, me as Financial Coordinator), we are taking the backseat for our local and provincial fairs and having our colleagues plan and facilitate the meetings and fair events. Erica's school has had volunteers and Science Fairs for the past several years, so there's no good reason for us to get suckered into doing it when other people actually have more experience with it and would rather just sit back and watch us work. This frees up more time for me to work with Geração Biz, a Mozambican peer-education health program. A few of my more charismatic, energetic students have started coming, which has contributed to a good group dynamic, and we've settled on a regular schedule. They are studying the reproductive system and have learned Duck, Duck, Goose, among other things, and I'm overall very pleased with them. We'll have a training for them in April, and hopefully afterwards they can begin planning presentations and skits to present to their peers. With Science Fair and the ongoing development of our local Cultural Center (slowly, slowly taking shape), Geração Biz is by far my favorite project and what I will be most proud of accomplishing outside of the classroom when I leave.
Now that we're well into 2011, Erica and I are beginning to think about the end of our time in Mozambique. We are planning when we will go home (early-mid November, hopefully?), how we will get there (renting a personal chapa to Maputo for us and our homeward bound animals), what we will do when we get there (crash in the Big Apple for a few days), and what we will do in the long run (be impoverished grad students). I've become interested in public health for the last few years, in water sanitation and availability in particular, and am looking into different programs and thinking about where I would like to be and where I'd like to study. It's bizarre, because with the never-ending application process, the unexpected year delay, and the idle transition months, applying for and finally joining the Peace Corps has been the saga of almost the last four years of my life, and all of a sudden, the end is in sight. "The end" is still seven and a half months away, but in the context of the last 45 months, it's definitely approaching. I'm really ready for the next chapter in my life, but if I've learned anything in these last few years, it's been to enjoy where I'm at and not wish away my time. After all, that's the stuff life's made of.
Vacay, Part Deux
With another two weeks ahead of me before classes would start, of course I couldn't just go back to Chibuto after my family left. What a colossal waste of a perfectly good travel opportunity that would be! So I booked a spot on an overnight bus to Joburg and a cheap airplane ticket to Cape Town, where I would meet Erica and her dad. I met a kind young couple along the way who recommended a neat hostel in Cape Town and, after swapping contact info, pointed me in the right direction. I had a day to get acquainted with our snazzy hostel and most importantly, its pool, as the day I arrived was Cape Town's hottest summer day yet. Once the hottest part of the afternoon had passed, I wandered in and out of shops on Cape Town's bustling Long Street, window-shopping, buying things I hadn't intended to buy, spending money I hadn't intended to spend, and generally having a good time. I even found a funky hipster restaurant to have a gourmet veggie burger—imagine that! Oh, the delights of the sparkly, shiny developed world. Back at the hostel, I met fellow travelers and was reunited with Erica and her dad later that evening.
The next day, we took off for the Cape of Good Hope with a new friend from the hostel. Along the way, we stopped to see penguins at the aptly named Penguin Beach and drove past baboons in the road (no namesake beach). It was a gorgeous drive, taking us past bluffs, the Indian Ocean, the Atlantic Ocean, ostriches, and yet more baboons. Since Erica's dad was suffering from back pain, we three youngsters went out the next morning to hike up Table Mountain. For being a tourist attraction, I have to say, it was a pretty strenuous hike; although being from the Great Plains, I suppose I have a natural tendency toward laziness when it comes to hills and mountains and various slopes. Erica and I forgot to stretch out and felt that hike for days to come, but it was well worth it, and we even rewarded ourselves with slushies at the end of it all. We spent the afternoon recuperating by the pool, eating tropical fruits: mangos, bananas, grapes, papaya, grenadilla, and prickly pear. Later that evening, we went out to eat at a restaurant where the three meat-eaters of our party of four tried ostrich steak, crocodile, and warthog ribs (delicious). Day 2 in Cape Town, summed up: broke a sweat, ate like a king, slept like a log. I love vacation, and oh, do I love the developed world.
Since we had to eventually drive the rental car back to Joburg, we were crunched for time, so the next day, we left Cape Town to spend a day in the surrounding Winelands. We tasted wine at three vineyards and had a gourmet picnic by the river. We arrived at the last vineyard too late for Erica and I to take its rowboats onto the nearby pond, but considering the low alcohol tolerance we exhibited, it was probably for the best. Skipping stones was much less risky activity. That evening, we barbecued at the hostel, enjoyed the wine we'd bought, passed around the hostel guitar, and shared stories. And I tried my very best not to think of the imminent end of our time in South Africa and the upcoming school year, ever-looming closer. I was more-or-less successful.
We said goodbye to our friend the next day and began our two-day road trip back to Joburg. In Joburg, we took advantage of the last luxuries the developed world could offer us: fun restaurants, shopping malls, movie theaters, coffee, laundry, television, and internet. Sigh. We said goodbye to Erica's dad, and later that evening, said goodbye to South Africa. So many goodbyes, but what naturally follows every goodbye is a hello—Hello Mozambique!
Now we're back home, starting the new school year. Of course, the schedules for my school weren't ready on time, so I'll start teaching next week. As much as I've been dreading going back to work, part of me is excited to start a fresh school year. I start this year knowing more about the culture of my school, knowing my colleagues and students better, knowing more about how to be an effective teacher, and knowing more Portuguese. While I now lack the excitement of the unknown that I experienced at this time last year, it will be a pleasure to work feeling more confident about how things work and how I fit into that system. I may be a cog in the system, but I'm an American cog, and it's good to know maybe not exactly what that entails, but what I can do with it.
An Old Long Since, and One Year to Go
Should old acquaintance be forgot,
and never brought to mind?
Should old acquaintance be forgot,
and auld lang syne?
For auld lang syne, my dear,
for auld lang syne,
we'll take a cup of kindness yet,
for auld lang syne.
Over the last few weeks, I got to enjoy the company of some of my oldest acquaintances: family. Erica, her sister, and I went to Johannesburg to meet their dad and my mother and sister so we could enjoy our sub-Saharan holidays together. Unfortunately, their dad's flight had a stop in London and was cancelled due to the "storm" that swept through Europe (note the North Dakotan scorn over the application of that word to two inches of snow), but we met up with their dad just a few days later, in time to drive through the beautiful Blyde River Canyon and to move on to Kruger National Park.
During our two days in Kruger, we successfully spotted the "big five" from the safety and comfort of our rental van: lion, leopard, elephant, rhinocerous, and the unexpected fifth, the buffalo. Other notable viewings included vultures, giraffes, dung beetles, hornbills (the Lion King bird), warthogs, baboons, and approximately 644 impalas (yes, I counted). Once we'd had our fill of wildlife adventures, we drove to Komatipoort, where our families enjoyed a relaxing Christmas at a small B&B.
On the 26th, Mom, Anna, and I said goodbye to Erica's family and left for Mozambique. Our bus incidentally left for Mozambique without picking us up, but one frantic phone call and one overpriced private ride later, we were ushered across the nearby border and onto our idling bus. In my opinion, adventure-filled Africa wouldn't be the same if everything worked out just as it should. The three of us spent a day shopping in Maputo and then took the 4 AM bus to Tofo, where we enjoyed two days of blue skies, white sand, and warm ocean water. Our Ocean Safari was definitely action-packed; we swam with schools of brightly colored fish, we spotted dolphins, and Anna suffered a small head wound. Here's the quick sum-up: the story involves getting a "small" cut that later turned out to be not-so-small, getting a hurried ride to the soon-to-close-clinic in the neighboring city from an artist friend of mine, nearly running over pedestrians who "are afraid of rain, but not cars," banging on the clinic door when it closed one minute early, and getting excellent care from the gracious staff who stayed half an hour past closing to give Anna stitches. This was how we spent our last evening in Tofo--again, I think life would be awfully drab without these unexpected adventures.
Up to this point, we had traveled by rental car in South Africa and had taken a nice charter bus from Maputo to Tofo. Unfortunately, these nice charter buses have limited routes, so to get back to Chibuto, Anna and Mom got to experience the delightful chapa, the minibus that is crammed to capacity and then half again. Chapas generally are filled with warm bodies, crying children, and oftentimes, chickens. We arrived back in Chibuto feeling slightly cramped but without incident and took a quick walk to my school with the dogs, meeting various friends and neighbors.
Since Chibuto is essentially a baking sandy oven without a beach, we took a day trip to Xai-xai the following morning. Aside from a brief wedding procession (a common occurrence on Xai-xai beach), the beach was quiet and largely unoccupied all morning. Although Xai-xai doesn't have the fine, white sand of Tofo, it's still a lovely beach, and the water is a bit cooler and more refreshing. We enjoyed lunch on the beach and went into town to buy capulanas and have a beer with a friend of mine, a colleague from school.
We returned to Chibuto for New Year's Eve, and after having their fill of bucket baths, latrines, and unfortunately, cockroaches (their trip coincided with a sudden infestation during our absence), we took our last chapa to Maputo on New Year's Day and stayed with Anna's friend Erica and her family for a few days. We did a little more shopping, a little more wandering, and after a whirlwind trip, Mom and Anna were off again, this time not by chapa, but by plane, back home to the states. After making tracks around sub-Saharan Africa, it was time to head halfway across the world, homeward bound, as I will do in just 10 months' time.
No Proselytizing in Pão, Please
Classes are done! Maybe that does not accurately convey my immense excitement and enthusiasm—classes are OVER! Fim! Finito! Done-zo! And that makes me so-oo happy. After classes ended, we had a week to prepare students' grades, copy them onto the various official documents, and decide who would and would not pass. Within the last two trimesters, the national stipulations for passing students changed not just once, but two times, so within one school year, we have had three different systems for passing students into the next grade. Need I say that this week of grades was more than a little confusing and messy? Well, it was. Because students fail many disciplines, but instead of making their classes easier to pass, most teachers assign grades, balk at the number of failing students, and tweak grades after writing them in ink in all of the grade sheets. This is tedious, stressful, and fraudulent work, and when the national passing criteria changed for the second time after the week of doing grades, most teachers did more artful erasing and re-inking in the official documents to help students pass. But what is to be done? The education system here is broken, in my honest opinion, with regulations that change on a whim and don't really match up. For example, with the newest stipulations, students don't pass into the next grade if they fail design, agriculture, and physical education. Yet officially, they can pass with failing grades in math, the sciences, and the humanities. So without talking to other teachers, I would have had only four students in my class of 40 pass into ninth grade. In the end, 15 students passed—a whopping 37.5% of my class. And as a result, because my school is fairly new and repeatedly fails its eighth graders, it has almost 1000 eighth graders, while only 500 students have trickled into ninth grade, and 300 have squeaked by into tenth grade. It almost makes me want to be a teacher in the United States for a year or two, just to be able to compare the education systems. Almost... but after this, I think I will be a little burned out on teaching for a while.
The work in school is not yet done, however. Currently, the tenth graders are taking national exams. These exams are taken very seriously, with all students in Mozambique taking the same tests on the same day at the same time. The tests arrive in sealed packets, which are opened in every classroom at the exact moment when the bell rings. Yet these elaborate anti-cheating measures are nullified when teachers responsible for controlling the exams and responding to questions simply give out answers. All I can say is, ridiculous. Again, this system is broken, and I don't see anything changing anytime soon without major, major reform. I'm trying not to lay it on too thick, but this is the reality.
On a lighter note, Erica and I are fleeing Mozambique and these wretched exams to go to Lesotho tomorrow for a three-day pony trek. It could not be better timing for us, as we are both sick to death of school. There will be a second round of national exams in a few weeks, but this trip will give our bodies a break from the heat and give us the boost we need to keep going and not be viciously bitter towards our poor colleagues in the weeks to come. Once December hits, we're in the clear; we'll have family coming and will do some traveling around Mozambique and South Africa, hitting the beaches and visiting Kruger National Park to see lions and tigers and bears, oh my! (Although I'm not so sure South Africa has bears, but you get the picture.)
Meanwhile, in Chibuto and outside of school, things are good. We're having a small fence built for the dogs so they won't chase and eat our neighbors' chickens while unsupervised during our vacation. We just gave our house an interior makeover, throwing out tons of junk left by previous PCVs and even fashioning a couch out of my old mattress. With the temperature rising daily, there is the purchase of a fan in my near future. It's been a long but good year, and we're trying to exercise some control over a few small things in our life to close this year on a positive note and carry us into the next year. With that, I leave you with these pictures: me and Erica on my birthday (note the lovely mural left by a previous PCV) and a sandwich menu that features the most delightfully terrible English translation I've encountered in Mozambique. When things get rough, we toast simple.
Winter that Refuses to Fall Gently into Summer
August and September have been topsy-turvy months. August brought the start of the final trimester and a string of canine-related incidents, while September brought the regional Science Fair and the dreaded arrival of summer heat. I'm holding out for October, which brings the end of classes, Halloween, and most importantly, my birthday. But first, here's a rundown of August and this half of September.
One Saturday afternoon, Erica and I were walking to a nearby shop and suddenly heard a dog yelping as we passed an empty lot. We looked over and saw a group of young boys beating a stray puppy that was hanging upside down from a tree, tied from its back two legs. We immediately began furiously scolding the children, and set out to find a knife to cut down the unfortunate creature. Within a minute of reaching the safe ground, it died. Erica wisely tried using the incident as a teaching moment to tell these boys that even if the puppy was causing problems and stealing food, there are better ways to cull animals. The boys laughed amongst themselves as we walked away. When peoples' lives are so difficult here, why worry about a dog?
That same day, our own puppy Shingove became listless and lost interest in food. He soon stopped eating altogether and was quickly reduced to a shaking frame of skin and bones. Erica's family called several times with different tips and information, so with this guidance, we nursed our sick li'l pup back to health, giving him human medicine and food with a dropper and keeping him hydrated. Come Sunday, he was back to our romping, mischievous Shingove that attacks us as we do exercises; Monday morning, a neighbor girl came to our kitchen window to say that a car had hit our dog. Not just hit, completely ran over our dog with a velocity that should be illegal in a small neighborhood. The bizarre mix of foreshadowing and irony was almost too much, and it was certainly too much for a Monday morning.
On top of the dog drama, someone stole our shampoo, face wash, sponge, and razors out of our bathroom. And one slightly-off man started coming to the school to jabber English gibberish at me, while another slightly-off man started coming to the house to jabber Portuguese gibberish at us. Evidently, we are magnets not only for canine disaster, but also for theft and mentally instable individuals. Cool.
Yet just as I was beginning to slide into a jaded, pessimistic funk, a friend gave us a replacement puppy, and although it didn't leave much time for the death of Shingove to stop smarting, our new puppy, Havu (Shangana for "monkey"), is adorable and oh-so-affectionate. One would think I'd learn to stop being so attached to cute puppies, but what's the use? Why fight it?
Science Fair should have happened during the last weekend of August, but due to a few days of unrest for rising fuel and food prices in Maputo and other larger cities, we were forced to push it back a week. (Thankfully, there were no notable demonstrations in Chibuto, so aside from a brief travel ban and fluctuation in bread prices, we were unaffected.) In the date change, we lost the opportunity to have a sound system and one of our guest speakers, but everything else went pretty smoothly. Projects ranged from making electronic doorbells and motorized cars to making coconut oil to making juice… from a package. While that last one was a bit of a stretch, we were happy to have so many participants—50 or so students from around 15 schools in Maputo and Gaza Provinces. This is nothing by American standards, but in Mozambique, nothing is as easy as it seems it should be, and nearly everything that could go wrong often does, so it was a small miracle we pulled it off. Although we were absolutely exhausted afterwards, it was worth it.
As September slides downhill into October, I'm trying to get a few students mobilized to do some health presentations at school, and Erica has projects of her own at her school. We're planning our final lessons; I'm in the midst of the reproductive system, and it is just amazing to me how students never tire of saying "vagina," which by the way is Portuguese for (you guessed it) "vagina." Even after classes end, we'll have several weeks of grading national exams and the odious task of writing thousands of grades by hand that will extend into December. But since we have family coming in December and a possible venture into Lesotho in November, and since we are volunteers after all, Erica and I will be able to get out of some of it. Because volunteers without volition make for unhappy PCVs.
I hope those of you back home are enjoying the fall colors and brisk air for me. Once it gets hotter here and cooler there, I'll see what I can do about sending some of our heat your way. There's more than enough around here.
Sun and Honey Time
Looking back at the second trimester and trying to enjoy the last free moments of my break before the inevitable lesson planning, this seems like a good time to type up a new blog post and consequently aid my procrastination.
Good news—though there is still no trace of anything lost in my robbery, a violin has come back into my life!
By crazy coincidence, a nearby volunteer had brought a violin in intending to learn how to play it, but since she's been busy lately, she kindly lent it to me.
With so many aspects of my life being different here in Mozambique, I can't even describe how nice it is to practice and feel a continuity with something that's been a major presence throughout most of my life.
All I can say is, it's
nice
.
Our modest science fair was a success.
We had our doubts when we arrived and didn't see another soul for another hour, but that's just the way things go in Mozambique; eventually, the participants and other facilitators showed up, and everything ran according to schedule (adding an hour, of course).
Only one student actually conducted an experiment—the others did demonstrations that involved fire, chemicals, and melting plastic bottles—but we were just glad they participated and didn't start the school on fire.
We're working on organizing the regional fair, and thankfully have the help of an acquaintance working in the Ministry of Science and Technology.
He is very enthusiastic about the project and has been an invaluable help.
It works out well, because although science fair began as a Peace Corps initiative a few years ago, now that we have involvement of an individual in the government, hopefully in the future we can pass it off and it will remain a sustainable, autonomous program.
My trimester wrapped up a little early because I spent a week in Maputo at a Peace Corps conference to help plan learning objectives and sessions for next year's trainees.
Afterwards, I was back in Chibuto for a few days to prepare my turma's grades for
conselhos
, but [oh, darn!] had to miss the actual
conselhos
for another Peace Corps conference in Inhambane Province.

Erica and I were pretty thrilled about that timing.

We spent three days in sessions discussing project planning with local counterparts, which hopefully will have productive results; my counterpart and I discussed a model agriculture training for teenage orphans in the community and we may actually implement it.

We'll see…!
When the conference ended last Sunday, Erica and I were ideally located in beautiful, coastal Inhambane for our week-long break from school, so we trekked over to nearby Barra with a few other friends.
We had intended to stay for a night or two and then move on to Tofo and then meander home, but after landing on the beach and later meeting up with a group of fun, hospitable South Africans, we ended up staying for five nights.
We had a great vacation—swimming, buying colorful
capulana
clothing on the beach (
capulanas
are the colorful, multi-purpose lengths of cloth that women use as skirts or to tie babies to their backs, etc.), body-surfing (which I am terrible at), and good eating, thanks to the generosity and cooking prowess of our new acquaintances.

But every vacation has to end sometime, so we finally came home on Friday to be reunited with our pets and start preparing for classes this week.

With memories of sea and sand behind and prospects of lesson planning and grades ahead, it's tough to get back into the swing of things, but if nothing else, it's nice to come back to a house of happy animals who are glad you're home.
The Amber of June
Now that electricity is a fairly constant aspect of my daily life, I occasionally find myself looking at photos on my computer of my past life, and although I am happy, healthy, and doing well here, I sometimes am grasped by the sudden feeling of what-the-hell-am-I-doing-here? I have now completed 9 months in Mozambique, which is encouraging and feels good, but it is inevitably followed by the requisite recognition and mathematics of the 18 remaining months, which seems daunting and impossibly long. But when I feel trapped in the amber of this moment and there is no why (Vonnegut—I cannot take credit for that pretty turn-of-phrase), I think about the few things in my life right now with forward momentum. In case you were wondering where the momentum of life is blowing me at present, here are some of the details.
My sitemate and I are putting together a Science Fair at her school, which is rapidly approaching. Her school has had volunteers and Science Fairs in the past, so this year, I just invited students from my school to participate in a joint fair at her school. I'd had my doubts about the project, but seeing my handful of favorite students get excited about their lung models and physics demonstrations is a winning experience. There won't be any earth-shaking scientific discoveries coming from my 8th graders this year at the fair, but what's wrong with reinventing the wheel? The wheel is still lookin' good.
In other news, as of last weekend, the Chimundo PCV household has increased by one, consisting now of two American women, two Mozambican kitties, one chicken, and (new addition) one adorable puppy. Puppy's name is Shingove, Shangana for "cat." We think it's an ironic little joke, but for people around here, it's just more evidence that we're not quite right, that we're weird Americans who talk to animals and what's more, feed and bathe them. Shingove is a tubby little squirt, waddling around and trying to initiate play with Bea and suspicious Rocksteady (Erica's kitty, who is not terribly receptive to these antics as of yet). We heart Shingove. The cats are reserving judgment.
Speaking of our domesticated animals, Clucka has finally settled in, roosted, and started producing eggs. After wandering through the house and trying out the spare bed, our beds, and our clothing-filled shelves, she decided to roost inside of the bag of charcoal on the porch. Maybe this would be a good time for me to explain that Erica and I do not have a TV; most of our entertainment comes from our pets. But I have to say, it's pretty funny to be on the receiving end of a death stare from a maternal chicken guarding eggs in a sack of coal. (Come to Mozambique if you want to give it a try!)
School is going just fine; at my school, we're already getting ready for our final exams ("final" meaning 4 weeks before the actual end of the trimester to give teachers time to grade and students a few weeks to slack off). In July, I should have a week off, which should be a welcome opportunity for a bit of travel and a change of scenery. In the meantime, I'm keeping myself occupied by going to my homeroom's soccer games. While they can be little stinkers who skip out on biology on Tuesdays when it's their last class of the day, I have to admit, they are soccer superstars. Maybe because they are, on average, one to two years older and 6 to 8 inches taller than the other players, but they do me proud regardless.
Oh, and no news on the robbery. I have no hopes or expectations of recovering any of my lost items at this point. But I do have my new passport, which is complete with a badass-looking stamp saying "THIS PASSPORT IS A REPLACEMENT FOR A STOLEN PASSPORT." Don't you know it.
Erica's family was here for a week in May, which was a lot of fun. It was nice to see Chibuto through fresh eyes and be reminded that while America may feel like another world away, family and friends are only a few plane rides away, continuing their lives until we next meet again.
Something Old, Something New, Something Borrowed, Something [Acid-Washed] Blue
After months without pizza, shopping, movie theaters, and coffee shops, Maputo seems like heaven on earth. I've been in Maputo since Sunday to apply for a new passport and was slated to back to Chimundo today, but since the consulate was too busy yesterday to sign my application, I'll have to go home tomorrow [oh, darn] . Looks like another evening of hanging out with fellow the PCVs who happen to be in Maputo and eating at fun restaurants--we all have to make sacrifices sometimes, don't we?
Aside from the fact that I bought acid-washed jeans today (something I never thought I would or could do, particularly in Mozambique), that's really all the news there is to report from the last week; I mostly wanted to put up a new post because: A. I can, with the free and reliable internet at the Maputo Peace Corps office, and B. I never got a chance to upload my April post, which threw off my nice average of one post per month. I haven't heard any news yet about recovering my stolen belongings, but two things have come back into my life: our chicken ("Clucka") and a replacement internet phone. Things are on the up-and-up.
Boa tarde, Senhora Professora!
As I write this blog post, it's hard to believe that I've been teaching for a month already. Whereas I have given and corrected my first biology test, I'm still working on the names of my students. That could have something to do with the fact that teaching 11 classes of eighth graders with 55 students each, I have about 600 students. But I have learned my favorite students' names, which is a start. (It doesn't help that I'm not terribly familiar with Portuguese names like Boaventura, Moisés, and Calado). The students only have biology twice a week, so I end up teaching the same two lessons 11 times each during the week. It's nice that I don't have to do much lesson-planning, but I start to feel a little crazy after teaching the osseo-muscular system for the eleventh time. And repeating myself over and over, I'll be darned if I remember any biology vocabulary in English by the end of these two years.
Yet all in all, things are beginning to gel. I'm getting to know my colleagues a little better and getting to know the ropes. The living situation is challenging at times, being the odd person out in terms of culture and language (the roomies typically speak in Shangana to each other), but improving. I have begun doing my share of the cooking, and although black pepper is too spicy and vegetable skins are widely distrusted, French toast was a hit (syrup, however, is too sweet). You win some, you lose some.
My cat Bea is in good health and keeping me sane; I identify with him a lot, as we both share language and cultural barriers with our housemates. And although he has the habit of lying in the grass and ambushing my ankles while I'm walking back from the latrine or carting water (on my head, I might add), he's a good cat.
My PCV sitemate is also a great help in maintaining my sanity. We are thinking of going to the beach this weekend for the first time since Christmas, and I think it will be a well-deserved break from school, Portuguese, awkward living situations, and… oh, so many more things that I don't have the time or space to write about in this blog—things like marriage proposals, the surprising difficulty of procuring bread, days with precious little water—things to ask me about in two years. Or when you come visit me in Mozambique.
Então, ate já—passa bem, nada mão, e beijinhos!
P.S. Merry Christmas!
I keep on forgetting that Christmas is coming in 4 days. It might have something to do with the 90 degree heat and lack of snow. And since I have no electricity, when I want to listen to Christmas music, my best options are to sing or whistle it. I think I will spend Christmas on Xai-xai beach, which, although is as antithetical to my typical midwestern Christmas as possible, will certainly be festive and memorable.

I´ve had requests for my new mailing address and care package ideas. The best mailing address will still be the Maputo address; mail sent there will eventually reach me, and as inefficient as that may sound, I believe it is the best option.

Alycia Overbo

c/o Corpo da Paz

Av. do Zimbabwe No. 345

Maputo, Mozambique

As for care package ideas, I would be thrilled to receive anything, but I´d be especially happy to receive wasabi soy almonds (found at your local Kmart or Target), black licorice, instant pudding mix, stickers for students, ground coffee, granola bars, books, magazines, or maybe a new t-shirt or tanktop, as excessive sweating and handwashing are together killing my clothing.

Lots of love to you all, and best wishes for your holiday season!

Chapter V: And Then I Smuggled a Cat into Gaza
Life in Mozambique thus far has been fairly eventful (to say the least), but the last two weeks have been particularly noteworthy. On Tuesday Dec. 8, we trainees went to Maputo to be officially sworn in as Peace Corps Volunteers and on Wednesday, we packed up and left Namaacha. It was sad to say goodbye to my PCV friends and host family, but after 10 weeks of Portuguese classes, medical sessions, and culture lectures, it was time for a change.

And what a change it is; after a short conference in Xai-xai to meet our supervisors, I traveled to Chimundo, Gaza province, which will be my site and my home for the next 2 years. I arrived that Friday morning with my supervisor, my bags and, much to the surprise of my supervisor, my kitten Bea, whom I successfully concealed throughout the entire trip from Namaacha. Bea and I were dropped off at the school and made a short trek to our new home, which is on school grounds. My first impressions of the house were very positive; it is quaint, with a grass bathhouse, outdoor latrine, two bedrooms, and sizeable main room. My second impressions were a little overwhelming; I quickly saw that the only furniture in the house was my bed, a small plastic shelf, and two plastic chairs. Also, the house has no electricity. However, my house has a kerosene lamp, a gas burner, dishes, and notably, a Mozambican roommate, Amelia, who is a fellow teacher at my school. Amelia has been very patient and helpful in the last week, showing me where to get rides to the nearby city of Chibuto, cooking for us, and introducing me to her family in Chibuto. Bea and I have a standing invitation there to wash clothes and take advantage of their electricity, and I fully intend to take them up on that, especially since Amelia and my other colleagues are leaving Chimundo for the holidays. Thankfully, there is another volunteer who lives in Chimundo, so I can easily visit her and her electricity oasis. Meanwhile, since school doesn't start for another month, Bea and I will start working on furniture acquisition and try our hand at Mozambican foods. We should have plenty to keep ourselves occupied.

Beyond belief: HeroRats
HeroRats: "If people step on landmines, they will get hurt, but the HeroRats are too small to press the button that explodes the bomb. Then people can dig up the landmine without it exploding and no one gets hurt." (PDF document). The associated Twitter account: @HeroRATs. They tweet at celebrities for the LOLs and to raise awareness, as well as interacting with fellow Tweeters. More about 'giant pouched rats,' or Gambian rats, and how training the rats to detect landmines is done. (The rats also can be trained to detect tuberculosis; how it's done.) apopo website; three selections from the FAQ:
"Question: What does APOPO mean?" Answer: "APOPO is an acronym from Dutch which stands for Anti-Persoonsmijnen Ontmijnende Product Ontwikkeling, or in English, Anti-Personnel Landmines Detection Product Development." Question: "How may rats to do you have?" Answer: "In October 2014 we had 81 rats in various stages of training for landmine detection and 5 in training to become TB detection rats. The TB-lab in Morogoro had 36 HeroRATs at work. At our headquarters in Morogoro, 29 rats were involved in the breeding program. In Angola, we had 20 HeroRATs operational and 76 rats were working in landmine detection operations in Mozambique. In the TB lab in Maputo, there were 9 rats working.​" Question: "Who came up with the idea?" ​Answer: "​It was Bart Weetjens, our founder, who came up with the idea. Bart kept pet rats as a child. During his studies, he was carrying out an analysis of the landmine problem in Sub Saharan Africa and realized that landmine clearance was dangerous and costly. He had recently come across an article about gerbils and their ability to detect explosives in lab conditions, and when he thought back to the sense of smell of his pet rats, and their trainability, he put two and two together et voilà. He consulted with Professor Ron Verhagen, a rodent expert at the University of Antwerp, who recommended the giant African pouched rat (Cricetomys gambianus) because of its long lifespan and adaptation to the harsh conditions in Africa.​"​
See the website for more of the FAQ​.​ ​ Foundation Beyond Belief website Previously: Hero Rats, We Called 'Em. / HeroRATs Clear Landmines