World: Global Weather Hazards Summary, June 30 - July 6, 2017
Source: Famine Early Warning System Network
Country: Belize, Benin, Burkina Faso, Costa Rica, Côte d'Ivoire, Dominican Republic, El Salvador, Ethiopia, Gambia, Guatemala, Guinea, Haiti, Honduras, India, Kazakhstan, Kenya, Kyrgyzstan, Liberia, Mali, Mauritania, Nicaragua, Niger, Nigeria, Pakistan, Panama, Senegal, Somalia, South Sudan, Sudan, Tajikistan, Togo, Uganda, World
Heavy rainfall continues over Central America
Africa Weather Hazards
Below-average rainfall since mid-May has led to abnormal dryness across eastern Uganda and southwestern Kenya. Moisture deficits are likely to negatively impact cropping and Pastoral activities.
A Libyan ambush, Central Asia's security wobbles and Mozambique's loan scandal: The cheat sheet
All eyes on Libya
It's been a rollercoaster few weeks for Libya. A spot of good news first: Libya is pumping oil at its highest rate in four years, an important boon for a country that relies heavily on the petroleum industry. Now for a bunch of bad: This week, a convoy from the UN Support Mission in Libya was ambushed and, according to reports, their staff taken at gunpoint. The UN now says its staff are all safely in Tripoli, but the incident is yet another a sign of the chaos in Libya, where multiple forces claim authority and there is heavy fighting in some parts of the country, including Benghazi. The UN has just appointed a new envoy to the country – a former Lebanese minister of culture – a process that took four months, after the US rejected a Palestinian appointee because of his nationality, followed by retaliatory objections to other candidates from Russia and other countries. UNISMIL and various UN agencies have been gradually increasing their presence on the ground in the dangerous country, but this week's ambush is likely to be a major setback. And with Italy threatening to deny entry to foreign ships docking on its shores – an effort to force its European partners to do more about the massive influx of migrants, mostly coming from Libya – the internal divisions and external debate over Libya make it one to watch. 
While it's something to celebrate, the closure today of the UN's peacekeeping mission in Cote d'Ivoire (UNOCI) has also generated some concerns. Although Cote d'Ivoire is one of Africa's fastest growing economies, two mutinies this year by disgruntled soldiers suggests it has not fully healed from the 2002-2003 civil war and the post-election violence of 2010-2011. Human Rights Watch has called on the Ivorian government to address the rights issues at the root of past political violence, including the problem of impunity and the need to professionalise its security forces. It also pointed to the incomplete national reconciliation process and continued competition over land as potential flashpoints. With the peacekeepers' withdrawal, a UN Security Council briefing noted the need for the international community to stay engaged. In a statement to the council, Sweden said the closure of UNOCI meant the "UN presence in the country is facing a 'financial cliff'. This risks undermining the sustainability of the gains achieved."
Is Afghanistan pulling Central Asia into chaos?
That's the question at the heart of this new report from the Center for Strategic and International Studies. While Afghanistan's downward spiral has been plotted meticulously by journalists and analysts, Central Asian states are often overlooked – to our potential peril, according to CSIS. The report notes that security has taken a nosedive throughout in Afghanistan in the past couple years, but asserts: "In the provinces of Afghanistan adjacent to Central Asia, the security situation has deteriorated even further than in Afghanistan as a whole on average." That situation presents huge challenges to Tajikistan, Turkmenistan, and Uzbekistan, which could become destabilized by smuggling, Taliban attacks and infiltration by extremists, among other threats. The report suggests some measures Afghanistan and its neighbours can take to mitigate those risks – including sealing borders and negotiating with the Taliban – but of none of them would be easy.
Seven more years
Few African leaders divide international public opinion as much as Rwandan President Paul Kagame, who will run for a third term in office in August, having overwhelmingly won a referendum to change the constitution in 2015. Kagame's champions see him as the architect of stability and growth in a country where some 20 percent of the population was slaughtered in the 1994 genocide. They point to free basic education for all, the halving of infant and maternal mortality, and the emergence of a vibrant economy as achievements which merit his re-election. Detractors say Kagame's authoritarian style and intolerance of opposition – some of whose leaders have been killed or disappeared, others accused of the cardinal sin of "genocidal ideology" – is a threat to democracy itself. Further evidence of this came in May, when politicians were told that all social media or online campaign content had to vetted by the National Electoral Commission 48 hours before publication. This rule was shelved a month later in the wake of domestic and international pressure, but the attempt to control the messaging will not be forgotten. Still, Kagame's re-election is pretty much a foregone conclusion: he won with more than 95 percent in 2003 and 93 percent in 2010. Rwanda's is one of four key African elections being held this year: the people of Kenya and Angola will also go to the polls in August, while Liberians will follow suit in October.
Did you miss it?
Lifting the lid on a Mozambique's loan scandal
As scandals go, Mozambique's $2.2 billion secret loan deal that crashed its economy was pretty bad (See IRIN's report). But now we're getting a handle on just how corrupt it all was. The recently-released executive summary of the Kroll audit report suggests that the Privinest Group – which was supposed to supply Mozambique with a tuna fishing fleet and maritime security vessels – overcharged by at least $700 million. For example, fishing boats were invoiced at $22 million each, but Kroll estimates the real price should have been just $2 million. And there's more. Kroll says that $500 million "remains unaudited and unexplained", on top of the $700 million overcharge. That's partly because Privinest as well as the state security service, SISE, local banks and the Ministry of Finance all refused to provide the auditors with information requested. For more on the scandal, for which Mozambicans are being forced to pay the price as the economy totters and social services are scaled back, check out Mozambique News reports & clippings.
The unpromised land
Few places these days can be described as hospitable towards asylum seekers, but in recent years Israel has outdone most other states with its policies of deterrence and detention. Not content with keeping asylum seekers confined to so-called "open" detention facilities like Holot, starting in 2014, the authorities began offering one-way tickets to "safe" third countries in Africa. By the time IRIN reported on these "voluntary" deportations in April 2015, it was already clear that those who accepted the offer to go to Uganda or Rwanda, the two countries that had quietly stepped up to receive Israel's unwanted asylum seekers, did not fare much better than those who opted to remain at Holot. This week, a year-long investigation into Israel's "relocation process" by Andrew Green for Foreign Policy revealed that the vast majority of Eritrean and Sudanese asylum seekers who are sent to Uganda and Rwanda from Israel are quickly smuggled into neighbouring countries where they have even less protection and live in undocumented limbo. Meanwhile, Ugandan and Rwandan officials continue to deny having made any agreement with Israel to receive asylum seekers.
Watch out for an upcoming IRIN film – Unwelcome Stranger - about the life of a Sudanese asylum seeker in Israel.
(TOP PHOTO: Two soldiers from forces operating under Libya's Tripoli-based government walking through the deserted streets of Bin Jawad. Tim Wescott/IRIN)
oa-am-ks-jf-as/ag
201501270911460310.jpg News Conflict Politics and Economics This week's humanitarian outlook IRIN GENEVA Global

Brothers face off in woefully inept war drama 'Unfallen'
A risible misfire of a contemporary war drama, the low-budget "Unfallen" stands as an epic fail on all fronts.
The ham-fisted saga, co-directed by Josh Hodgins and the single-named Dante, begins in early '90s Tajikistan (courtesy of Washington state), where a pair of 7-year-old twin brothers are...
Comment on Is it safe to travel to Iran? by Renates Reiser
Such a great and inspiring post! I love what you write about Iran being very safe for female solo travel. I do a lot of my travelling solo, and Iran has been a dream destination for me for so long. Because of the dress code, I think I'll opt for going there either late fall or early spring, so I won't melt away... I'm also really curious to see how similar Iran and Tajikistan are to each other, since they share the Persian heritage and I've already been to the latter.

For sale - grape motif ceramic heavy vase--- inspirado... - $9

Australia
Posting to: Worldwide Excludes: Africa, Oman, Lebanon, Iraq, Turkey, Jordan, Yemen, Bhutan, Kyrgyzstan, Turkmenistan, India, Pakistan, Mongolia, Uzbekistan, Azerbaijan Republic, Tajikistan, Georgia, Sri Lanka, Nepal, Maldives, Armenia, Bangladesh, Kazakhstan, Afghanistan, Western Samoa, Tuvalu, Guam, Fiji, Vanuatu, Wallis and Futuna, New Caledonia, Papua New Guinea, Niue, Marshall Islands, Solomon Islands, Tonga, Kiribati, Micronesia, Nauru, American Samoa, French Polynesia, Cook Islands ...
ebay.com.au


Improving global governance through engagement with civil society: the case of BRICS
This paper presents a set of recommendations to increase the effectiveness of global governance forums by incorporating the experience, views and expertise of civil society.
These recommendations are based on a research study, commissioned by Oxfam GB in Russia, which documented and analysed the experience of the Civil BRICS Forum 2015 and the views of organizers and participants. The recommendations are presented together with an overview of the lessons learned.
English
Summary picture:
Tajik Green Lentil and Rice Soup
A few days ago, my friend Ayten in Baku posted a video from Tajikistan on her social media – she is moving to the country because she was offered a head position in a reputable organization there (so proud of my girlfriends!). I commented that Tajikistan was one of the countries I'd love to visit one day. And it is true. In fact, the entire Central Asian geography fascinates me, with its rich history and traditions, and, of course, food, which is particularly appealing to me, just like the food of Iran. Yogurt, legumes, fresh vegetables and herbs, fruits of all kinds –  these are abundant in Central Asian cuisines, and I love it. Our virtual conversation with Ayten prompted me to cook something from the Tajik cuisine. And I
The post Tajik Green Lentil and Rice Soup appeared first on AZ Cookbook.
Almaty Manifesto on Sustainable Tourism Adopted During Silk Roads Sub-Regional Meeting
The Central Asian Silk Roads sub-regional meeting "Reinforcement of Sub-Regional Management Coordination and Knowledge: Sustainable Tourism and Development Initiatives", was held in Almaty on 24 May 2017 and fifty participants attended. The participants came from Kazakhstan, Kyrgyzstan, Tajikistan and Uzbekistan, and included experts, representatives and officers in the field of heritage management, sustainable tourism, national parks, along with representatives of the National ...

XINJIANG & TIBET:CONTINUING WEAKNESSES IN CHINA'S PERIPHERAL SECURITY
Ten Uighurs, three Hans and two Mongols working for the Ministry of Public Security in Xinjiang and six Uighur separatists were killed on the morning of April 23,2013, in an incident in the Selibya Township in the Bachu county, in the Kashgar area of China's Xinjiang province. The area of the incident is near Xinjiang's borders with Tajikistan and Kyrgyzstan.
2. The Information Office of the Xinjiang Government has projected the incident as a "severe, violent, terror incident" which has been brought under control. It has projected 15 of those killed as police officers and social workers helping the police in maintaining security.
3. In its announcement, the Information Office has given the following details of the incident: The

incident happened after three community workers

found several suspicious people and knives in a local house. They reported the details to their supervisor but were then restrained by suspected terrorists. When police and community workers arrived, they were ambushed by attackers inside and outside the house. The attackers, who had killed the three community workers who had been held captive, then set fire to the house. By the time police brought the situation under control, 15 people had been killed by the gang. Six gang members were shot dead at the scene, bringing the death toll to 21.
4.The "China Daily" has quoted Mutalif Wubuli, commissioner of Kashgar prefecture, as saying that eight suspects have been arrested. It has also quoted Qi Baowen, commander of the Xinjiang Armed Police, as saying that the consequences of the incident are relatively severe because there are many casualties.
5. Last month, courts in Kashgar had sentenced 19 people for their alleged

involvement in organized terror activities and for spreading extreme religious information via the

Internet and cellphones.
6.In March, the local Ministry of Public Security had started what was described as "Social management in communities" under which Uighurs were recruited as community workers to help the police in the maintenance of security. "It is the foundation of maintaining stability in the region," Xiong Xuanguo, Secretary of the Political and Legal Affairs Commission of Xinjiang, had said in a media briefing.
7. The incident of April 23,2013, appears to have been in retaliation for the jailing of 19 Uighurs last month and to deter the local Uighurs from co-operating with the police in dealing with separatism.
8. In a commentary on the incident carried on April 25,2013, the "Global Times" of the Communist Party of China said: "The latest clashes show that Xinjiang has a long way to go in its anti-terrorism efforts. But it's worth pointing out that this case will not pose a threat to the overall stability of Xinjiang. The public expects social harmony and prosperity…..Although Xinjiang has experienced several violent clashes in recent years, social confidence in Xinjiang and the confidence of the whole country toward the region have remained stable. The situation in Xinjiang since the July 5 riots in 2009

has improved and no violent cases have impeded that process. As the sources of violence in Xinjiang haven't been eradicated, its occasional occurrence cannot be fully prevented. Xinjiang has learned to manage the situation despite some isolated violent cases. It has been investigating and eradicating the internal and external sources of violent terrorist attacks. We should firmly act against violent terrorists. Terrorists should not be permitted to have the misconception that they are carrying out a "holy war" or simply fighting against the regime. They must be clear that they are making enemies of all the Xinjiang people and the Chinese people."
9.The Xinjiang authorities have not so far blamed the Pakistan-based Islamic Movement of Eastern Turkestan for the fresh violence. They are apparently worried that as the US-led Western troops thin out from Afghanistan, violence by different separatist groups could increase in Xinjiang adding to internal instability. Hence, their interest in co-operating with India in monitoring the ground situation in Afghanistan.
10.The Chinese face a two-pronged threat to their peripheral security--- from the growing anger of the Tibetans in the Tibetan areas and from the Uighurs in Xinjiang. Their hopes that rapid economic development of these areas will dilute the threat have been belied so far.
11. In view of China's insensitivity to India's core interests and major concerns in Pakistan-Occupied Kashmir and Gilgit-Baltistan, it will not be in India's interest to co-operate with China in relation to its peripheral security problems. ( 25-4-2013)
( The writer is Additional Secretary (retd), Cabinet Secretariat, Govt of India, New Delhi, and, presently, Director, Institute For Topical Studies, Chennai, and Associate of the Chennai Centre For China Studies. Twitter : @SORBONNE75)
Таджикистан: Депутаты отказались наделять спецслужбы правом без разрешения вторгаться в дома граждан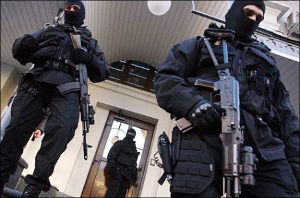 Маджлиси намояндагон (нижняя палата) парламента Таджикистана сегодня единогласно отменила принятые в октябре 2016 года поправки в закон «Об органах национальной безопасности», согласно которым сотрудники Госкомитета национальной безопасности (ГКНБ) могли бы без разрешения вторгаться в дома граждан в случае возникновения угрозы теракта.

Тогда глава ГКНБ Таджикистана Саймумин Ятимов пояснял, что в случае принятия законопроекта сотрудники спецслужб получат право несанкционированного проникновения в жилища граждан «в исключительных случаях, например, при угрозе совершения террористического акта, необходимости защиты жизни и здоровья населения, освобождения заложников. «Бывают случаи, когда в доме отсиживаются террористы или держат заложников, а времени для получения санкции у спецслужб нет, и теперь они получат право в подобных случаях действовать без санкции», - сказал Ятимов.

Позже, в феврале 2017 года, члены Маджлиси Милли (верхней палаты) отклонили эти поправки. Сенаторы указали, что в законопроекте нет четкой грани между обеспечением безопасности и правами граждан.

Сегодня спикер нижней палаты парламента Шукурджон Зухуров без каких-либо объяснений обратился к депутатам с предложением отменить ранее принятые поправки. Причем, он даже не указал, о каких именно законодательных изменениях идет речь, но несмотря на это депутаты поддержали его, передает «Азия-плюс».

Между тем, источник в правительстве республики сказал информагентству, что «при принятии тех поправок были допущены некоторые нарушения прав граждан», отказавшись при этом сообщить, о каких именно нарушениях идет речь.

Таким образом, парламент сохранил за гражданами неотъемлемое право на неприкосновенность жилища, закрепленное в статье 22 Конституции Таджикистана.



Northern Afghanistan
North east to the Vakhan, near the border with Pakistan, Tajikistan and China, you'll find beautiful, isolated from the rest of the country and therefore untouched by war, area with wonderful nature. [...]

For sale - Heroclix Marvel Web of Spiderman sandman #055 sr - $9

Marino 5049, Australia
Excludes: apo/fpo, Africa, Middle East, Southeast Asia, South America, Afghanistan, Armenia, Azerbaijan Republic, Bangladesh, Bhutan, China, Georgia, India, Kazakhstan, Korea, South, Kyrgyzstan, Maldives, Mongolia, Nepal, Pakistan, Russian Federation, Sri Lanka, Tajikistan, Turkmenistan, Uzbekistan, Albania, Andorra, Austria, Belarus, Belgium, Bosnia and Herzegovina, Bulgaria, Croatia, Republic of, Cyprus, Czech Republic, Estonia, Gibraltar, Greece, Guernsey, Hungary, Italy, Jersey, Latvia ...
ebay.com.au


New Generated List Of Free Elite Proxy Servers
Here is a list of new generated
Elite Proxy
just for your usage. Like I said before when I dropped a fresh list of
Free Google Proxy Servers
, I told you that this proxies can be used to surf the internet anonymously and also can help you access unblock popular sites such like YouTube, Facebook, and Twitter.
Elite proxies are regarded as the most secured of all the proxy servers. They help to make sure that your IP can't be determined easily or not at all. They are referred to high anonymous proxy which makes your system look the same as a non-proxied system there by providing the best security for your system.
IP Address

Port

Code

Country

Anonymity

Google

Https
180.254.193.92
9000
ID
Indonesia
elite proxy
no
yes
45.76.162.88
8888
SG
Singapore
elite proxy
no
yes
45.32.193.119
8118
US
United States
elite proxy
no
yes
128.199.208.120
3128
SG
Singapore
elite proxy
no
yes
62.133.172.49
53281
RU
Russian Federation
elite proxy
no
yes
104.198.234.21
80
US
United States
elite proxy
no
yes
173.212.236.122
3128
DE
Germany
elite proxy
no
yes
163.172.86.64
3128
FR
France
elite proxy
no
yes
94.177.199.127
3128
IT
Italy
elite proxy
no
yes
46.101.99.191
3128
DE
Germany
elite proxy
no
yes
109.86.178.121
53281
UA
Ukraine
elite proxy
no
yes
118.221.200.196
3128
KR
Korea, Republic of
elite proxy
no
yes
158.69.222.101
8080
CA
Canada
elite proxy
no
yes
180.148.33.29
80
IN
India
elite proxy
no
yes
167.249.148.218
53281
BR
Brazil
elite proxy
no
yes
109.121.161.192
53281
MK
Macedonia
elite proxy
no
yes
46.99.151.12
53281
AL
Albania
elite proxy
no
yes
87.228.29.154
53281
RU
Russian Federation
elite proxy
no
yes
103.31.134.158
53281
ID
Indonesia
elite proxy
no
yes
50.31.14.151
8139
US
United States
elite proxy
no
yes
42.115.88.161
53281
VN
Vietnam
elite proxy
no
yes
24.244.168.13
8080
BS
Bahamas
elite proxy
no
yes
46.151.253.249
53281
UA
Ukraine
elite proxy
no
yes
42.115.88.12
53281
VN
Vietnam
elite proxy
no
yes
185.77.233.41
10000
RU
Russian Federation
elite proxy
no
yes
89.40.124.65
3128
DE
Germany
elite proxy
no
yes
173.26.241.133
53282
US
United States
elite proxy
no
yes
159.255.22.67
80
RU
Russian Federation
elite proxy
no
yes
186.250.232.18
53281
BR
Brazil
elite proxy
no
yes
219.90.87.91
53281
PH
Philippines
elite proxy
no
yes
124.40.246.213
53281
IN
India
elite proxy
no
yes
36.67.108.53
53281
ID
Indonesia
elite proxy
no
yes
61.91.54.42
8080
TH
Thailand
elite proxy
no
yes
137.74.254.198
3128
FR
France
elite proxy
no
yes
202.131.229.250
53281
MN
Mongolia
elite proxy
no
yes
114.25.60.73
53281
TW
Taiwan
elite proxy
no
yes
213.85.101.146
8080
RU
Russian Federation
elite proxy
no
yes
42.115.110.32
53281
VN
Vietnam
elite proxy
no
yes
79.170.185.18
3128
TJ
Tajikistan
elite proxy
no
yes
191.242.233.78
53281
BR
Brazil
elite proxy
no
yes
Modern hydrology and late Holocene history of Lake Karakul, eastern Pamirs (Tajikistan): A reconnaissance study.
Article Mischke, S. , Rajabov, I. , Mustaeva, N. , Zhang, C. , Herzschuh, U. , Boomer, I. , Brown, E. T. , Andersen, N. , Myrbo, A. , Ito, E. and Schudack, M. E. (2010) Modern hydrology and late Holocene history of Lake Karakul, eastern Pamirs (Tajikistan): A reconnaissance study. , Palaeogeography, Palaeoclimatology, Palaeoecology. . hdl:10013/epic.34241

World: Price Watch: May 2017 Prices (June 30, 2017)
Source: Famine Early Warning System Network
Country: Afghanistan, Burkina Faso, Chad, Costa Rica, El Salvador, Ethiopia, Guatemala, Haiti, Honduras, Kazakhstan, Kenya, Libya, Madagascar, Malawi, Mauritania, Mozambique, Nicaragua, Niger, Nigeria, Pakistan, Senegal, Somalia, South Africa, South Sudan, Sudan, Tajikistan, Thailand, Uganda, United Republic of Tanzania, World, Yemen, Zambia, Zimbabwe
Key Messages
In West Africa, regional staple food production during the 2016/17 marketing year was well above average. International rice and wheat imports continue to support regional market supplies. Prices continued to increase seasonally in many areas in May with the onset of the lean season. Current market anomalies remain largely concentrated in the eastern marketing basin, including but not limited to: conflict-related market disruptions in the Lake Chad basin, localized above-average grain deficits in Niger, and the impacts of the continued depreciation of the Naira. In East Africa, staple food supplies remain tight and prices well above-average in South Sudan, Somalia, and Yemen. Markets remain severely disrupted by insecurity in Yemen and South Sudan. Import capacity in Yemen is uncertain, and food availability will likely remain constrained in the coming months. Uganda and Kenya are also facing below-average staple food supply and above-average and increasing prices following poor harvests. In Southern Africa, regional maize availability continued to improve in May with the progression of harvests from the 2016/17 production season. Regional maize production prospects for the current season are good with record-high harvests anticipated in South Africa. Maize prices declined sharply in most areas in May, and were below their respective 2016 levels in many areas. The exceptions to these trends are in Zambia, where prices remain above average. Low regional maize prices encouraged exports to East Africa and beyond. In Central America, staple food availability continued to decline following the end of the recent Postrera harvest and Apante harvest. Maize and bean prices were seasonally stable or decreasing across the region, with varied trends compared to average levels. In Haiti, local maize prices were firm while local black beans prices saw a modest increase from their April levels. Imported rice prices were stable as the Haitian gourde appreciated marginally against the U.S. dollar. Higher transportation costs will continue to place upward pressures on staple food prices in the coming months. Central Asia sustained adequate supplies. Wheat prices remained stable in Kazakhstan, Tajikistan, and Afghanistan, but started to decline in Pakistan with the arrival of the new harvest. Rice prices in Pakistan increased following larger export demand, affecting also rice prices in Afghanistan. Intraregional trade is expected to fill staples' deficits on importing countries. International staple food markets remain well supplied. Maize prices fell, soybean prices rose while rice and wheat prices were mixed. Crude oil prices fell and remain well below average.
The Future Of Central Asia's Unified Power Grid
Brutal winter weather in the late 2000s delivered a knockout blow to Central Asia's unified power grid. Now, almost a decade later, tentative efforts are underway to promote a comeback of the network. Tajikistan is the Central Asian state currently most interested in reviving the grid. Back in 2007, it was the worst prepared state in the region to handle the frigid winter. Unable to generate sufficient electricity for heating, lots of Tajiks were forced to shiver through the season in the dark. Two years later, when another harsh winter hit,…

The Future Of Central Asia's Unified Power Grid
Brutal winter weather in the late 2000s delivered a knockout blow to Central Asia's unified power grid. Now, almost a decade later, tentative efforts are underway to promote a comeback of the network. Tajikistan is the Central Asian state currently most interested in reviving the grid. Back in 2007, it was the worst prepared state in the region to handle the frigid winter. Unable to generate sufficient electricity for heating, lots of Tajiks were forced to shiver through the season in the dark. Two years later, when another harsh winter hit,…

Light earthquake, 4 mag has occurred near Khorugh in Tajikistan
A light earthquake magnitude 4 (ml/mb) has occurred on Sunday near Fayzabad, Khorugh, Ishqoshim, Ashkāsham, Jurm, Afghanistan, Tajikistan. The temblor was reported at 04:57:46/4:57 am (local time epicenter) at a depth of 108.58 km (67 miles). Did you hear creaking or other noises?

WHERE WILL CHINA´S "ONE BELT, ONE ROAD" INITIATIVE LEAD? / KNOWLEDGE@WHARTON
Where Will China's 'One Belt, One Road' Initiative Lead?
As advertised by Beijing, the "One Belt, One Road" (OBOR) initiative, China's grand scheme for knitting a network of roads, ports, railways and other links from East China through Southeast and South and Central Asia all the way to Europe exceeds both in scope and ambition the Marshall Plan used to rebuild Europe after World War II.
The "belt" of land-based links is paired with a 21st century "Maritime Silk Road" stretching from Australia to Zanzibar. Chinese President Xi Jinping launched the OBOR initiative in 2013, two years after then-U.S. President Barack Obama initiated the Trans-Pacific Partnership (TPP) trading bloc across the Pacific region. Now that Obama successor Donald Trump has carried out his pledge to withdraw from the TPP, the expectations are that Chinese-backed strategies like the OBOR will gain momentum. China experts say that this is a positive development, but there is skepticism over whether Beijing will follow through with the gargantuan amount of funding needed, whether big debt-financed projects bankrolled by China will benefit the recipient countries, and whether those projects will actually make sense in the long run.
For many countries in the region, China is by far the biggest source of financing: Beijing's Export and Import Bank of China alone lent $80 billion in 2015, compared with more than $27 billion from the Asian Development Bank. Chinese involvement in building railways, ports, roads, dams and industrial corridors is helping to expand its economic and geopolitical sway across Asia, the Middle East, Europe and Africa.
China experts and economists say that the initiative makes sense and that it will accelerate as the U.S. turns more insular under Trump. "It is unfortunate that many U.S. diplomats and members of the previous administration worked for nearly a decade to push toward the TPP and now it is torn apart," says Louis Kuijs, head of Asia Economics at Oxford Economics in Hong Kong. The U.S. is turning its back on the rest of the world at a time when the world needs an open and engaged America, he says. "It is very likely and understandable that China … will try to fill those gaps with this initiative, and that is very logical — it's something the U.S. will later deeply regret," Kuijs says.
The OBOR effort has not gotten the degree of attention it deserves, says Pieter Bottelier, visiting scholar of China Studies at Johns Hopkins School of Advanced International Studies in Washington. "I am concerned that its significance is underrated in the U.S. and in the West in general. It is a very positive initiative and a major vision of how China can collaborate with countries in its neighborhood, Europe, Latin America and Africa in a way that is in the long-term interest of China and [the global economy]," Bottelier says.
The geopolitical aspects of the OBOR initiative could eventually draw attention from the Trump administration, given its strong stance on national security. "It is an economic initiative, but along the way China will expand its military bases and so forth," says Wharton emeritus professor Franklin Allen, who also is a professor of finance and economics at Imperial College London. "On the sea routes they will develop their military capability and on the land routes, too."
From Kuijs' point of view, Beijing views the OBOR initiative as a strategy needed to support its growing economic might. "Many outsiders are skeptical and do not know exactly what it is, but it is taken very, very seriously by the Chinese government and we should take this very seriously," he says. "The Chinese government is thinking, 'We are the second-biggest economy in the world, and it may take 10 years or 20 years but we will be the world's biggest economy at some point.'"
While it is sweeping in scope like the stalled TPP, which aims to create a trading bloc around the Pacific Rim, the "One Belt, One Road" plan is not a free trade agreement. It's more of a blueprint for integrating China's trading partners by developing their infrastructure — ports, roads, airports and railways — in a way that complements Beijing's own interests. Infrastructure-led development worked well for China, in Beijing's view, and now it wants to expand that approach internationally, Kuijs says.
The "One Belt" refers to a "Silk Road Economic Belt" from China through Central Asia to Europe. The "One Road" refers to Beijing's concept of a "21st century Maritime Silk Road" to connect China to Europe via the South China Sea and Indian Ocean. The initiative involves developing six economic "corridors": a China-Mongolia-Russia corridor; a new Eurasian "Land Bridge"; a corridor from China to Central Asia and Western Asia; a China-Indochina peninsula corridor; and, a China-Pakistan economic corridor; and 6. a Bangladesh-China-India-Myanmar economic corridor.
Chinese President Xi Jinping said in his speech at the World Economic Forum in Davos, Switzerland in January that more than 100 countries and international organizations have given warm responses and support to the initiative and that more than 40 countries and international organizations have signed cooperation agreements. So far, Chinese companies have made more than $50 billion of OBOR-related investments and launched a number of major projects in the countries along the route, he added. At least 65 countries are included in the OBOR initiative.
Unanswered Questions
While the grand vision is laudable, there are many unanswered questions: How would it be done? And what would be the project, environmental and engineering standards implemented under this umbrella?
"There would be serious doubts over protection of minority populations and environmental concerns," Bottelier says. As for the scale of OBOR, there's no consensus over how many projects it would involve at what cost and in what time frame. "It is pretty obvious that there is no limit to the amount of infrastructure that is needed in those countries."
The Asian Development Bank says infrastructure development in Asia and the Pacific will exceed $22.6 trillion through 2030, or $1.5 trillion per year. In a recent report, "Meeting Asia's Infrastructure Needs" issued in February, the estimate rises to more than $26 trillion, or $1.7 trillion a year when costs for climate change adaptation and mitigation are included. "This is a grand vision, and it may take a decade, but there is no rush. You cannot really put any number on the total investment," says Rajiv Biswas, Singapore-based Asia-Pacific chief economist at IHS Markit.
The China-led Asia Infrastructure Investment Bank, or AIIB, is seen as a linchpin for OBOR financing. So far, however, it has provided only $1.73 billion to support infrastructure projects in seven countries, including Pakistan, Bangladesh, Tajikistan, Indonesia, Myanmar, Azerbaijan and Oman since it was launched in January 2016.
Noriyoshi Ehara, chief economist at the Tokyo-based Institute for International Trade and Investment, says the financial infrastructure for OBOR is gradually taking shape. Apart from AIIB, China also has a $40 billion Silk Road Fund and a New Development Bank to fund the OBOR initiative. "There has been good progress in getting these frameworks in place," Ehara says. Ultimately, he adds, Beijing may not limit OBOR to infrastructure but may make it the foundation for regional and bilateral free trade areas (FTAs). "We are not sure if China will succeed, but the world is changing, and more and more countries are joining this initiative," he says. With the TPP in trouble, OBOR is getting more attention.
China's Deep Pockets
Already, more than $900 billion in projects are planned or underway, Fitch Ratings noted in a report titled "China's One Belt and One Road Initiative Brings Risks." It says most funding will likely come from China's policy banks, the Export and Import Bank of China, China Development Bank and its largest commercial banks. "We estimate that outstanding loans from Chinese banks total $1.2 trillion, and a large portion of that has financed infrastructure projects involving Chinese state-owned enterprises," the report says. China also has other major financial resources such as its sovereign wealth fund and foreign exchange reserves.
One project that got a head start was construction of a railway link from the port of Piraeus in Greece to Eastern Europe. Piraeus is a gateway to Europe for Chinese products, and major Chinese companies have been using the port to enter the European market. China, through its China Ocean Shipping Company, bought a 67% stake in the port's Pier I from the Piraeus Port Authority SA in January 2016.
The European Union (EU) is welcoming OBOR, but cautiously. "China basically owns Piraeus Port close to Athens and this railroad is meant to link all the way up to Budapest in Hungary, which also is an EU member," notes Kuijs. "The EU is now looking at this project, which clearly is projecting China all the way into Europe, to see to what extent it is compatible with EU rules and principles."
Apart from questions over whether Chinese-led projects might conform with global standards on such issues as environmental protection and labor rights, some economists question if a massive, policy-led OBOR push on infrastructure development will turn out to be economically sound. "Let's see what kinds of projects they are getting in the next couple of years and what kinds of returns they are getting," Biswas says. "Because in the end, if they are not delivering on the returns, then the banks that are lending will eventually say we need to be careful and we cannot keep doing this without any returns because it has to be commercially viable."
A flood of lending to smaller countries lacking strong foreign exchange reserves might not be able to repay the loans if projects fail to generate revenue as expected. Fitch warns in its report on OBOR that some of the loans are large enough to have an impact on borrowing countries' public finances, if debt-servicing from project proceeds becomes a problem.
That problem already is surfacing in Sri Lanka, where China signed a deal in late 2016 to further develop the strategic port of Hambantota and build a huge industrial zone nearby. China has spent almost $2 billion so far on Hambantota and a new airport. But hundreds of Sri Lankans clashed with police at the opening of construction in January of the industrial zone in the south, saying they would not be moved from their land. It was the first time opposition to Chinese investments in Sri Lanka turned violent. Newly elected Sri Lankan President Maithripala Sirisena had said the new port deal with China was unfair in his campaign, but after taking office approved an agreement to lease an 80% stake in the port to the China Merchants Holdings for 99 years in exchange for $1.1 billion in debt relief.
Concerns over the ability of smaller developing countries to protect their own interests underscore the need for involvement of Western countries, especially from the EU, since Japan and the U.S. have continued to shun the AIIB. "You have weaker institutional capacity and weaker governments like in Cambodia and Central European countries. They may be persuaded by Beijing to take on large debt to finance projects. They and other developing countries in the past ended up with large debts incurred to finance dubious projects that do not help their economies. That is the risk for countries that do not have the capacity to independently make cost-benefit analyses," Kuijs says.
While there's nothing wrong with investing more in poor countries, and in increasing economic interactions between poor countries and China and the rest of the world, "it would be beneficial for Western countries to take this initiative very seriously and to become its counterparts in this rather than having China sort it by itself," he says.
Of course, that begs the question of whether China would welcome their involvement. "This is China's initiative, but this is not the AIIB. They want the rest of Asia to be part of it, but more on a bilateral level," says Biswas. China's vision is of a partnership with other developing countries in Asia. "Having Europe be part of it is a different story," he says. "One Belt, One Road is relevant for Europe since China wants to link its rail to Europe. So, China wants Europe to be part of [OBOR], but not as a key driver," Biswas added.
China's Slowdown Is a Catalyst
One of the main factors driving the OBOR effort is the slowdown in China's own economy. The Communist Party is striving to transition away from growth led by investment and exports to development led by domestic consumer demand and services, and to keep growth at more sustainable levels than in the past. The government set a growth target of 6.5% in 2017 at the National People's Congress in March, down from a 2016 target of 6.5% to 7%. In a sense, China is seeking to export the investment-led part of its economy, to help its own overbuilt heavy industries and provinces.
But Kuijs doubts OBOR projects will do much to help China with its huge overcapacity problems in many industries, especially steel, glass and cement. Compared to the size of China's steel industry or other industries, it would take a very long time for demand from the projects to be big enough to make a difference, he says. "Many of the projects are far away from China, and some types of steel are worth transporting but not all kinds of steel. It would not help reduce excess capacity of cement because it is not economically viable to transport cement over such long distances," Kuijs says. Bottelier, also, sees overcapacity as only a marginal factor in the OBOR plan.
Looking back at how far China has come since it launched its market-oriented reforms and opened its economy, there's reason to hope the OBOR strategy will have a significant impact over time, Allen says. "It is quite likely that China will succeed in this initiative, though it may take a half-century."
For sale - minichamps 1.43 F1 panasonic toyota racing... - $89

Wynnum 4178, Australia
Excludes: Africa, Central America and Caribbean, Bahrain, Iraq, Israel, Jordan, Lebanon, Oman, Turkey, Yemen, Afghanistan, Armenia, Azerbaijan Republic, Bangladesh, Bhutan, Georgia, Kazakhstan, Kyrgyzstan, Maldives, Mongolia, Nepal, Pakistan, Tajikistan, Turkmenistan, Uzbekistan, American Samoa, Cook Islands, Fiji, French Polynesia, Guam, Kiribati, Marshall Islands, Micronesia, Nauru, New Caledonia, Niue, Palau, Papua New Guinea, Solomon Islands, Tonga, Tuvalu, Vanuatu, Wallis and Futuna ...
ebay.com.au


For sale - 1:22 champion racing motor bikes moto gp honda nsr... - $30

Moto 2426, Australia
Excludes: Africa, Central America and Caribbean, Argentina, Bolivia, Chile, Colombia, Ecuador, Falkland Islands (Islas Malvinas), French Guiana, Guyana, Paraguay, Peru, Suriname, Uruguay, Venezuela, Bermuda, Greenland, Mexico, Saint Pierre and Miquelon, Bahrain, Iraq, Israel, Jordan, Lebanon, Oman, Turkey, Yemen, Afghanistan, Armenia, Azerbaijan Republic, Bangladesh, Bhutan, Georgia, Kazakhstan, Kyrgyzstan, Maldives, Mongolia, Nepal, Pakistan, Tajikistan, Turkmenistan, Uzbekistan, American ...
ebay.com.au


For sale - 1.24 racing champions nhra funny car von smith... - $39

Howard 4659, Australia
Excludes: Africa, Central America and Caribbean, Cambodia, Laos, Macau, Argentina, Bolivia, Chile, Colombia, Ecuador, Falkland Islands (Islas Malvinas), French Guiana, Guyana, Paraguay, Peru, Suriname, Uruguay, Venezuela, Bermuda, Greenland, Mexico, Saint Pierre and Miquelon, Bahrain, Iraq, Israel, Jordan, Lebanon, Oman, Turkey, Yemen, Afghanistan, Armenia, Azerbaijan Republic, Bangladesh, Bhutan, Georgia, Kazakhstan, Kyrgyzstan, Maldives, Mongolia, Nepal, Pakistan, Tajikistan, Turkmenistan ...
ebay.com.au


For sale - 1/64 jada toys 1959 vw volkswagen racing bettle... - $30
Ultimo 2007, Australia
Excludes: Africa, Central America and Caribbean, Cambodia, Laos, Macau, Argentina, Bolivia, Chile, Colombia, Ecuador, Falkland Islands (Islas Malvinas), French Guiana, Guyana, Paraguay, Peru, Suriname, Uruguay, Venezuela, Bermuda, Greenland, Mexico, Saint Pierre and Miquelon, Bahrain, Iraq, Israel, Jordan, Lebanon, Oman, Turkey, Yemen, Afghanistan, Armenia, Azerbaijan Republic, Bangladesh, Bhutan, Georgia, Kazakhstan, Kyrgyzstan, Maldives, Mongolia, Nepal, Pakistan, Tajikistan, Turkmenistan ...
ebay.com.au